The Grattan Institute has released a new report warning of risks to Australia's social fabric if the transition to a net zero economy is not well managed, with ten of thousands of coal-mining jobs tipped to disappear over coming decades.
Grattan has described the transition as the 'next industrial revolution', but claims that Australia's current industrial policies are not yet prepared for that transition. It has, therefore, called on the federal government to offer funding for green steel and aluminium industries and to phase out policies that encourage greater extraction of oil and gas so as to give Australia its best chance to "flourish in a net zero global economy".
Below is the report's Overview and Recommendations alongside key charts:
Overview

Australia's industrial sector faces transformative change to meet global and domestic emission reduction targets. Our current policies are not up to the task. A 21st Century industry policy to deal with a 21st Century problem can underpin Australia's successful
transformation to a world-leading energy superpower. This report presents the case for, and describes, such a policy.

Australian industries that extract resources and add value through manufacturing currently contribute more than $76 billion to GDP and employ 1.1 million people. But they also contribute about 30 per cent of our domestic greenhouse gas emissions. And the emissions from our exported coal and gas – double Australia's total national emissions in 2020 – add to the climate responsibilities of other nations. A serious global commitment to net-zero emissions has profound economic, social, and environmental implications for Australia.

The scale and pace of change represents an industrial revolution in three parts. First, there are activities such as coal mining that will be essentially incompatible with a net-zero economy. Then, there are activities such as steel-making that may be able to transform through economic, low-emission technologies. And, there are activities such as low-emission extraction and processing of critical energy minerals which are insignificant today but where Australia could capitalise on globally significant comparative advantages.

Many industry sub-sectors share two common challenges. They currently lack commercially viable abatement pathways. And they face re-investment decisions within the next 30 years that, taken wrongly, could lock in emissions for an extended period.

Australia's industry policy today is a mix of direct grant schemes with poorly articulated objectives and ill-structured scope, and ineffective regulatory policies. Both are routinely open to lobbying by vested interests.

Australia needs an overarching policy framework with consistent, targeted policies linked to clear goals, developed and executed in sustained collaboration with industry. The Federal Government has a clear economy-wide target for 2030 and 2050. It should set a near-term emissions reduction goal and emissions budget for the industrial sector.

The Federal Government should review and adjust current policies and programs so they work together. It should lower baselines under the Safeguard Mechanism at a rate consistent with a sectoral goal, and make no exemptions. And it should establish an industry future fund to prevent industrial emissions lock-in for Safeguard facilities. Existing industry assistance – like ARENA, the CEFC, the NAIF, EFA, and the new National Reconstruction Fund – should give priority to export-oriented industries that will grow in a net-zero global economy.  Finally, the Federal Government should phase out or restructure any programs that encourage expansion of fossil fuel extraction or consumption.

State governments should establish embodied carbon performance standards for all construction, to underpin demand for low-carbon commodities.

Transforming Australian heavy manufacturing and mining for strong growth and a highly profitable low-emissions future will have consequences for the regions, both positive and negative. Federal and state governments should establish, fund, and work with regional
transition authorities and local communities to catalyse action on both the challenges and the opportunities at a local level. And state governments should establish sovereign wealth funds based on existing mining royalty regimes.

Recommendations

Set clear goals for emissions reduction in the industrial sector

The federal government should clarify the share of the national 2030 and 2050 targets to be achieved by the industrial sector.

Make the Safeguard Mechanism more effective

The federal government should:

Reduce baselines for existing facilities, consistent with the Climate Change Authority's advice on sectoral goals.
Set stringent benchmarks for new facilities, to encourage low-emissions development and avoid locking in future emissions.
Establish an industrial transformation future fund to share the risk of major capital replacements using very low or zero-emissions technology.

Align funding towards export-oriented net-zero growth

Federal statutory funding agencies such as the Australian Renewable Energy Agency (ARENA), the Clean Energy Finance Corporation (CEFC), the Northern Australia Infrastructure Facility (NAIF), Export Finance Australia (EFA), and the National Reconstruction Fund should give priority to growing export-oriented industries that can flourish in a net-zero global economy.
Statutory funding agencies should manage and disclose their climate risk in line with international expectations.
Governments should set phase-out dates for programs and policies that encourage greater fossil-fuel extraction and use.
Governments should review industry support programs and where necessary redesign them to avoid locking in higher emissions.

Support local demand for low-carbon commodities

State governments should establish embodied carbon standards for buildings and construction.

Maximise the benefits of the transition for all Australians

State and federal governments should ensure planning and environmental protection regulations meet community expectations about the impacts of industrial expansion and closure.
State governments should establish sovereign wealth funds to manage additional royalties from the next minerals boom.
The federal government should consider a windfall profit tax on gas and coal exports at times of extreme international prices.

Ensure the most affected regions are assisted

The NSW and Queensland governments should establish regional transition authorities for the Hunter Valley and central Queensland respectively. All state governments should stand ready to do the same for other affected regions if required.
For as long as coal mining lasts, the NSW and Queensland governments should direct royalties from coal into supporting these regions to diversify.
The federal government should ensure regional policy is aligned with energy and industry policy.
I agree in principle with Grattan's position. However, one must ask how Australia can realistically meet its 'net zero' emissions targets when its population is projected to grow by around 13 million people (~50%) between now and 2050 on the back of extreme immigration levels of 235,000 people a year: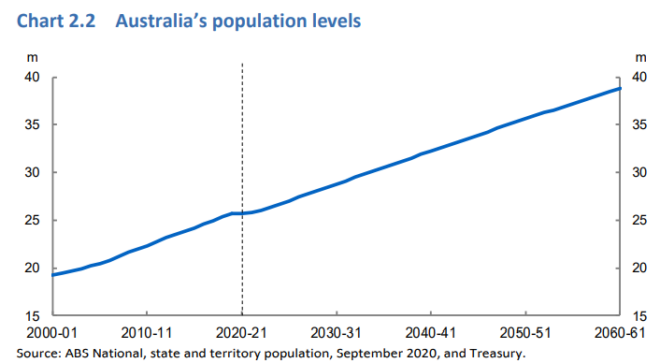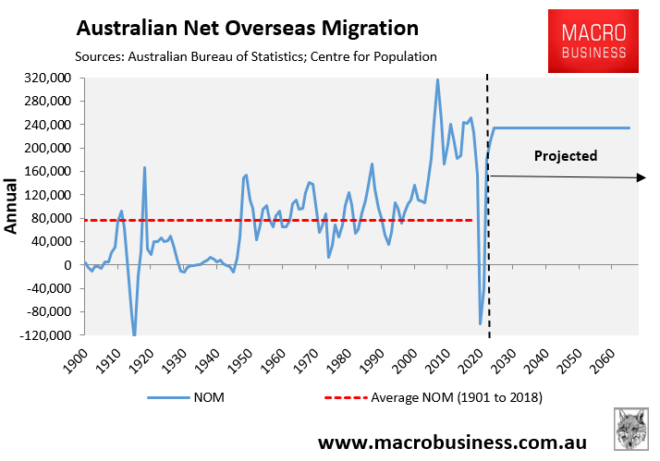 Curiously, the Grattan Institute is a rabid supporter of mass immigration, which obviously runs counter to its stance on Australia's emissions reductions.
Grattan also whines incessantly about a lack of housing supply and infrastructure waste, but refuses to acknowledge that mass immigration drives both of these problems.
In short, the Grattan Institute suffers from a chronic case of cognitive dissonance and needs to start examining issues as a whole, rather than in silos. Then it might develop some policy consistency across areas.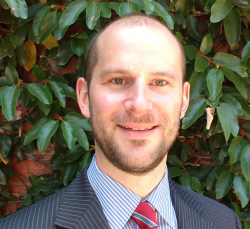 Latest posts by Unconventional Economist
(see all)