Iron ore prices slumped alongside other commodity prices yesterday, to its lowest level for the calendar year as more COVID concerns in China amid further lockdown worries just after Shanghai pushed through a two month event. Interestingly though, Dalian futures had a wild ride in yesterday's trade as the spot price pulled back, with other contracts also edging higher: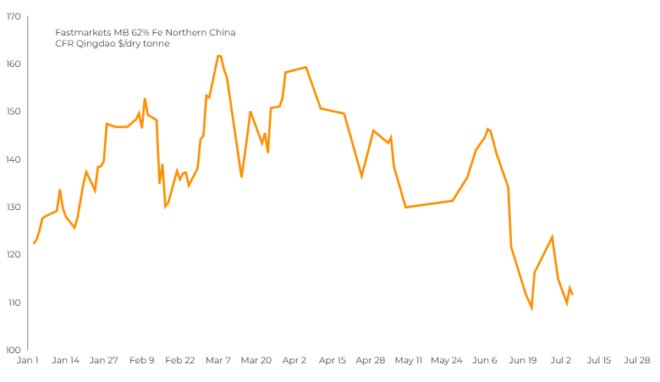 More troubling news for China on Simandou in Guinea, as they try to break the stranglehold on Australian iron ore supply. Better get that Yuan checkbook out:
Two weeks ago Guinea's military leaders, who ousted octogenarian President Alpha Conde in a coup last year, issued an ultimatum to some of the world's biggest miners.

Come to an agreement on infrastructure for Africa's enormous Simandou iron ore mine or else.

According to reports from Reuters, we've now seen that "or else" come into play, as Mines Minister Moussa Magassouba issued a stop work order on development of the mines, touted as the largest orebody of high grade iron ore in the world.

Specifics about Simandou are hazy. Analysts estimate it could add between 60-200Mt of iron ore into the seaborne market by the time it is in full swing.

Rio Tinto (ASX:RIO), owns 45.05% of two blocks at the deposit having made the initial discovery back in the mid-1990s.

Its major shareholder Chinalco owns 39.95% with the rest in the hands of the Guinean Government.

Two other blocks, previously expropriated by Guinea, are supposed to be developed by a Chinese-backed consortium called SMB Winning, which wants to help China reduce its reliance on iron ore from Australia and to a lesser extent Brazil.

Guinea's military rulers have set ambitious, and many would say unachievable deadlines for the companies to not only come together to agree a sharing deal for the 670km of rail and port infrastructure needed, but also to have that work completed by the end of 2024.

Mining is supposed to take place in the March quarter of 2025, despite the project's remoteness, long history of inactivity and allegations of community and environmental problems.

The latest word from Guinea's leaders is another example of the temperamental nature of the jurisdiction, which has emerged as a major bauxite exporter in recent years.

"Despite the significant concessions the Guinean State has been kind enough to make, it is clear the obstruction is being maintained by both your companies, to the detriment of the interests of the project," Magassouba said in a letter reproduced by Reuters.
Latest posts by Chris Becker
(see all)