Japanification anyone?
China plans to build a highway network of 461,000 kilometers by 2035 and further expand it to become a world-class one by 2050, the country's top economic planner said on Tuesday.

The National Development and Reform Commission (NDRC) and the Ministry of Transport unveiled a document called National Highway Network Planning on Tuesday, saying that China aims to build a modern highway network that is fully functional, efficient, green, intelligent and safe by 2035.

The plan involves highways with a total length of 461,000 kilometers, of which 162,000 kilometers will be expressways, according to the document.

Highway networks will cover cities and counties with populations of more than 100,000 and important land border ports, it said.

The new plan will strengthen links between national highways and railway terminals, airports and ports, and expand the scope of railway, water and civil transport services, in a bid to support national transport development plans, said Zhou Xiaoqi, deputy director of the Department of Infrastructure Development at the NDRC.

The National 1-2-3 Travel Circle (one hour to commute in cities, two hours to travel within city clusters, and three hours to travel between major domestic cities) and Global 1-2-3 Logistics Circle (one day to deliver within China, two days to deliver to neighboring countries and regions, and three days to deliver to major global cities) plans were released in December 2020 by the State Council, the cabinet, and were intended to take initial shape by 2035.

The new plan is seen as an upgrade of the country's national highway plan released in 2013.

China has been ramping up investment and construction of highways across the country, especially as the country strives to stabilize the economy after recent COVID-19 outbreaks in major Chinese cities. Fixed-asset investment is an important growth driver for the Chinese economy.

China's fixed-asset investment increased 6.8 percent from a year earlier to 15.35 trillion yuan ($2.26 trillion) in the first four months, according to the National Bureau of Statistics.
Sadly for the world of commodity bulls, there is not much dirt in roads, other than locally produced concrete.
All of the dirt demand of yesteryear was in apartment construction and it is gone, baby, gone:
Dollar bonds of Chinese developers fell across the board Tuesday, with stress spreading from junk-rated names to investment-grade peers including China Vanke Co. amid renewed concerns about more Covid lockdowns in the country.

Notes from Vanke, the country's second-largest builder by contracted sales fell as much as 5 cents on the dollar, according to prices compiled by Bloomberg, on track for their biggest declines since March 2020. Investment-grade dollar bonds from peers Longfor Group Holdings Ltd. and Sino-Ocean Group Holding Ltd. were also poised to set record lows. Declines in high-yield notes were paced by Country Garden Holdings Co., China's largest developer.

The selloff occurred as a Covid-case spike in Shanghai and other parts of China sparks fears that authorities will re-impose strict control measures which may bring an already-struggling economy to its knees. The country's real estate sector suffered enormously from lockdowns earlier this year, with slumping home sales making life even harder for cash-strapped builders.
The latest floor area sales are back to disaster levels:

If sales lift only gradually from here then the downside for starts is still epic: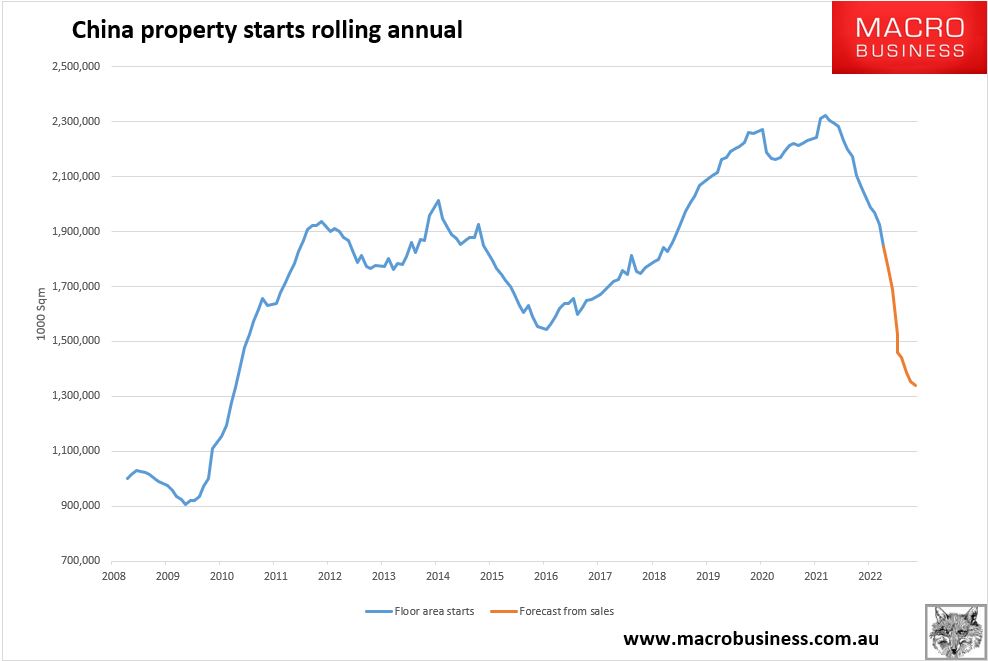 It's a road to nowhere for iron ore, coking coal, nickel and copper especially.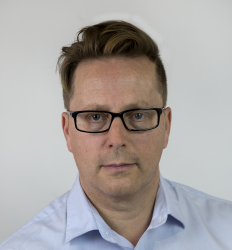 Latest posts by Houses and Holes
(see all)