China is chundering credit like a drunken sailor. In June, new yuan growth was 5.17tr yuan: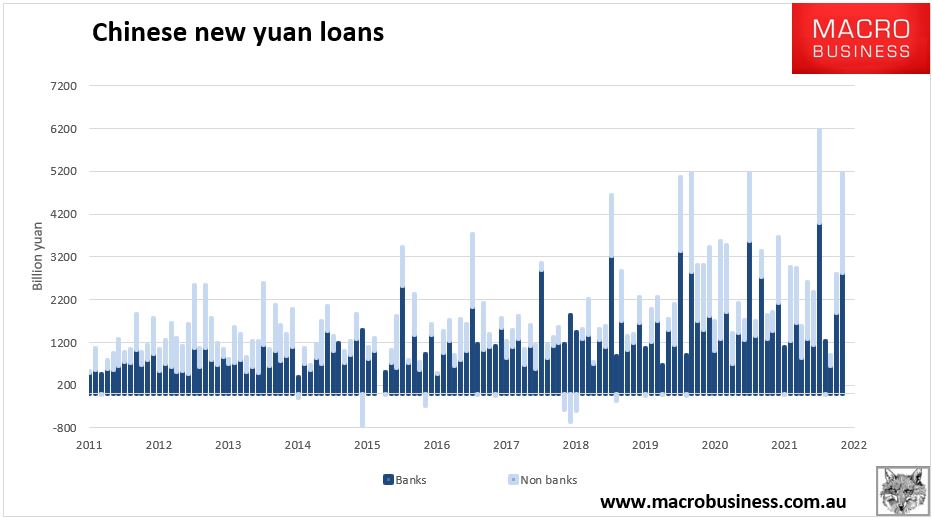 New credit growth is off the chart again: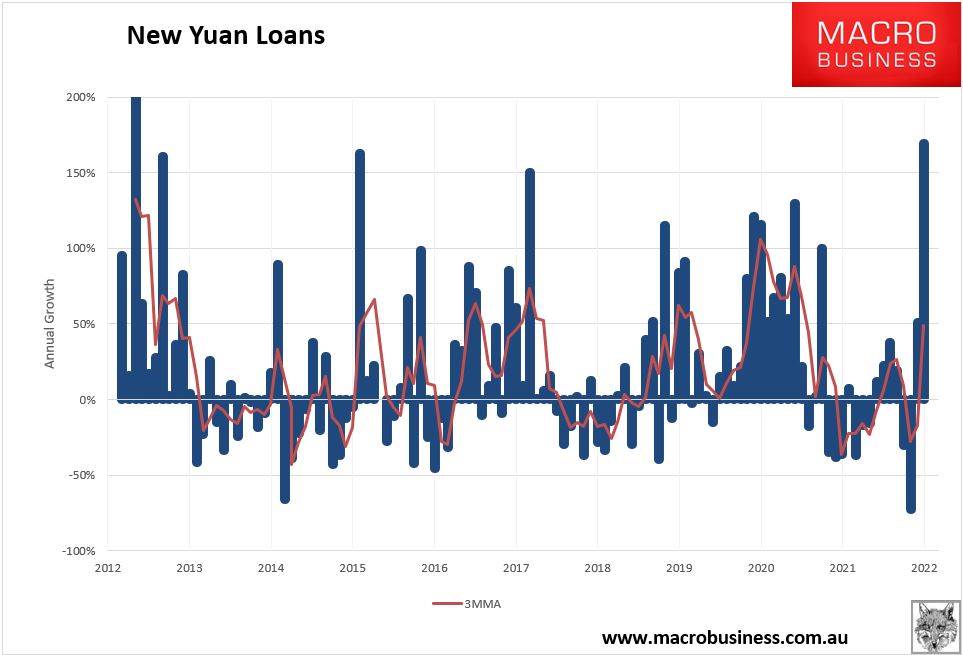 As the COVID-afflicted nation aims to catch-up to its stupid growth target: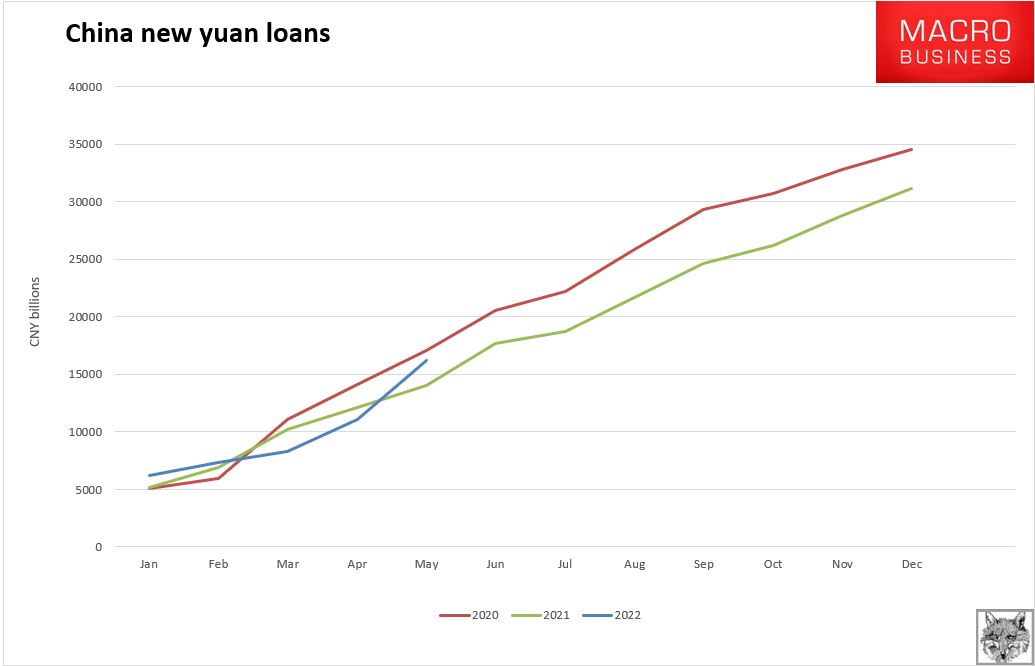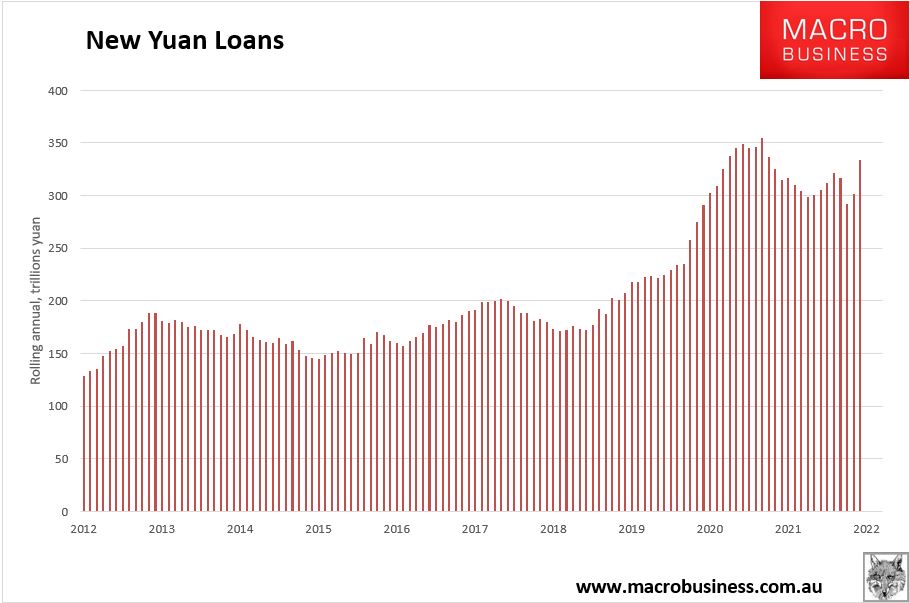 Yet broad credit is barely off the canvas: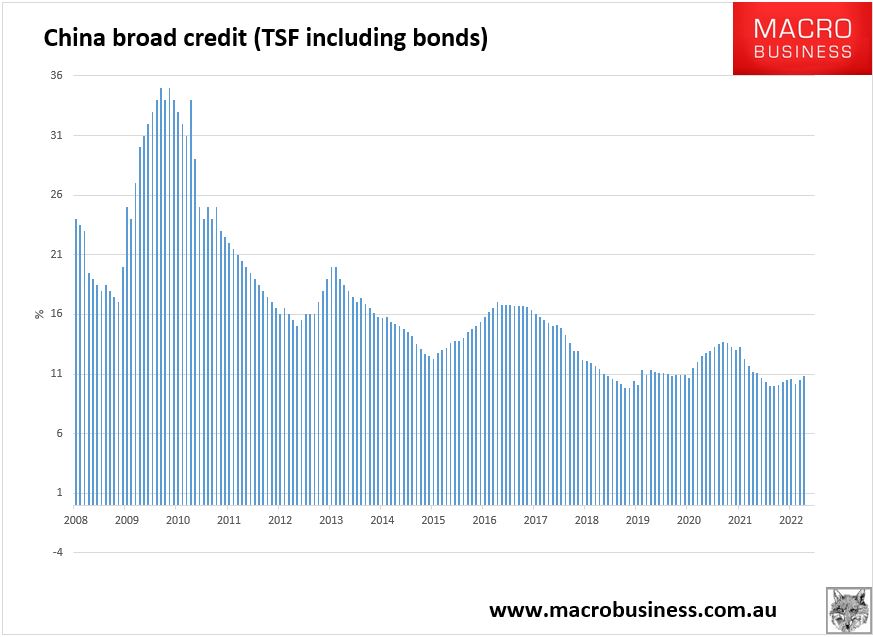 The rebound was broad-based but appears temporary. Goldman:
Among major TSF components, shadow banking credit showed a small net increase in June. After our adjustment for seasonality, trust, entrusted loans and undiscounted bankers' acceptance bills grew by RMB 99bn in June, vs. the RMB 20bn increase in May. Based on loans to different sectors, after our adjustment for seasonality, the rebound in loan growth was broad-based. Corporate mid-to-long term loan growth was 24.8% vs. 12.4% mom annualized in May. Corporate bill financing showed a small contraction of 0.7% vs May, perhaps due to policymakers' guidance and concerns over arbitrage via bill financing. On loans to households, total household loans expanded by10.2% month-over-month annualized, vs. an increase of 3.9% in May. Household medium-to-long term loans, which are mostly mortgages, grew 7.7% month-over-month annualized in June, vs. 2.6% in May. Government bond net issuance surged to RMB 1.6trillion (NSA basis), the highest single-month net issuance on record, as policymakers required local governments to finish special bond issuance by the end of 1H. Corporate bond net issuance was RMB 327bn in June (after seasonal adjustment).

We see two main reasons behind the strong monetary and credit data in June: 1)activity growth recovery in June, including investment and "pent-up" property transactions, which contributed to the recovery of credit demand; 2) the strong policy push contributed both to credit demand and credit supply. The record-high government bond issuance mechanically added to overall TSF flows, an acceleration of major infrastructure projects added to credit demand, and PBOC's guidance on maintaining fast credit extensions likely also helped support loan growth. We think June might still be peak of government bond net issuance, and the broad credit growth might slow from the rapid pace in June in the coming months, barring additional major policy easing measures such as additional local government special bond issuance, or more credit support from policy banks. The strong credit growth in June would provide support for activity growth and in particular investment growth in June.
Infrastructure debt is only offsetting falling revenues from land sales and the recovery in property sales appears to be already over:

Just in time for a virus rebound:

China remains mired in a balance sheet recession regardless. Pantheon:
Chinese GDP data is due this Friday, and should show that China's economy shrank in Q2. The zeroCovid lockdowns, lasting from March to May in much of China, and lingering into June in some places, took a heavy toll on quarterly activity, as is evident from data for April and May. We should see some growth rates recover in June, but we think retail sales will remain in negative territory, year-over-year, and fixed asset investment is likely to slow, with the property downturn intensifying, and manufacturing profits squeezed.

We expect official Q2 real GDP growth of -0.9% quarter-on-quarter, from 1.3% in Q1, which translates to growth of 2.6% year-over-year, down from 4.8%.

The actual downturn is likely to be sharper. We think our measure of growth—based on nominal GDP and our own estimate of the GDP deflator—will show a drop of 2.0% quarter-on-quarter, after a fall of 0.5% in Q1, taking China into technical recession territory.

In year-over-year terms, this equates to -2.4%, down from 2.4% in Q1.

June's monthly data should show some improvement, as the economy reopens. Retail sales growth should improve in June, to -3.8% year-over-year, from -6.7% in May, and industrial production should continue its recovery with growth of 2.5%, from 0.7%.

We think FAI, however, is likely to slow further, to 6.0% year-to-date, year-over-year, given the continued pressure on property developers and manufacturers, which will likely offset a pick-up in infrastructure spending. Zero-Covid policies are not the only headwind to growth.

The hit to growth from zero-Covid does not seem to be prompting a rethink, despite the multiple challenges facing China's economy. Xi Jinping visited Wuhan, the site of the first recorded Covid outbreak, on Wednesday 29 June, and crushed any hopes of an imminent exit from zero-Covid in the process. President Xi referred to the policy as the most "economic and effective" for China, with the alternative "too ghastly to contemplate". But local governments are finding the cost of zero-Covid too great to bear, with many cities now rolling back regular testing. Further outbreaks, and restrictions, seem inevitable—Anhui province has already placed one county in lockdown—along with the attendant drag on economic growth.

President Xi has, nonetheless, pledged that China will meet its 5.5% target this year. This seems implausible, without aggressive stimulus. Existing measures will not cut it. Consumption stimulus sounds impressive, on the surface, but while subsidies for car purchases should benefit the sector, they amount to only around 0.2% of GDP.

The infrastructure push, meanwhile, is still primarily a frontloading of growth. Local governments have been told to accelerate the issuance of bonds, but not given a larger quota. This is proving insufficient given the many costs faced, and diminishing revenues.

Even in 2021, the national audit office found many local governments illicitly redirecting funds from infrastructure bonds to everyday expenditure.

We think additional issuance of at least RMB 1.5-2T is needed, either directly by the central government, or in the form of an additional quota for local governments, if paired with a loosening of criteria for infrastructure projects. The latter, at least, appears to be underway. But while some officials have pushed for a larger deficit, the Ministry of Finance is proving resistant, so far.

Inevitably, eyes will turn to the PBoC, in the hope that another surge of monetary easing can right the ship. At its Q2 MPC meeting, the PBoC pledged stronger support to stabilise employment and prices, but emphasised the importance of stability repeatedly, alongside the role of prudent monetary policies. This sounds like a central bank unwilling to splurge. At best, we think we'll see a 25bp RRR cut in Q3, coupled with sufficient short-term liquidity injections to keep rates steady.

The problem is that this is not an issue that monetary policy can fix. Market rates are already low, and there is no sign of broad liquidity stress. The PBoC's quarterly surveys of banks, households, and firms for Q2 hint instead at a balance sheet recession. That is, the private sector is focused on balance sheet repair in the wake of a fall in realised and expected asset prices, and so is not interested in borrowing, despite the ready availability of funds. This is reflected in the divergence—shown in our chart above—between a steady improvement in lending conditions, and a fall in loan demand, alongside deteriorating sentiment about employment, profitability, and sales.

As with other recessions, the duration can be reduced if the government steps forward where the private sector has stepped back. In a standard recession, this implies simply additional government spending. In a balance sheet recession, not only spending but also government borrowing must increase, to support growth in credit and monetary aggregates. Help can also be provided to the private sector in fixing its balance sheets, by using the government balance sheet to absorb losses.

China has been following this prescription already this year, to an extent. Credit growth has been driven by state sector borrowing. But more is needed, if the growth target is to be met. The reopening lift to private sector activity will not last. The inchoate financial stability fund is also a step towards balance sheet repair, but is yet to swing into action. The strength of the government response in Q3 will be critical in determining outcomes for 2022.
I agree. The horse has bolted on any property market save. All we're doing now it trying to contain the fallout and good luck with that:
Perhaps the biggest risk from the bursting of a real estate bubble occurs when the bad losses suffered by lenders are so huge they threaten the solvency of the entire banking system.

The increasing turmoil in the Chinese banking sector suggests Beijing is struggling to find a solution for the increasing number of soured property loans on the books of smaller, regional lenders.

Videos posted on social media on Sunday showed a large crowd of angry Chinese bank depositors protesting outside the Zhengzhou branch of the People's Bank of China after their deposits were frozen in April.
A Chinese external crisis remains a clear candidate for ending the Fed's tightening cycle.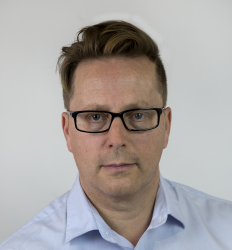 Latest posts by Houses and Holes
(see all)