BofA noting that Canadian banks are crashing. The rationale sounds eerily familiar.
—————————————————————————————————————————————-
What? RBC-RY shares closed -5.6% yesterday (TSX-Banks -3.8%). This is noteworthy as prior to yesterday, during the last decade there have only been 9 instances when RY shares declined 4%+ with 8 out of 9 of these occurring during the peak of the pandemic in March/April 2020 (Exhibit 3). We attribute this weakness to three reasons:
1. Delayed reaction to Bank of Canada's(BoC)100bp rate hike: Investors were already concerned about the impact of higher interest rates on the Canadian housing market and the consumer. With the 5yr govt. yield near decade highs, the risk of a payment shock to homeowners and its implications for consumption and economic growth have raised red flags. For banks, the risk to EPS could come in multiple ways, including stalling mortgage growth (single largest loan book for most) that has the potential to challenge the ability of the banks to deliver positive operating leverage and pressure ROEs (in the short run expanding margins should serve as an offset). Down the road, if rate hikes push the Canadian economy into a recession, that would most likely lead to higher credit costs (PCLs).
2. MTM hit on bridge loans: We also heard that investors reacted cautiously to updates from JPMorgan (JPM) and Morgan Stanley, with both banks incurring MTM hits on bridge loans during 2Q22. While we don't rule out the potential for Royal and its peers to incur losses tied to widening bond spreads, we don't see this as a systemic issue. We highlight comments by JPM noting the relatively small size of bridge loans across the Street to ~$100bn today vs. ~$500bn in 2007 prior to the GFC.Moreover, not every deal is likely to incur a MTM hit so it matters specific exposure of the banks to specific deals that may have been caught up in the market turmoil.
3. Unwinding in a defensive (well-owned) stock: Royal had outperformed the TSX-banks index by ~700bp YTD prior to yesterday's sell-off given its best of breed status, likely as investors gravitated toward the name during a period of heightened macro uncertainty. As a result the stock trades at a healthy premium to peers. The outsized decline suggests indiscriminate selling on the back of rising fears of an economic downturn that is unlikely to leave no bank unscathed in terms of risk of negative EPS revisions.
Our View: With macro-economic risks skewed to the downside (BofA Economics team calling for mild recession in the US by YE22) we expect bank stock performance to remain challenged. While Canadian banks have historically served as safe havens during periods of market turmoil, the spike in interest rates poses idiosyncratic risks to the Canadian economy given elevated levels of consumer leverage and a housing market that has had a historic run (supported by strong immigration, supply/demand imbalance). This run has pushed housing affordability out of reach for the average Canadian (made worse by the rise in home prices during the pandemic and now with the spike in interest rates). Until there are clear signs that the heavy lifting on rates is behind us and an assessment of the economic damage monetary policy has inflicted, we remain cautious on the group. The potential downside EPS risks due to a worsening economic backdrop, combined with a premium valuation has been the driver of our cautious view on RY shares. Maintain Underperform rating.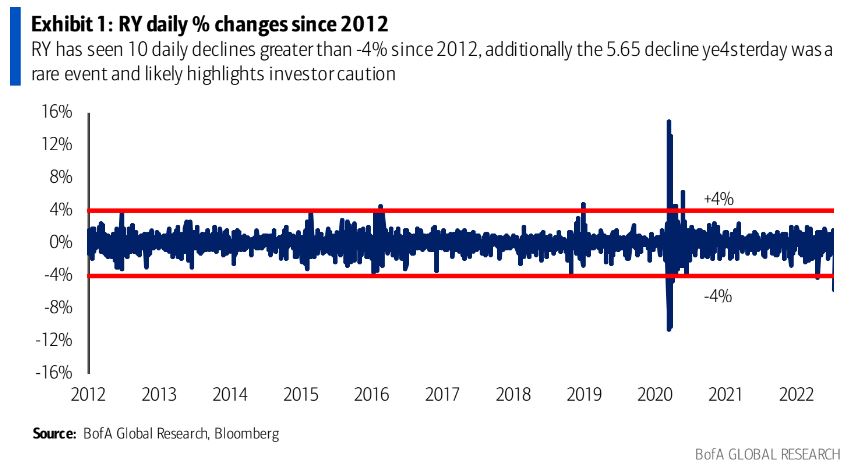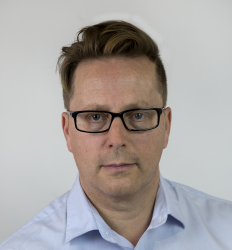 Latest posts by Houses and Holes
(see all)