Australia has a record 480,000 job vacancies, with KPMG chief economist Brendan Rynne saying there is a "skills mismatch" between the sorts of jobs available and the skills possessed by those who are seeking work.
Boosting immigration and developing training systems that allow people to reskill more quickly are seen as among the solutions to the problem.
From The AFR:
"Domestic labour market efficiency is falling, simply because there is a mismatch between the skills people have who are currently available to work and the skills employers are seeking to hire," [Dr Rynne] said…

"To lock in our recovery and to make sure Australians get the services they expect, we must boost levels of labour force participation, attract migrants and deliver a skills system that lets Australians reskill and upskill quickly," [Business Council of Australia chief executive Jennifer Westacott] said.
As we know, business groups are lobbying the federal government heavily to boost migrant numbers, including by demanding:
Uncapped access to temporary migrant workers and the abolition of labour market testing on so-called Temporary Skills Shortage (TSS) visas.
Speedier and cheaper visa application processes.
Doubling of the permanent skilled migration intake to 200,000 a year to make up for 'losses' over the pandemic.
Offering prospective temporary migrants tax incentives, free Medicare and free flights.
Multiple surveys have shown that most recently arrived skilled migrants are working in areas well below their reported skill level, suggesting that they are exacerbating the skills mismatch.
Several years ago, the Australian Population Research Institute (APRI) released a report, based on 2016 Census data, revealing that most recently arrived skilled migrants (i.e. that arrived between 2011 and 2016) cannot find professional jobs.
Specifically, only 24% of skilled migrants from Non-English-Speaking-Countries (who comprised 84% of the total skilled migrant intake) were employed as professionals as of 2016, compared with 50% of skilled migrants from Main English-Speaking-Countries and 58% of the same aged Australian-born graduates.
APRI's results were supported by a 2017 survey from the Bankwest Curtin Economics Centre, which found that 53% of skilled migrants in Western Australia said they are working in lower skilled jobs than before they migrated to Australia.
An Adelaide University survey of 1700 skilled migrants living in South Australia found 53% felt they were not utilising their skills and abilities, with 44% working in a job different from what they nominated in their visa application. 15% were also unemployed.
The November 2021 issue of Engineers Australia's own industry magazine, Create, complained that nearly half of all migrant engineers were unemployed and another third were working in jobs well below their qualification.
A 2022 CEDA report showed that nearly one quarter of Australia's 'skilled' migrants are working in jobs below their qualification level, with migrant accountants, civil engineers and chefs among those least likely to find work in their nominated occupation. Anecdotally, this has led to many 'skilled' migrants driving taxis and Ubers.
Most tellingly, the recently released Graduate Outcomes Survey (GOS) showed that only 41.6% of international graduates living in Australia were employed full-time in 2021, versus 68.9% of domestic student graduates: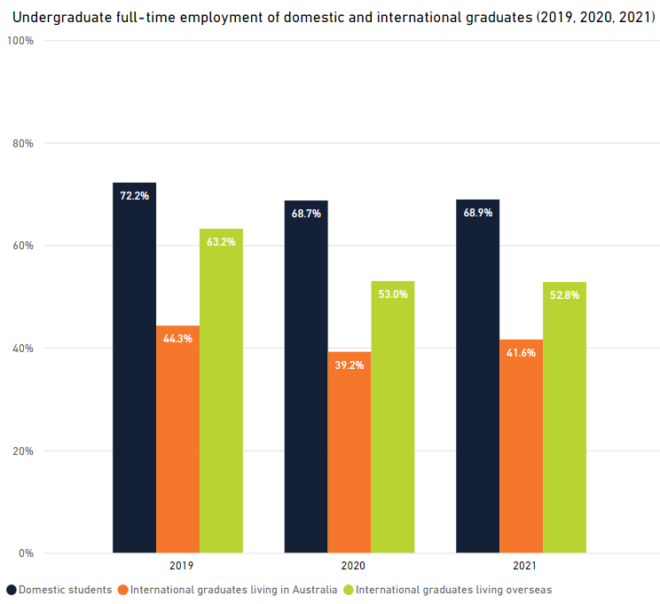 The median full-time salary of international graduates was also only $54,300 in 2021, well below the $65,000 median full-time salary of domestic graduates: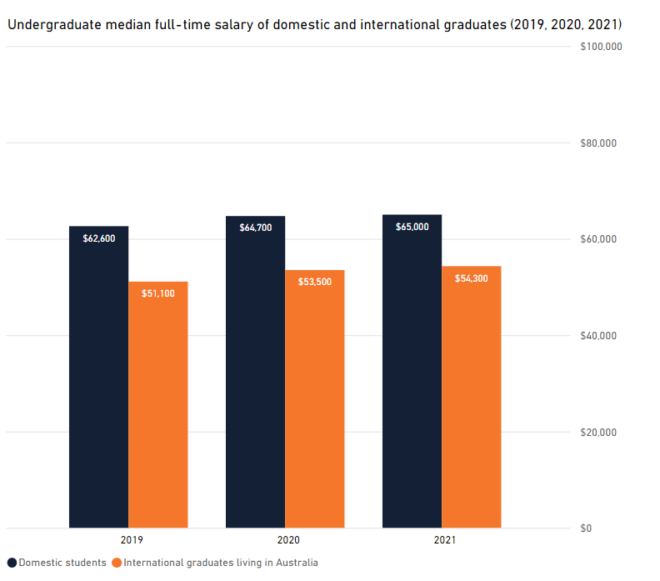 Thus, a minority of international graduates work full-time, and of those that do work full-time, they are very poorly paid. The median total wage of international graduates would, therefore, be even worse, given most international graduates work part-time (unlike domestic graduates).
Finally, the percentage of international graduates working in managerial and professional occupations is way below domestic graduates:

In particular, only 44.3% of international undergraduates were working as professionals in 2021, well below the 55.1% of domestic graduates.
Only 41.7% of international postgraduates were working as professionals in 2021, roughly half that of domestic postgraduates (81.8%).
All of this proves, yet again, that Australia's purported 'skilled' visa system is a giant sham designed with one goal in mind: the development of a full-blown migrant underclass for chosen sectors to exploit. No wonder most Australians do not support pre-COVID levels of immigration.
Before importing more migrant workers to solve purported 'skills shortages' and 'skills mismatches', migrants that are already here should be used more effectively.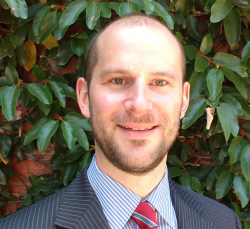 Latest posts by Unconventional Economist
(see all)