Cheap and easy access to mortgage credit was the fuel that lifted Australian house prices by 35% over the pandemic.
Now the housing market is facing the polar opposite forces, with mortgage rates rising at the same time as credit is becoming more difficult to obtain.
The Reserve Bank of Australia (RBA) has only hiked the official cash rate (OCR) by 0.75%, yet fixed mortgage rates have already more than doubled from their pandemic low with variable rates set to follow: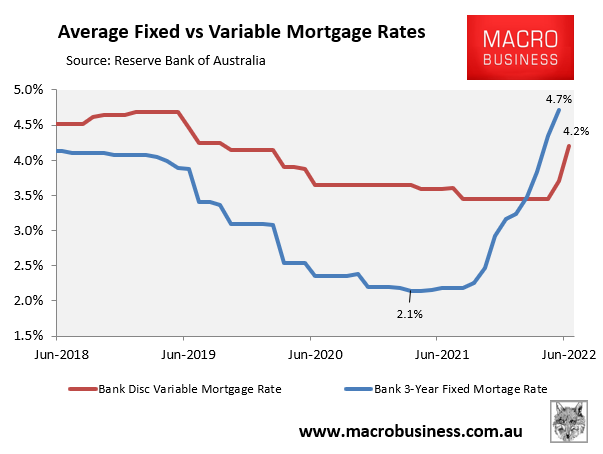 Economists tip that Australia's average discount variable mortgage rate will climb to around 6% by mid next year, whereas the futures market is tipping the rate to climb to over 7%.
Under either scenario, Australian mortgage holders are facing a huge rise in repayments, which will place serious downward pressure on house prices.
The price falls will be exacerbated by Australian banks tightening borrowing conditions, squeezing buyer's purchasing power:
Residential property buyers are having to provide lenders more details about spending and income as living expenses soar, experts say, squeezing their capacity to meet rising mortgage costs, particularly in high-cost Melbourne and Sydney…

"Borrowers and lenders are growing nervous as cheap loans come to an end and regulators turn up the heat," says buyer's agent Phoebe Blamey, a director of Clover Financial Solutions.

The Australian Prudential Regulation Authority (APRA) recently wrote to lenders warning them of the need to tighten scrutiny of "higher risk residential" borrowers, such as loans at a high debt-to-income multiple or high loan-to-value ratio…

Latest policy changes by lenders to tighten terms and conditions for mortgage borrowers include: Increasing deposits and reducing the amount lenders can borrow [and] tightening evidence of income…

Exclusive analysis by RateCity, which monitors lending rates, reveals the maximum borrowing capacity of individuals and families will shrink by up to around 18 per cent as rates continue to rise…

Other analysts, such as Carlos Cacho, chief economist at investment bank Jarden Australia believe rising rates and pressure on discretionary spending will result in a 25 per cent fall in borrowing capacity…
If the sharp fall in interest rates was the key driver of the Australian house price boom over the pandemic, then surely ramping up interest rates in concert with tighter lending standards will have the opposite effect in delivering a major house price correction.
Interest rates and credit availability are a double-edged sword.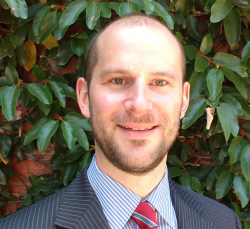 Latest posts by Unconventional Economist
(see all)