Australia's home building industry continues to collapse, with 16 large firms already winding up and many more on the brink of going under.
The list of collapses is long and includes: Privium, BA Murphy, Hotondo Homes Hobart, Probuild, Condev, Inside Out Construction, Dyldam Developments, Home Innovation Builders, ABG Group, New Sensation Homes, Next, Pivotal Homes, Pindan, ABD Group, Solido Builders and Waterford Homes.
All have collapsed since December 2021.
Australia's biggest home builder – Metricon – is also teetering on the brink and has engaged in crisis talks with both the NSW and Victorian Governments, as is Victorian builder Snowdon Developments Pty Ltd.
Experts believe this is only the tip of the iceberg. IBISWorld this month reported that insolvencies are "trending upwards" in the home construction industry: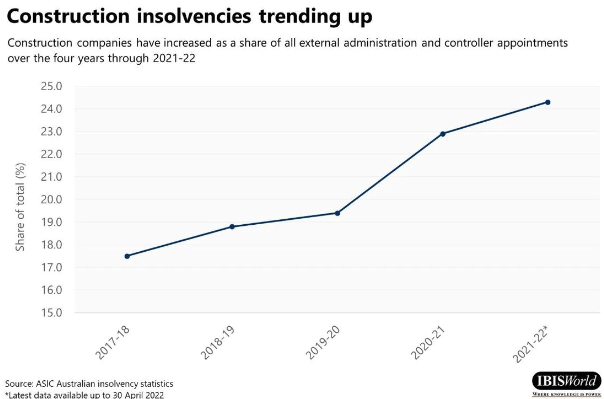 IBISWorld also predicts that home construction enterprise numbers will decline by 9% in 2022-23, "contracting for the first time in a decade" by thousands: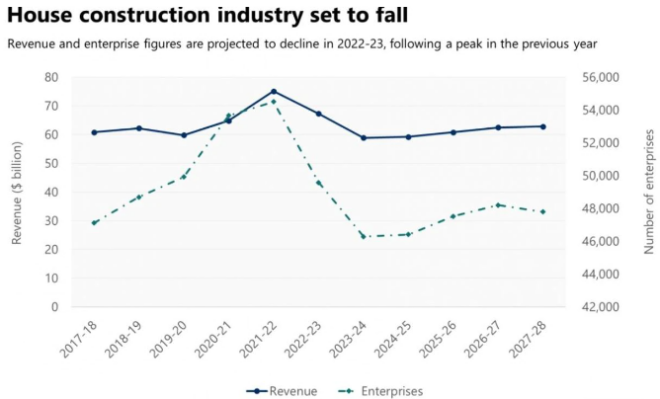 The Morrison Government's HomeBuilder stimulus has exacerbated the problems facing the home building industry, since it drove a massive lift in new home demand at the same time as inputs became increasingly scarce.
Builders signed a huge number of contracts at fixed rates and then competed with each other for scarce resources, which drove costs even higher. Then construction times blew out as input costs continued to skyrocket.
The end result is that Australia's home building industry has been caught in a loss-making boom. While volumes are booming, builders are bleeding money at an alarming rate. Accordingly, many builders have gone bust, with many more to follow.
Rather than 'saving' the building industry, the Morrison Government's HomeBuilder stimulus instead hastened its demise.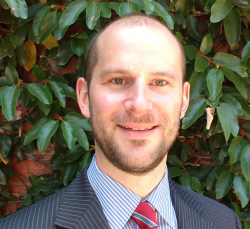 Latest posts by Unconventional Economist
(see all)