Data from CoreLogic shows that a record 23.8% of dwellings across Australia fetched more than $1 million in the year to May 2022. The number of suburbs with a median price of more than one million dollars rose to 1,367 nationwide during the period:
In the 12 months to May 2022, national dwelling values rose 14.1%, with growth favouring regional areas (22.1%) over capital cities (11.7%) and houses (15.6%) over units (8.7%). This saw the total value of the national real-estate market rise to $9.97 trillion in May, with residential real estate accounting for 57.6% of household's wealth though the March 2022 quarter…

Despite the recent downturn, the growth over the past year has carried more Australian households into the 'millionaires' club. This report showcases the prominence of sales and values that are at or above $1 million…

Over the year to March 2022, CoreLogic collected 596,733 sales nationally, up 19.8% from the 497,923 sales recorded the previous year. Of these sales, 23.8% had a sales price at or above $1 million, marking a new record high portion of sales over the $1 million mark.

In the year to May 2022, 487 markets (450 house and 37 unit markets) joined the million-dollar club. This saw 1,367 or 30.4% of house and unit markets analysed in May record a median value of $1 million or more. Sydney made up 26.3% of the new million dollar  markets, which is unsurprising given Sydney has had a median dwelling value above $1 million since May 2021.
However, CoreLogic says the number of million-dollar suburbs is likely to fall as the housing market downturn gathers pace. They add that recent additions to this exclusive list are likely to be the most vulnerable:
High non-discretionary inflation coupled with rising interest rates will likely see household budgets tighten in the coming months, further dampening housing demand over the medium term. As the market moves into the downward phase of the cycle it's likely a number of the recent entrants to the million-dollar list will see their median values decline below the $1 million mark.
Already dwelling values are falling quickly across both Sydney and Melbourne, meaning the number of million-dollar properties in those markets would already have fallen: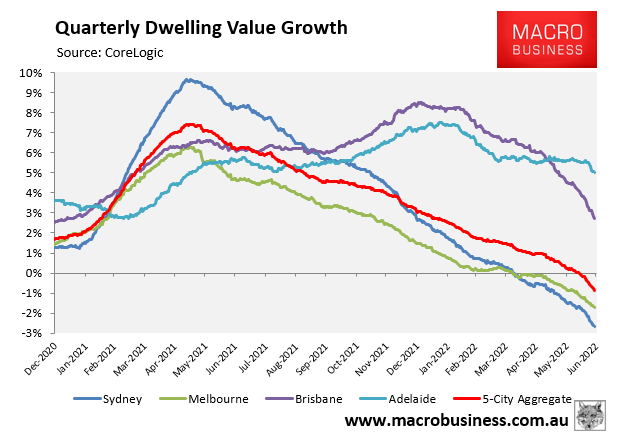 With the Reserve Bank forecast to hike rates aggressively over coming months, price falls will inevitably spread to other markets, returning many recent inductees back to the sub-$1 million club.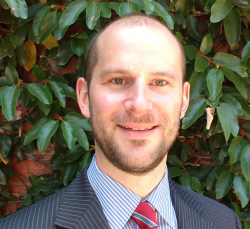 Latest posts by Unconventional Economist
(see all)