While we often prognosticate over the impact of aggressive interest rate rises on the housing market, the bigger worry is what happens to household consumption and the economy.
Household consumption is by far Australia's biggest economic driver, typically accounting for around 55% of the nation's growth. Therefore, where household consumption goes, the economy typically follows, as illustrated in the next chart: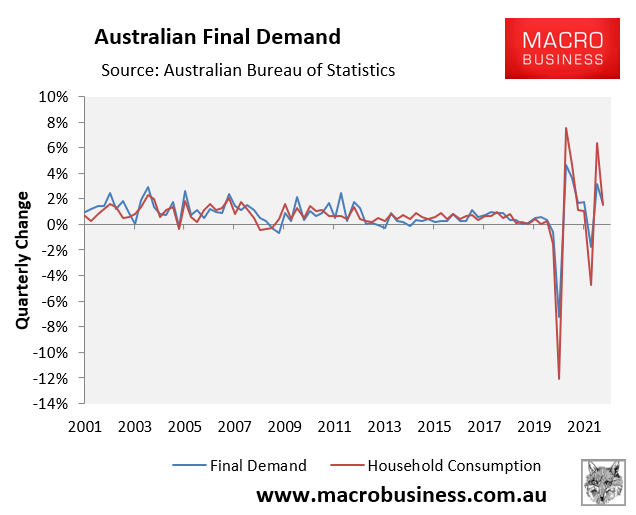 With mortgage repayments tipped to soar on the back of sharp rate hikes, there will necessarily be less money available in household budgets for spending on discretionary items, thereby slicing household consumption and growth.
Already, a new survey by NAB shows that Australian households are cutting back hard on spending in the face of soaring cost of living:
People right across the country are looking to make their money go further by cutting back on non-essential spending as well as bigger ticket items, the National Australia Bank research showed…

"We can see the impact of inflation starting to show with prices moving up and we know many Australian households are already feeling cost-of-living pressures. This research reflects the conversations I've been having with our customers – people are finding ways to make short term changes and get on top of their money", [NAB group executive of personal banking Rachel Slade said]…

Around 40 per cent cut back or stopped buying micro treats such as coffees, snacks, and lunch, while one-in-three cancelled, delayed or made more modest travel plans.

But Aussies are also putting off bigger purchases with three-in-10 cancelling or delaying a buying a TV, fridge or washing machine…

For many Australians, a home loan repayment is a significant monthly cost, the NAB said…
The negative drag on household consumption from soaring mortgage repayments would also be exacerbated by an expected sharp fall in house prices, which would make Australians feel poorer.
It is also concerning that the Reserve Bank has commenced this monetary tightening cycle with Australia's consumer confidence tracking below the trough of the Global Financial Crisis: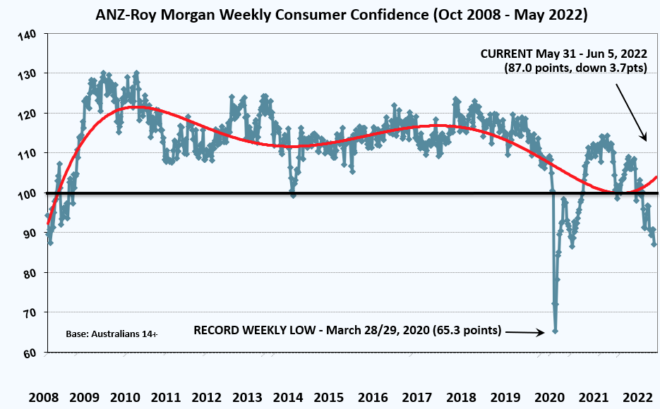 Thus, Australian consumers are already in a fragile state as they stare down the prospect of mortgage rates soaring to 6% or 7%, as projected by economists and markets.
If these rates ensue, household consumption will crash and the economy will very likely be pushed into an unnecessary recession. It would be the recession we didn't need to have.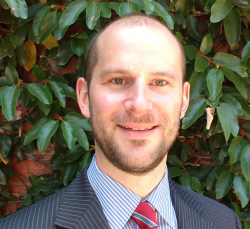 Latest posts by Unconventional Economist
(see all)