The always excellent Michael Wilson at Morgan Stanley leads us off:
Oil, Rates, Rebalancing Lead to a Rally

With talk of recession increasing sharply over the past few weeks and culminating with Fed Chair Powell's 2-day Congressional testimony, markets decided enough bad news had been priced. We also think the sharp decline in both oil and interest rates (Exhibit 1) helped ease some of the concerns on inflation which still remains elevated and public enemy number one. In our view, both the fall in oil and rates are being driven more by the fears of an economic slowdown, or worse, rather than a real peak in inflation and, therefore, peak Fed hawkishness. However, with markets so oversold and bearishness so pervasive, equity investors have taken the bullish view and re-rated stocks higher via both the interest rate and Equity Risk Premium (ERP) channels.

Based on Friday's close, the S&P 500 is trading back at 16.3x or 1 turn higher than where it was at the prior week's lows. In other words,all of the move last week was due to valuations moving higher which seems unusual given the growing concern about earnings. In fact,even taking into account the fall in 10-year yields, the Equity Risk Premium is back to300bps. In our view, that makes little sense in the context of the likely negative earnings revisions coming in 2Q and still rising risk of recession over the next 6-12 months. As our fair value valuation framework (Exhibit 2) shows, the S&P 500 is now meaningfully mis-priced again for the current PMI and rates backdrop (even with the recent fall in bond yields).

Another way to think about this setup is that the internals of the equity market (Exhibit 3 and Exhibit 4) are much further along in terms of thinking about the risk of recession than bonds. Economic signals like the copper versus gold ratio (Exhibit 5) and the economic surprise index (Exhibit 6) are also saying the same thing. This is something we have been pointing out for months,and now the Treasury market appears potentially ready to accept the risks to growth and the possibility that the Fed may not be able to complete the amount of tightening that is now priced into the bond market. Perhaps the best measure of this change is the terminal rate which started to fall last week, too (Exhibit 7).

However, with the short-term rolling correlation between equities and real yields now deeply negative once again, this recent decline in bond yields has been perceived as positive for equities (Exhibit 8)—ultimately a misread, in our view. For this read (falling yields=positive for equities) to continue to hold, we'd likely need to see a continuation of falling yields in the context of cresting inflation pressures, an associated less hawkish Fed policy path, more durable economic growth than we expect and a re-acceleration in earnings revisions. The combination of those factors (i.e., one iteration of the soft landing) is feasible, but is not likely, in our view. Thus, we see the recent rebound in equities as another bear market rally on the path to fair value price levels of 3400-3500 (our tactical base case). However,as noted last week,a recession would likely bring tactical price lows closer to ~3000. As published in our mid-year outlook in May,a recession is embedded in our bear case. The June 2023 point in time price target associated with that bear case is 3350, which implies a temporary overshoot to the downside (~3000) of that target before working back toward that price level next May. In short, the bear market is likely not over although it may feel like it over the next few weeks as markets take the lower rates as a sign the Fed can orchestrate a soft landing and prevent a meaningful revision to earnings forecasts.

In that context, we think US equity markets can rally further. In addition to the lower rates and oil prices helping support the belief in a soft landing, there is still some equity demand from Pension funds that need to rebalance at the end of the month/quarter this week. Our QDS team estimates about $25-$30B of equity demand globally with approximately $15-$20B for the US. That's a substantial amount of excess demand and if retail joins in like last week, that could carry equity prices higher before 2Q earnings season begins and the revisions arrive. We think it's unlikely to see a slew of preannouncements ahead of earnings as most companies have already managed 2Q results and likely want to wait a few more weeks for more data before providing guidance for 3Q and the rest of the year in some cases. Finally,a retracement of 38-50% of the entire decline would not be unnatural or out of line with prior bear market rallies, particularly ones associated with a recession at the end which is yet to come. In S&P 500 terms that would translate into 4100-4200 or approximately 5-7% upside from Friday's close. Furthermore, if such a rally were to continue, it would likely be led by the longer duration / interest rate sensitive stocks–i.e. Nasdaq. In no way are we suggesting the bear market is over or that earnings estimates won'thave to come down. Instead, we are simply being realistic about the viciousness of bear markets and their ability to confound all market participants at times, even the bears.

Turning back to the fundamentals,earnings revisions breadth remains in negative territory (Exhibit 10). As detailed in recent months, this can often be a slow moving measure, but it continues to decelerate in negative territory…usually a precursor to a consolidation in forward EPS. On that score, we find it interesting that 2023net income ex-commodity sectors has actually been stagnant for several months. This points to the notion that the continued grind higher in forward earnings of the overall market has largely been driven by commodity sectors. Given that commodities are a cost for most of the market, this is not ultimately a healthy development, in our view.

Finally, in response to client inquiries around the changing composition of the momentum factor, we took a look at how the sector weights within momentum have evolved over the last week, month,3 months, 1 year and YTD. Unsurprisingly given recent price action, Energy has seen its weight decline over the last week. Discretionary's
weight has jumped higher amid the market's squeeze higher. We find it interesting that Healthcare's weight has jumped significantly in recent months, while Tech's weight has fallen materially.
That all sounds about right to me.
The one area where you might find a few realists at Goldman Sachs is hedge fund sales. Tony Pasquariello is its head.
One Narrative, Ten Quick Points, Five Charts

The central story of last week was a severe reversal in momentum. That's a polite way to describe things — it was more of a lighting strike on consensus positions, and it's not necessarily easy to divine the underlying message.

For example, price action would suggest that commodities and interest rates suddenly foresaw a harder landing — yet, US equities ripped higher.

Perhaps it was simple mean reversion after a period of scorching moves and extended trends … perhaps it's different markets with different technicals that discount to different forward points … perhaps stock operators are held hostage by the bond market, and dogmatically welcome any move lower in yields … or, perhaps we should not risk being 'fooled by randomness' and move on from this exercise.

What we do know: the tectonic plates that underlie macro trading are undergoing a deeply fundamental shift.

In that context, market participants are struggling to price the tails of the distribution — across multiple asset classes — in a constant and cohesive manner.

Said better by Sales & Trading colleague Rich Privorotsky: 'hey, there's nothing typical about this market.'

So, the big dynamics in the game remain in flux, realized volatility is huge and I can't decide whether this is a time to be going for the brake or to be going for the gas.

Furthermore, liquidity is fickle and it's not likely to get appreciably better over the next two months … so, I'd recommend you stick to what you believe in and simply your positions … to quote the single most important economic actor in planet Earth, this is 'not a time for tremendously nuanced readings.'

What follows from here is a check-down of some thoughts on the first half and a stab at where we go from here … #5 is my bottom line on the market:

1. The basic challenge is still very well defined: central banks are tightening into a growth slowdown. As long as inflation remains so far from target, they will be turning the screws.  I'm not breaking news here — and, critically, the markets have done a lot of work over the first six months of this year — but, I'm trying bear in mind the wisdom of someone who has seen a lot of market cycles: job number one is to know what ballpark you're playing in.

2. To borrow another line from one of the fastest guns in the West: every macro process starts with a liquidity framework. So, what you see is what you get, and the equity bulls are still fighting uphill until the monetary dynamics shift.  In that context, it's perhaps no surprise that current 6-month implied volatility on S&P has been higher in just three periods since … 1940.

3. Attendant to this is an open question around the Fed's ability to move with force on inflation — without provoking a bust. It was clear from the June SEP that they are willing to hit the labor market to achieve their goals. As mentioned several times before, their track record on culling just the right number of jobs is not at all encouraging. For the sake of balance, US Economics does not forecast a hard landing, but the probability of one is only rising.

4. One more point on this topic: the current gap between unfilled jobs (11.4mm) and unemployed Americans (6mm) is the still near the widest in the past 75 years.  This invites a question: can we fall into a serious recession when jobs are still so plentiful?  perhaps the durability of the labor market — alongside a very de-levered household sector — is what makes this cycle different from all of the others, but it's far from a given.

5. For most of this year, I expected a turbulent and difficult range trade where you'd be paid to sell strength. That was not bearish enough — not even close — but, the risk/reward profile of S&P is better balanced today than it was six months ago. Looking forward, my instinct is H2 sees a continuation of broad trend lower, interrupted by occasional and vicious rips higher, leaving the index +/- 5% from current levels (which, admittedly, is how much we've been moving on any given week).

6. In thinking through a downside level where I'd start to get more constructive, it's 3400 … Thats where we satisfy the average drawdown in a cyclical bear market…

… the average selloff in a recession (if that's what you expect) …

… and where we give back the entirety of the COVID era bull market (3386 was the high from February of 2020 … I suppose if we return there it tells you the cost of the policy medicine has exceeded its benefits).

7. The upcoming Q2 reporting period should be immensely informative on the state of US corporates. For the macro investor, it will be a treasure trove of bottom-up data on labor, inflation, bank capital, post-COVID demand, the goods-to-services rotation, on and on.  I'm inclined to think the risk is not around Q2 earnings — again, there's been a lot of nominal GDP spilling around the globe — but, rather, it's that forward guidance has to come down. Note the YTD selloff in S&P has been most entirely driven by the multiple — which, incidentally, has mapped very closely with the move in real rates — while forward earnings expectations really haven't budged.  said another way: the past six months have been about the 'P' … now the burden of proof shifts to the 'E.'

8. One of the biggest open questions on my mind: what does the US retail investor do now? On net, they were far more resilient in the first half than I would have expected, particularly in Q2. Very locally, note the most recent flow report saw the largest outflows in over two months ($17bn). So, Im inclined to think the risk in H2 is skewed towards outflows, while admitting I was wrong on that in H1. For a detail assessment of market technicals, see here from the expert: link.

9. Following on from that point, it has also been a patently terrible start for Fixed Income (for the Agg index, the worst since the mid-1970s).  in that spirit — and, as very distinct from the 2000-02 or 2007-08 equity selloffs — there has been no viable alternative to stocks. That said, purely in a nominal context, I do wonder whether we approached a point two weeks ago where the front end of the Treasury curve invited some coupon clipping (e.g. US 3-year notes around 3.50%).  I'm not suggesting that I'm genuinely bullish of bonds, as the Fed needs to keep the pressure on financial conditions, but rather that I can see some sponsorship coming into short duration once you push nominal yields high enough.

10. The fastest horse in the race has been commodities. In the recent meltdown of momentum strategies, commodities were not immune (BCOM just saw its biggest 10-day drawdown, outside of COVID, since 2010 … and, for energy equites, it was the 3rd worst two-week performance of the past 15 years, only eclipsed by October of 2008 and March of 2020). My instinct is the fundamental supply/demand picture hasn't changed and this is more about hard landing concerns and pain trades. Cue the experts: 'we agree that when the economy is in a recession for long enough, commodity demand falls and hence prices, fall. Yet we are not yet at that state, with economic growth and end user demand simply slowing, not falling outright.  this is critical because commodities are spot assets, driven by demand levels relative to supply levels, i.e., you can remain bullish commodities as long as demand levels are still above supply levels, which all the data suggests is still the case'.

11.You've seen this one before, but to point #8, households are the heavy with nearly 75% ownership of the domestic equity market:

12. Truth in advertising. When I first started working on this note, I typed the following: 'at a high level, the corporate credit market had a comparatively respectful run. Short of a deep recession, I assume that high grade will remain relatively strong.'  then I saw this table of YTD risk-adjusted returns … aka the Sharpe ratio on both IG and HY has been, relatively speaking, dreadful:

13. Another level down within equities, the thematic check-down is thoroughly grim:

14. The white line is US financial conditions. As you can see, relative to the long trend of things, we've just come off the easiest level in history.  that said, the dashed red line below marks quarterly rate-of-change … which has been as sharp as anything on record.  as said over and over, this is the hard truth around what the Fed needs to see happen in the financial markets:

15. An update on cyclicals-vs-defensives. This signal is consistent with what you'd observe outright in the banks, homebuilders, transports … as well as the Eurodollar curve, the S&P dividend swap curve and forward implied volatility.  Despite all of this, S&P valuation is still on the rich side of fair.
MB Fund remains very underweight equities, accumulating bonds, very long cash and tilted to the US dollar.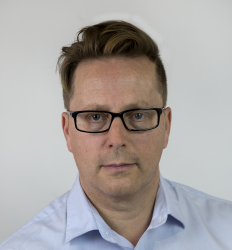 Latest posts by Houses and Holes
(see all)