Interest.co.nz's David Hargreaves has woken in fright at the prospect of the Reserve Bank of New Zealand (RBNZ) hiking the official cash rate (OCR) to 3.9%, as outlined in its 'forward track' guidance attached to the RBNZ's latest Monetary Policy Statement:
According to RBNZ figures, as of April there was nearly $297 billion worth of fixed-rate mortgages around the country. Of this, $239 billion (just over 80%) was due to reset within two years. Well over half of the money ($160 billion) was due for a reset within 12 months.

These rate rises are carrying enormous firepower.

A quick example, using the trusty interest.co.nz calculator: In May last year the average-sized new mortgage (according to RBNZ figures) was $329,000. So, using the Kiwibank rate of 2.35% on a 30-year mortgage would have meant payments of $1274. If this imaginary customer were to today reset this mortgage for another year they will be paying $1736 a month. That's a rise in payments of 36%. On a weekly basis it would mean over $100 EXTRA a week.

The RBNZ has suggested that even the short-term fixed mortgages are heading for 6%. On that basis our mortgage customer would then be paying $1973 a month, a rise of 55% on what they were paying in May last year and on a weekly basis some $160 more.

I did an Auckland-esque example using a $900,000 Auckland-sized mortgage as well, but I've decided the results were too frightening to detail here. Suffice it to say my sympathies are with the people who will be in that boat…

The economy is going to grind to halt.
The RBNZ's Monetary Policy Statement (MPS), released a fortnight ago, forecast that average mortgage rates will soar to around 6% next year, which is more than double their pandemic low: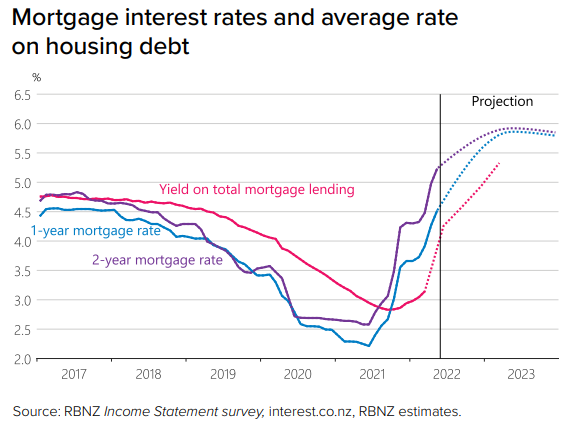 Accordingly, borrowers that stretched themselves to get into the housing market at rock bottom fixed mortgage rates face one hell of a mortgage reset 'shock' when their fixed loan term expires.
Meanwhile,  Investment and advisory firm Jarden's latest housing market review tips that New Zealand house prices will crash 25% from their November 2021 peak on the back of aggressive rate hikes:
Average house prices are expected to drop to $720,000 by December 2023, an 18 percent decrease from the current average of $905,000 in April.

The modelling also suggests that housing demand could slow dramatically by the end of 2022.

Jarden research analyst Grant Swanepoel said average house prices peaked at $965,000 in November 2021, which is a 49 percent increase from 2019 when the average house price was just $647,000.

He said prices have since retraced by six percent in April 2022.

"All signs are that they are continuing to fall," Swanepoel said.
Given the housing market's over-sized share of New Zealand's economy, the RBNZ risks plunging the nation into a deep recession if it follows through with its 'forward track' guidance.
The RBNZ is walking a very fine line on interest rates and must tread cautiously.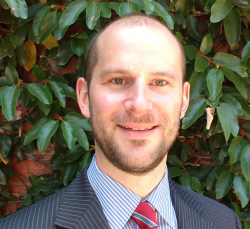 Latest posts by Unconventional Economist
(see all)