The Grattan Institute has published analysis showing that Australian households with a mortgage are facing a sharp rise in mortgage interest repayments in the event that projected increases in the official cash rate (OCR) come to fruition.
The median economist is now tipping the OCR to peak at around 2.75%, whereas the futures market is tipping the OCR to hit 3.7% in May 2023.
According to Grattan's analysis, mortgage interest repayments would rise above where they were when the OCR peaked at 17% in 1990 under both the economists' and futures market's forecast. This is because higher home prices relative to income "has meant that for any given mortgage rate, the share of income taken up by mortgage payments is much, much higher":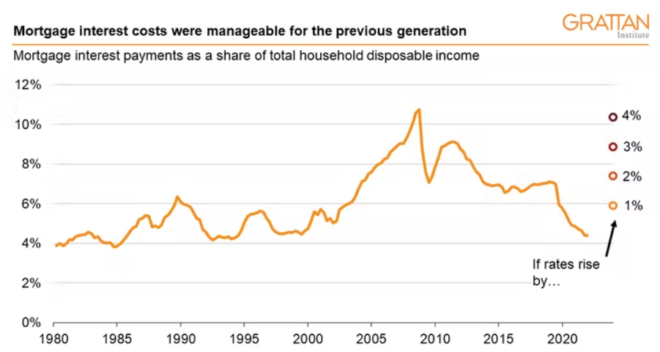 Grattan also found that buyers who purchased in 2021 will face much higher repayments over the life of their loan: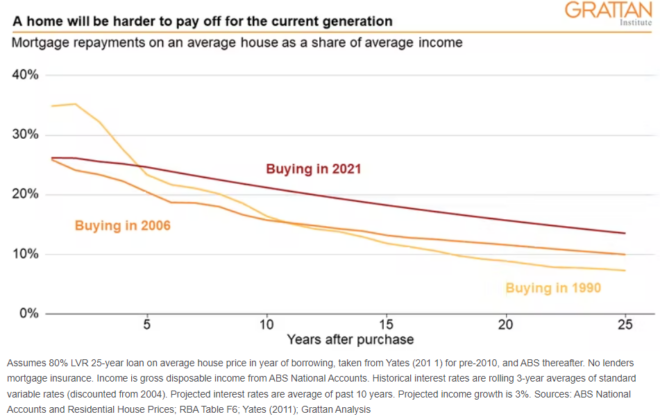 Grattan's findings follow freelance journalist Tarric Brooker's recent analysis, which showed that Australian households are facing their sharpest ever rise in mortgage interest repayments.
What about mortgage principal?
The problem with both studies is that they only examine mortgage interest repayments and ignore loan principal.
As illustrated by the green line in the next chart, the extreme inflation in Australian house prices has meant that principal debt repayments as a share of household income have lifted while interest repayments declined amid falling rates: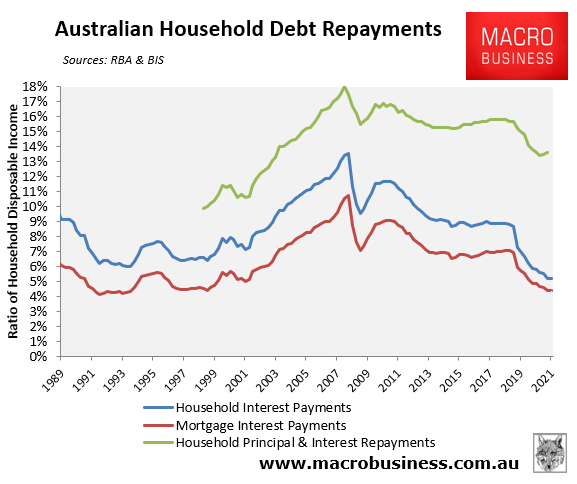 Therefore, while household interest repayments collapsed to all time lows (blue line above), principal and interest repayments were at 2004 levels (green line) before the RBA commenced its tightening cycle.
Since both principal and interest must be repaid, it is the green line that matters to the analysis, not the blue or red lines.
Australian households face record debt repayment burden:
If mortgage rates rise by the economists' 2.75% OCR forecast, then principal and interest repayments as a share of household disposable income will lift slightly above the 2008 Global Financial Crisis (GFC) peak: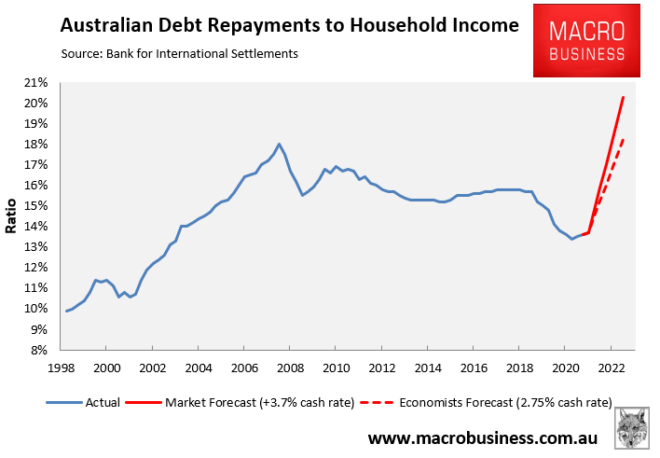 However, if the latest futures market forecast is correct, and the OCR soars to 3.7% by May 2023, then principal and interest repayments as a share of household income will soar way above the GFC peak.
In either scenario, Australian households will face an extreme repayment shock and financial duress.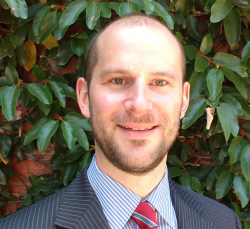 Latest posts by Unconventional Economist
(see all)