See the latest Australian dollar analysis here:
Asian share markets are quite mixed following continued selloffs from overnight markets as Chinese bourses ignore the downside while Australian stocks lead the way down through bear market territory. The USD remains strong against all the undollars, with the Australian dollar still at or slightly below the 69 cent level as we head into tonight's crucial FOMC meeting. Oil prices are drifting sideways, with Brent crude above the $120USD per barrel level while gold is trying hard to fightback after another big move lower overnight, currently just below the $1820USD per ounce level: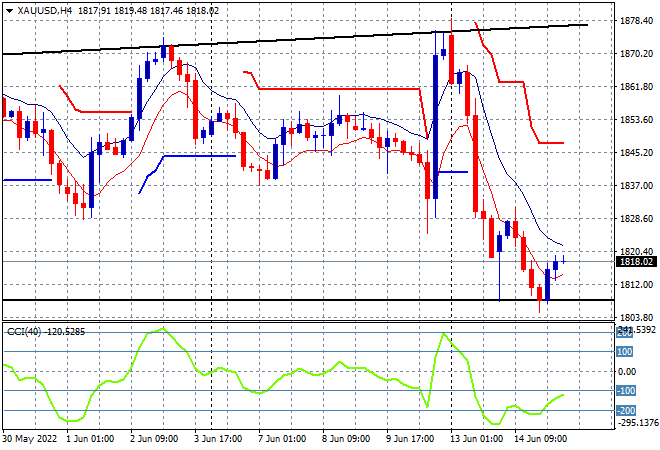 Mainland Chinese share markets are ignoring all the downside volatility with the Shanghai Composite up more than 1.5% to 3344 points while the Hang Seng Index has equaled that performance, up 1.6% going into close to be at 21404 points. Japanese stock markets however continued their pullback, with the Nikkei 225 index losing 0.9% to 26388 points while the USDJPY pair has pulled back from its gains above the 135 level but remains on trend:
Australian stocks are still selling off, with another 1.5% lost in today's session, pushing losses to over 10% in the last 12 months for the ASX200 as it closes just above the 6600 point level. The Australian dollar has tried to bounce back up to the 69 cent level this afternoon, but the Pacific Peso is still looking very weak here as weekly support has evaporated: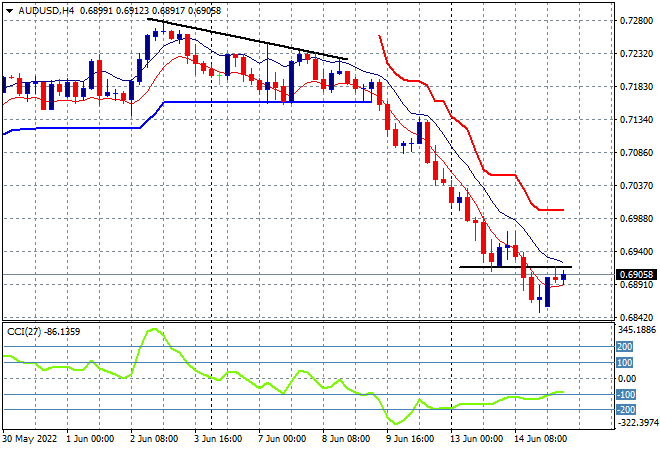 Eurostoxx and Wall Street futures are slowly moving sideways with the latter showing nascent signs of bottoming as selling exhaustion kicks in. The S&P500 four hourly futures chart shows price action still crushed well below the 3800 point level and the May lows (lower horizontal black line) as a swing play on reverting momentum may give some hope here: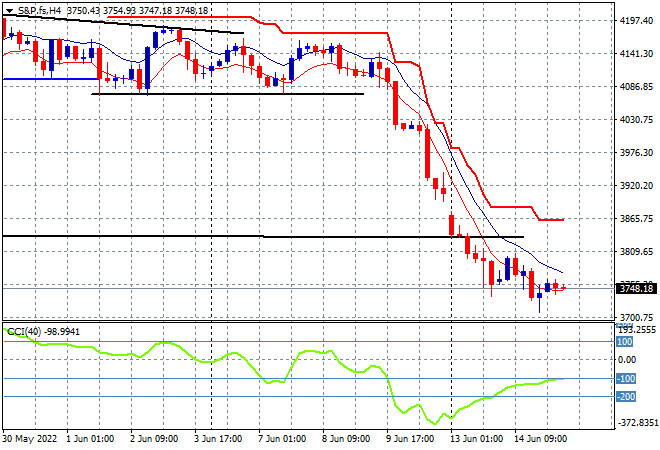 The economic calendar has US retail sales and some other releases to deal with, but everything will hinge on tonight's FOMC meeting, where the Fed is likely to raise rates by at least 50-75bps.
Latest posts by Chris Becker
(see all)