According to PropTrack Economist Paul Ryan, Australian house prices have experienced their sharpest deceleration in growth since 1989:
"Home price growth has slowed down quickly in 2022. The PropTrack Home Price Index showed that home prices fell in May, the first decline since the start of the pandemic. In the last six months, home price growth has experienced the most rapid slowdown in more than 30 years".
The annual rate of dwelling price growth across Australia's capital cities has slowed from a rapid 24% six months ago to 14% in May.
The next chart shows the deceleration across the five major markets: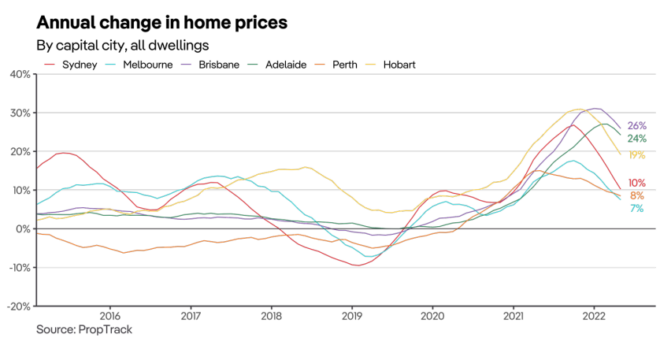 The slowdown has been sharpest across Sydney – Australia's most expensive housing market.
As expected, rising interest rate expectations are behind the deceleration. The pace and magnitude of rate hikes should also determine the size of the correction:
"Interest rate expectations have been the key driver of this slowdown. Financial markets expect the RBA cash rate to be close to 2.75% at the end of the year, while other expectations are more moderate, sitting around 1.5 to 1.75%. As a result, buyers have been more cautious in 2022. A two percentage point increase in interest rates would increase average mortgage repayments by almost 25 per cent"…

"How inflation, growth and wages evolve will be key inputs into how much tightening the RBA implements throughout 2022 and how the housing market performs. Resolving this uncertainty about the path of interest rates will be the key element buyers look for over the rest of the year."
Given Australian house prices soared around 35% over the pandemic on the back of deep cuts to mortgage rates, heavy price falls would necessarily result from the sharpest lift in mortgage repayments in the nation's history, should the RBA hike rates in line with economists' forecasts (let along the market's).
Interest rates are a double-edged sword.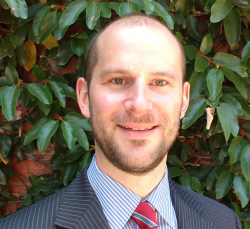 Latest posts by Unconventional Economist
(see all)