Australia's business confidence has begun to tank amid consecutive interest rate hikes from the Reserve Bank, alongside ongoing concerns around supply chains and input costs.
The Roy Morgan Business Confidence index fell by 2.9 points (-2.9%) to 97.3 – the second straight monthly decline – falling to its lowest reading since September 2020: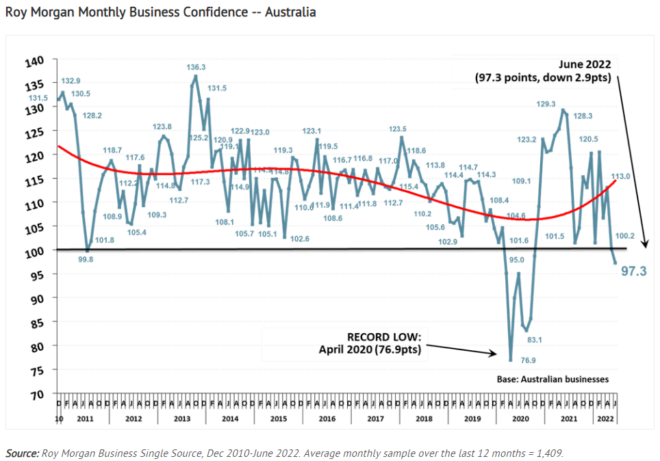 According to Roy Morgan:
The monthly decline was driven by a fall in confidence about the prospects for the Australian economy over the next year with 38.7% of businesses now expecting 'good times' for the economy over the next year, down 6.4ppts from a month ago.

However, despite the monthly fall, businesses are still broadly positive about their own prospects with a rising plurality of 45.4% (up 1.6ppts) saying the next 12 months is a 'good time to invest in growing the business' and a plurality of 41.5% (up 0.2ppts) expecting the business to be 'better off' next year.

Business Confidence in June 2022 dropped to its lowest since September 2020 (85.6) during Victoria's second wave of COVID-19 and is now well below the long-term average of 113.5 but remains significantly higher than the latest ANZ-Roy Morgan Consumer Confidence of 81.7 for June 13-19, 2022.
Business confidence has plunged from a year ago across all states: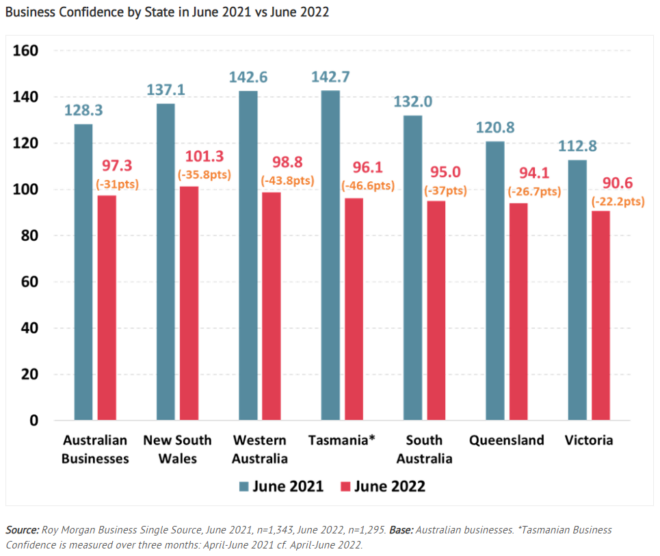 Business Confidence for 'Large Businesses' has also fallen more from a year ago than for smaller businesses, but 'Micro Businesses still have the lowest confidence: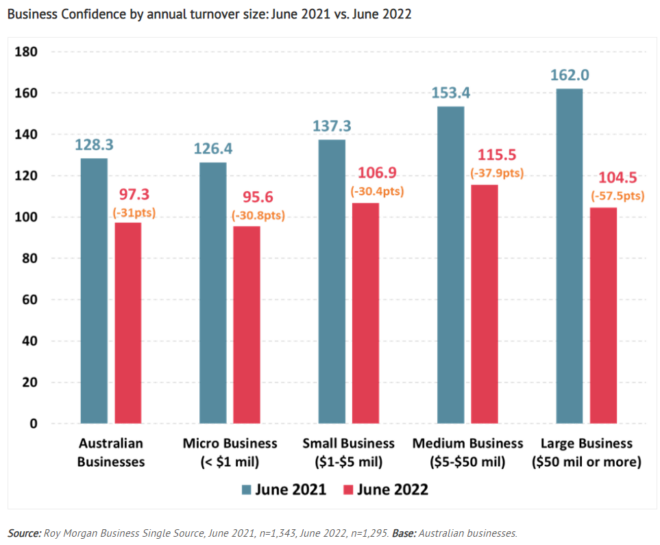 Roy Morgan CEO, Michelle Levine, also noted that the East Coast energy crisis is weighing heavily on business confidence:
"One of the factors driving inflation higher and leading to the RBA's decision to increase interest rates is the increasing price of energy including oil, gas and coal. The rising price of oil is reflected directly in the increasing petrol price – now back over $2 per litre despite the cut to the petrol excise in half (25 cents per litre) by former Treasurer Josh Frydenberg in late March.

"The east coast energy 'crisis' was caused by a multitude of factors but is related to the increasing prices of energy inputs such as gas and oil and a lack of supply being made available to the Australian market and thus forcing prices to increase. Although the immediate threat to energy supplies and reliability appears to have receded the risk is still there that it will return in the months ahead as we head towards the summer months when electricity usage is at its highest.

"Clearly the rising prices of different forms of energy, as well as questions about the reliability of energy supply, is a large concern for businesses that rely on consistent supplies of affordable energy to maintain a profitable business. The new ALP Government's ability to control, and resolve, issues relating to the energy supply over the next few months will be a big factor in whether overall Business Confidence can stabilise or will continue to decline".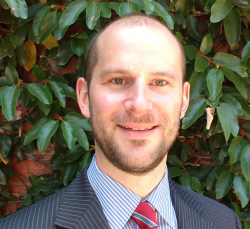 Latest posts by Unconventional Economist
(see all)