This week's Westpac McDermott Miller Consumer Confidence Survey recorded the lowest New Zealand consumer confidence reading in records dating back to the late 1980s.
As shown in the next chart, the consumer confidence index has historically been a good leading indicator for economic growth, which suggests that New Zealand's economy is headed for recession: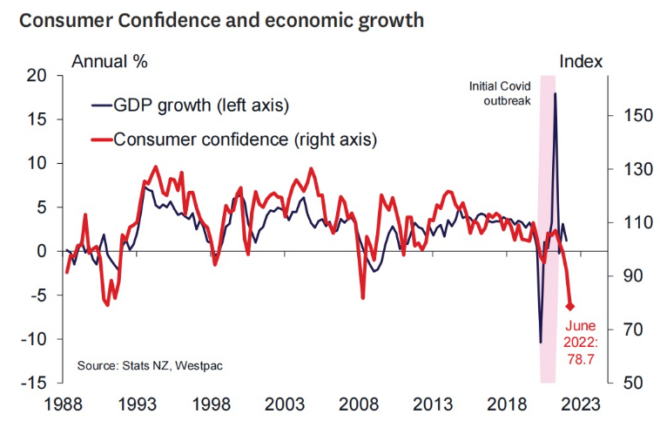 This strong correlation is not surprising, given household consumption is the economy's biggest driver of growth. So where household consumption goes, the New Zealand economy generally follows.
In further bad signs for the economy, the "Good time to buy a major household item" sub-indices has collapsed to its lowest reading on record by a wide margin: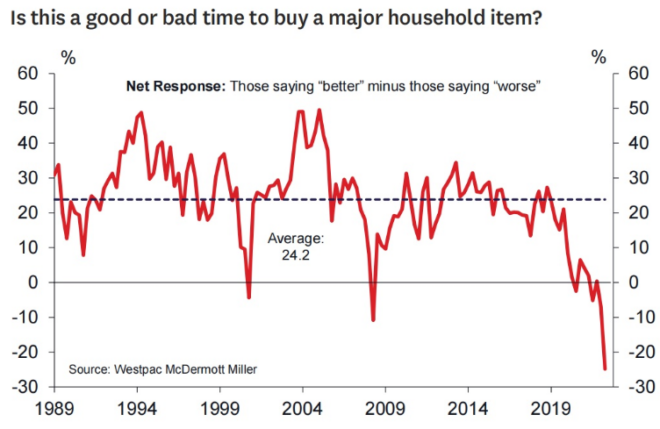 Westpac didn't mince words when explaining the results, claiming household budgets are facing a 'perfect storm' of rising costs for essentials and soaring mortgage rates:
"The combination of rising mortgage rates and increases in living costs has already taken a large bite out of disposable incomes".

"And with interest rates set to rise even further, many households will find the pressure on their finances becoming more intense over the coming months"…

"Confidence has fallen sharply across all age groups and income brackets. Confidence also is at low levels in every corner of the country"…

"This broad-based weakness in consumer confidence highlights the extent and nature of the challenges households are grappling with"…

"Adding to the concerns about the economic landscape, many households have seen the value of their assets falling in recent months"…

"The related slowdown in economic activity that we're forecasting is expected to be widespread".
In its latest 'forward track' guidance, the Reserve Bank of New Zealand (RBNZ) flagged that the Official Cash Rate (OCR) will hit 3.4% by December before peaking at 3.9% in June 2023. For their part, Westpac believes the OCR will only peak at 3.5% – still 1.5% above the current level.
Even if Westpac's lower OCR forecast comes to fruition, Kiwi household budgets will get slaughtered.
The majority of Kiwi mortgage holders are on fixed rates of two years or less. This means that Kiwis that took out mortgages at rock-bottom pandemic rates have yet to impacted by the RBNZ's aggressive monetary tightening, which only began in September 2021.
Financial stress will, therefore, soar late this year once these fixed rate mortgage terms start to expire and Kiwi borrowers are forced to refinance to significantly higher (perhaps double) mortgage rates.
The way it is headed, the RBNZ will drive the nation into recession just in time for next year's general election.
Prime Minister Jacinda Ardern is already trailing badly in the polls. And the RBNZ's aggressive monetary tightening looks set to finish her off.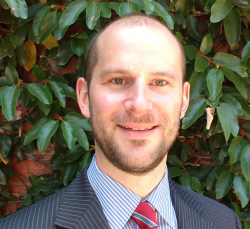 Latest posts by Unconventional Economist
(see all)