There is an inconvenient truth in the Albanese Government's refusal to fix the east coast energy crisis. You won't hear any government ministers talking about it. The MSM won't touch it. It's the sleeping giant of the energy catastrophe.
It is NOT the obvious point that Australian miners are war-profiteering at the nation's expense, though that, too, is ignored. Local gas and coal prices are up 1000% as the Ukraine war drives global shortages of these fuels. Australian exporters are charging global prices for resources owned by Australians that are dug up around the corner virtually for free.
Nor is it the inconvenient truth that fixing the gas price will not end the crisis, though that, too, is ignored. The local coal price must also be dislocated from global prices or QLD and NSW will see a never-ending power bill shock.
Nor is it the inconvenient truth that Labor is the recipient of hundreds of thousands of dollars in mining bribes, though that, too, is ignored.
All of these inconvenient truths stink and will make us a lot poorer. But they will not end who we are.
But there is one other inconvenient truth that tops all of the rest put together. An inconvenient truth so existentially vile that it may, in fact, lead to our collective deaths.
It is this: more than 70% of the cheap Aussie gas leaving the east coast is going to China. For most of this year, it has paid far less for it than we have. Moreover, it can afford to because the price is subsidised by the government to keep its industrial base hyper-competitive.
What is China doing with this gas? Among other things, building and launching its third and most destructive aircraft carrier to date. Doubtless, with plans to sail it around the South Pacific to demand…whatever Beijing likes: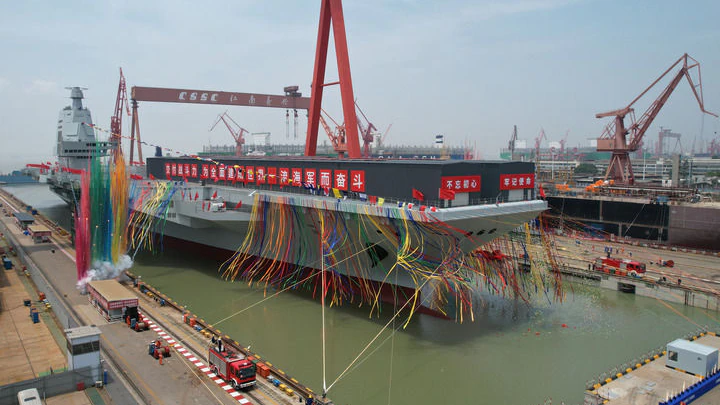 Now, I know what you're thinking. There is a lot more Aussie iron ore and coal in that vessel than there is gas.  So, why aren't we worried about sending them that as well?
We should be. But not all commodities are created equal when it comes to strategic thinking.
The world of international relations and trade is replete with such hypocrisies. There is no such thing as the complete alignment between two states. So we make such compromises all of the time.
As well, the free trade of commodities is a cornerstone of a peaceful world.  When commodities are blockaded, we tend to get wars of acquisition for materials that powers are short of. It was the US oil embargo of Japan that helped trigger its conquest of resource-rich South East Asia in 1939.
Finally, as a resource-rich nation, Australia has been made prosperous by shipping its minerals and ores to China.
So, some compromises are worth making.
But, equally, other compromises are not and gas exports to China fit this category because while they are helping build a vast Chinese navy, they are simultaneously gutting Australia's capability to resist it, by annihilating our own industrial base.
I am calling this an inconvenient truth but, in actuality, it is better described as national suicide.
This phenomenon is a fact. Since 2008, when China began its great east coast gas siphoning operation, Aussie industry has galloped backward: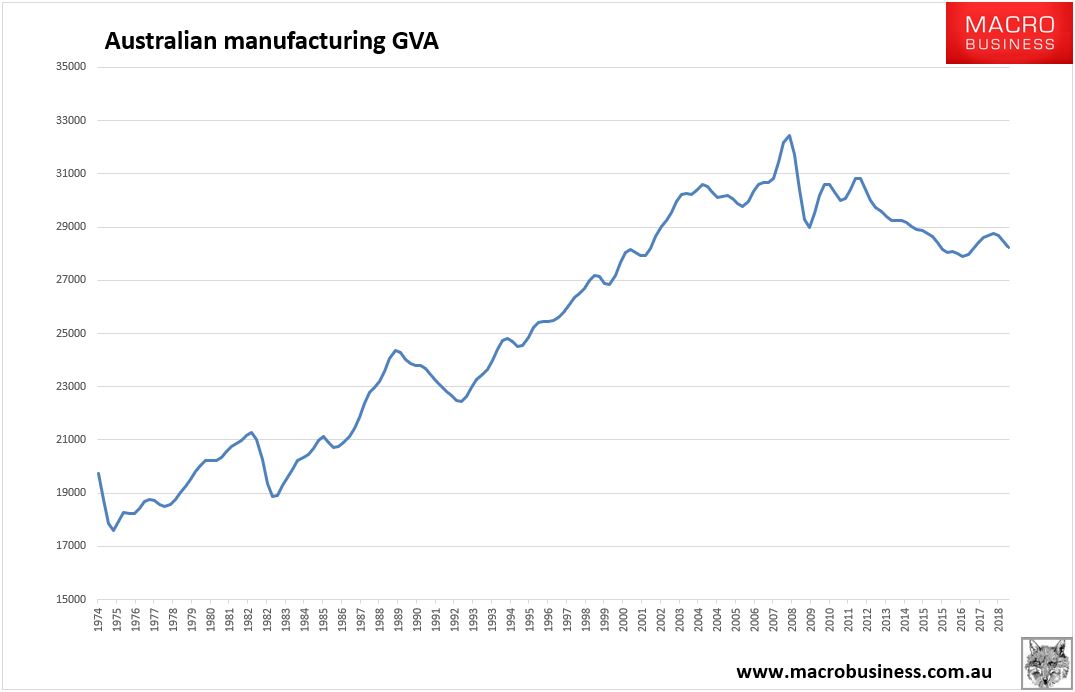 The first blow came with the $100bn building of the QLD gas export plants. This investment was directly responsible for the high AUD that threw the Australian car industry into the sea in 2011, a huge blow to our national resilience and military capability.
But it didn't stop there.
Since the gas export plants opened, a traditional $4Gj gas price first doubled then tripled (now up 1000%) and hollowed out chemical manufacturers, including those that make critical inputs into armaments such as explosives.
We've also lost critical inputs such as fertiliser manufacturing, making it impossible to feed ourselves independently.
The relentless rise of gas prices also drove the electricity price much higher and critical metals processing has shrunk. Today the price of electricity is so astronomical that we'll shortly lose our ability to recycle steel, which compromises a third of our ferrous output.
In fact, every single industrial process that is faintly reliant upon gas or power of any kind – which is ALL OF THEM – will be thrown into the sea over the next few years, just like cars were, at current energy prices.
Is this what we elected Labor for? It's not what Albo said he'd do. On the contrary, he listed "making things in Australia" as his fourth priority and even mentioned the China threat obliquely:
Australia must be a country that makes things. After almost a decade of sending manufacturing offshore and neglecting Australian workers, we've seen the consequences: fewer jobs, missed opportunities, and a nation left exposed when coronavirus hit.

Labor has a comprehensive plan to create jobs, boost vital skills by investing in education and training, bring industry expertise back onshore and supercharge national productivity.

An Albanese Labor Government will rebuild our proud manufacturing industry, and build a future made right here in Australia.
Yet here he is, hollowing out industry at a stunningly swift pace via an energy shock he can end with the stroke of a pen but won't.
This is the great inconvenient truth of today's energy crisis. It is a secret Chinese occupation story told in the transformation of an economy from diversified resilience to hollow dependence.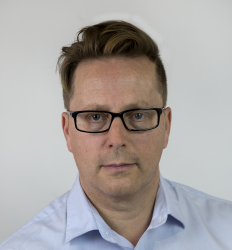 Latest posts by Houses and Holes
(see all)