For the better part of a year, the Reserve Bank of Australia (RBA) stated it would be "patient" on lifting interest rates, and would not hike rates until annual wage growth surpassed 3%, which would signal that underlying inflation was "sustainably" within its target band, rather than temporarily imported on the back of supply-side shocks.
The RBA said that it would wait to see the actual wage growth data, rather than relying on expectations. This was an admission that the RBA had gotten wage growth forecasts horribly wrong over the prior decade, continually predicting a wage breakout only to see actual wages crater:
In mid-March, the RBA released its Minutes of the Monetary Policy Meeting, which once again pushed back hard against the notion that rate rises are imminent, citing that wage growth had yet to hit its 3%-plus trigger:
The Board will not increase the cash rate until actual inflation is sustainably within the 2 to 3 per cent target band… Wages growth also remained modest and it was likely to be some time before aggregate wages growth would be at a rate consistent with inflation being sustainably at target. The Board is prepared to be patient as it monitors how the various factors affecting inflation in Australia evolve.
Specifically on wages, the RBA noted that they had only recovered to sluggish pre-COVID levels:
Wages growth had picked up, but only to around its pre-pandemic rate… Across industries and states, wages growth outcomes had been unusually tightly clustered in the low-to-mid 2 per cent range. While the share of jobs recording wage increases of 2–3 per cent had recently returned to around pre-pandemic levels, the share of jobs with wage increases above 3 per cent had been little changed in recent quarters… Surveys of unions' expectations had also been consistent with wages growth of around 2½–3 per cent over the year ahead.
As we know, the RBA caved on its "patient" stance, hiking rates 0.25% last week without confirmation from this month's Wage Price Index that wage growth has accelerated. Instead of relying on the actual wage data, the RBA instead deferred to the same business liaison that had prompted the RBA to erroneously forecast wage breakouts for the past decade:
Information from the Bank's liaison program and other business surveys suggests that private sector wages growth has picked up in the past couple of months. While the majority of liaison contacts continue to report annual wages growth of 3 per cent or less, there has recently been a marked increase in the share of firms reporting average wage increases already above 3 per cent (Graph 4.20)… Liaison reports suggest that wages growth will pick up further over coming quarters…
To add further insult to injury, the RBA's own forecasts do not expect Australian wage growth to exceed 3% until next year (Table via The Australian):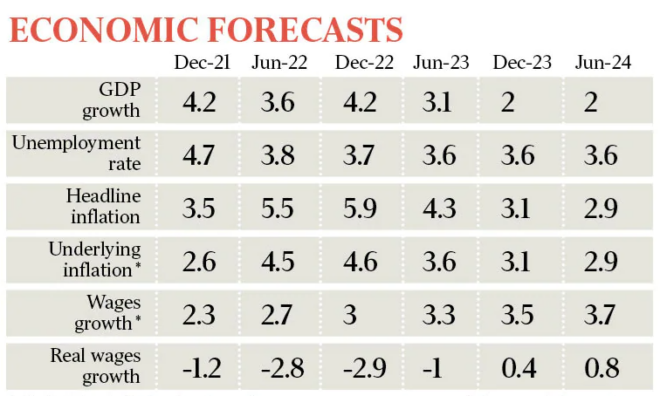 Therefore, the RBA has blatantly contradicted its previous assurances that it would wait to see actual wage growth before lifting rates, instead relying on the same industry expectations that had proven wrong for a decade.
What happens if next week's March quarter Wage Price Index undershoots expectations and comes in soft? Will the RBA backtrack? Would it have killed the RBA to have waited another month to receive the ABS wage price data before hiking rates?
It is because of the flipflopping and faulty guidance surrounding rates that Australians no longer trust the RBA.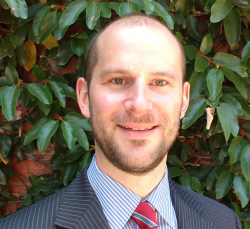 Latest posts by Unconventional Economist
(see all)