Analysis by the Australian National University (ANU) suggests that families on higher incomes will benefit the most from the child-care policies of both Labor and the Coalition.
The analysts shows that the wealthiest 20% of households will save an average of $2,547 a year under Labor's policy. In contrast, the Coalition's child-care policy will result in annual savings of just $506 for these households.
However, the poorest households would save $454 a year under Labor and $96 under the Coalition.
From The Australian:
The ANU analysis reveals that highly paid dentists and lawyers would save more money on childcare than Labor's core constituency of lower-paid service staff and retail workers.

The poorest households – with both parents earning the minimum wage – would save $454 a year under Labor and just $96 under the Coalition.

In total, one in five families with kids in childcare would benefit from the Coalition's recent rise in daycare subsidies, compared with 98.8 per cent of families under Labor's policy.

ANU associate professor Ben Phillips said Labor's policy would result in the biggest cuts to childcare costs on record.

"Overall, the modelling shows that around 241,000 childcare households are better off under the Coalition's policy compared to 1.18 million households under Labor,'' he said. "The Labor policy is more substantial but both policies tend to favour higher income households.

"The Coalition relative gains are larger for middle and higher income households. (Overall) the Labor policy would lower out-of-pocket costs for households by an average of 34 per cent compared to the Coalition at 9 per cent''…

He said the Coalition's recent subsidy increases were estimated to cost $500m a year, compared to $1.9bn a year under Labor's policy.
Former Productivity Commission head Gary Banks has questioned the increased childcare funding, claiming there is little evidence to support it:
"Evidence indicates further raising the rate and reach of subsidisation will do little for children; not much more for female workforce participation – which is currently historically high – and very little for productivity"…
The below chart from Grattan compares the two subsidies: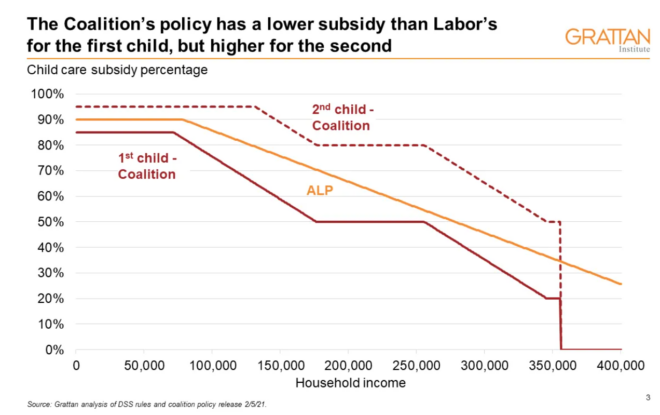 Lifting labour supply by boosting women's participation is a far superior policy to alleviate purported labour shortages than reopening the immigration floodgates.
It's time Australia used its existing labour force more effectively than always reaching for foreign workers.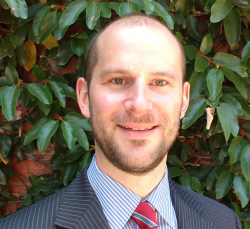 Latest posts by Unconventional Economist
(see all)