A number of economists have suggested that the notion of a two-tiered increase in the minimum wage is worth considering, claiming that it would help limit a spike in inflation.
The idea has been floated by Fair Work Commission (FWC) wage panel commissioner Peter Hampton, who has proposed giving people on lower minimum award classifications a higher increase than those on more 'senior' classifications.
However, the idea is not supported by either employer groups or unions, with ACTU secretary Sally McManus saying it wants all workers to receive a real wage increase.
From The AFR:
ACTU secretary Sally McManus stressed no award worker should go backwards.

"The 5.5 per cent increase we are arguing for is designed to ensure that they do not continue to experience real wage cuts," she said.

"It is critical that we take the opportunity presented by the review to end these cuts for all workers dependent on award wages"…

The Australian Retailers Association, backed by Woolworths, Wesfarmers and Coles, has pitched the highest increase among employers at 3.2 per cent. It says this is in line with underlying inflation, which was 3.7 per cent at the end of the March quarter, minus the 0.5 per cent rise in the superannuation.

Wage panelist and University of Melbourne labour economist Mark Wooden on Wednesday highlighted that the ARA claim made no mention of productivity increases, which data compiled by the panel says averaged 0.9 per cent a year over five years.
The Australian Industry Group (AIG) has proposed only a 2.5% increase in the minimum wage – less than half the headline inflation rate – whereas the Australian Chamber of Commerce and Industry (ACCI) has proposed only a 3% rise.
This comes as profits have boomed over the pandemic, leaving Australian workers in their dust: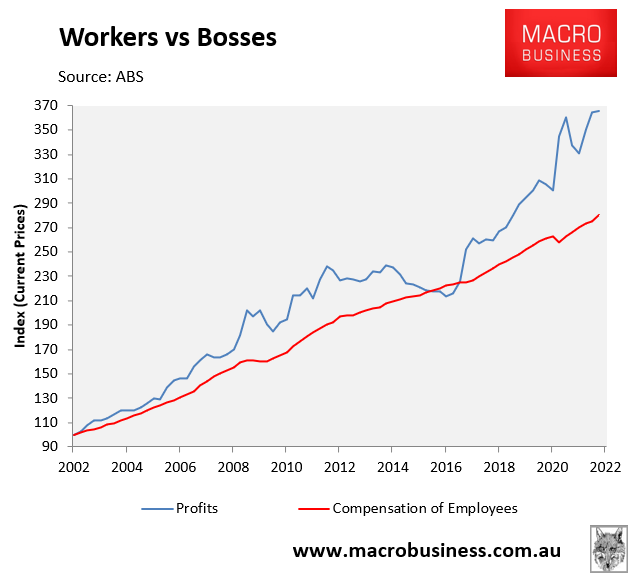 Accordingly, wages' share of national income has fallen to around its lowest level on record: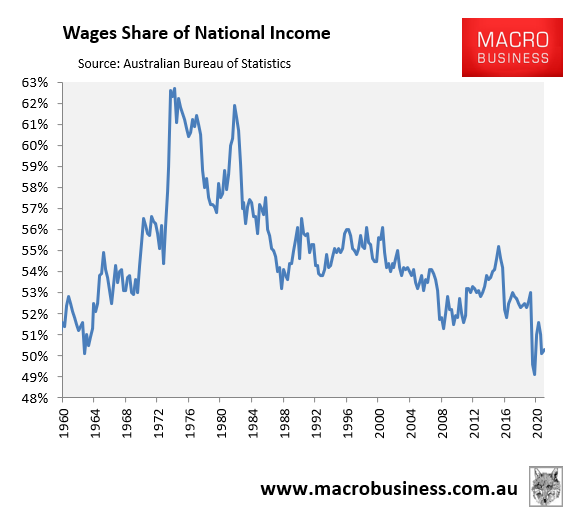 In a speech delivered this week, former ACCC head Rod Sims noted that the stronger market power of companies has contributed to both higher prices for consumers (read inflation) and lower wages for workers.
The Australia Institute and the Centre for Future Work have also shown that profit-maximising price gouging by businesses is the far bigger driver on Australian inflation than employee wage claims.
The FWC should not fall for the business lobby's special pleading and should lift the minimum wage in line with inflation. Why should Australian workers go backwards while businesses continue to enjoy booming profits? How is that fair or good for society?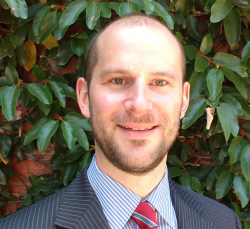 Latest posts by Unconventional Economist
(see all)