Roy Morgan's unemployment estimate jumped by 1.9% points to 9.7% in April – the biggest monthly increase since the initial stages of the pandemic just over two years ago. However, under-employment was unchanged at 8.4% in April: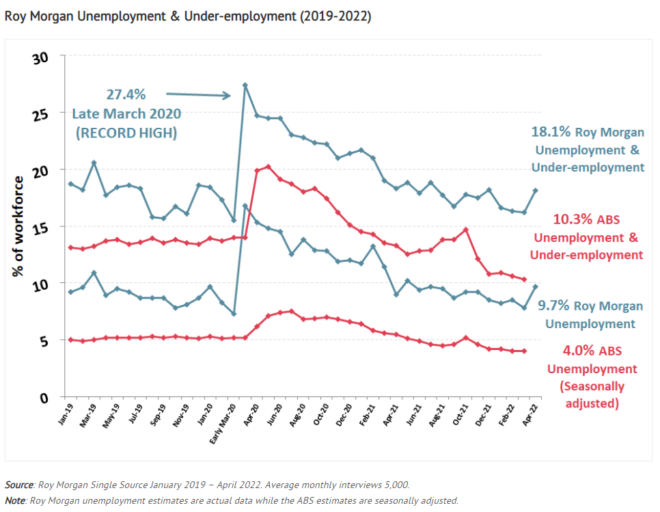 Key points as follows:
Workforce increased 39,000 in April driven by the steep rise in unemployment:

The workforce in April was 14,562,000 (up 39,000 from March) – comprised of 13,151,000 employed Australians (down 239,000) and 1,411,000 unemployed Australians looking for work (up 278,000);

Employment fell in April driven by a large fall in part-time employment as restrictions eased and the Omicron variant receded:

Australian employment fell by 239,000 to 13,151,000 in April driven by a large fall in part-time employment, down 270,000 to 4,442,000. In contrast, full-time employment increased by 31,000 to 8,709,000.

The moves in the employment market can be explained by policy responses to the Omicron variant of COVID-19 as well as the steep fall in active cases during April. During April many of the isolation rules surrounding 'close contacts' of positive COVID-19 cases were relaxed – meaning many workers who had only been hired on a part-time basis to fill in for workers forced into isolation were no longer required.

As well as the change in policy, there was also a steep fall in active cases of COVID-19 during April as the Omicron variant receded and total active cases fell to their lowest since early January. These market forces led to many part-time workers falling into unemployment while a lucky few were upgraded to full-time work.

Drop in part-time employment leads to steep rise in unemployment in April:

1,411,000 Australians were unemployed (9.7% of the workforce), an increase of 278,000 from March with more people looking for both full-time work, up 172,000 to 559,000, and also part-time work, up 106,000 to 852,000.

Under-employment was virtually unchanged in April at 1.23 million:

In addition to the unemployed, 1.23 million Australians (8.4% of the workforce) were under-employed – working part-time but looking for more work, up just 7,000 from March.

In total 2.64 million Australians (18.1% of the workforce) were either unemployed or under-employed in April, up 285,000 on March. This is the highest level of combined unemployment and under-employment so far this year.

Compared to early March 2020, before the nation-wide lockdown, in April 2022 there were almost 500,000 more Australians either unemployed or under-employed (+2.5% points) even though overall employment (13,151,000) is almost 300,000 higher than it was pre-COVID-19 (12,872,000).
The ABS' labour force report for April will release tomorrow.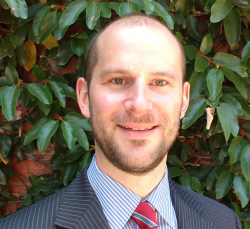 Latest posts by Unconventional Economist
(see all)