The latest mortgage data from the Reserve Bank of New Zealand (RBNZ) paints a worrying picture for the nation's housing market.
This month's RBNZ Financial Stability Report showed that fixed mortgage rates have already soared above pre-pandemic levels, with floating rates playing catch-up: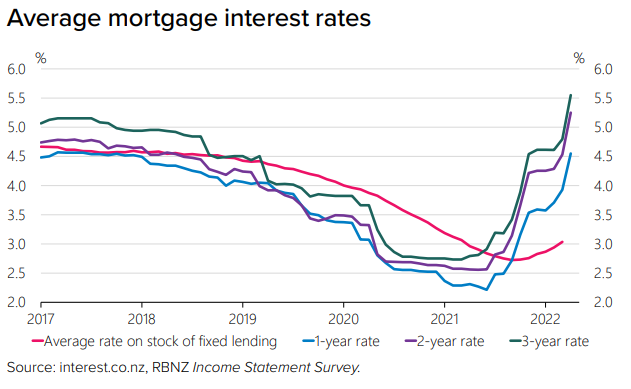 The follow-up Monetary Policy Statement (MPS), released last week, forecast that average mortgage rates will soar to around 6% next year, which is more than double their pandemic low: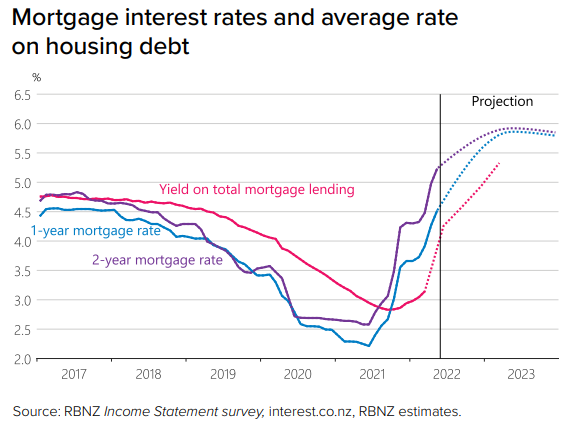 In turn, the indicative mortgage debt servicing ratio for new buyers has soared and is fast approaching the 2007-08 Global Financial Crisis peak: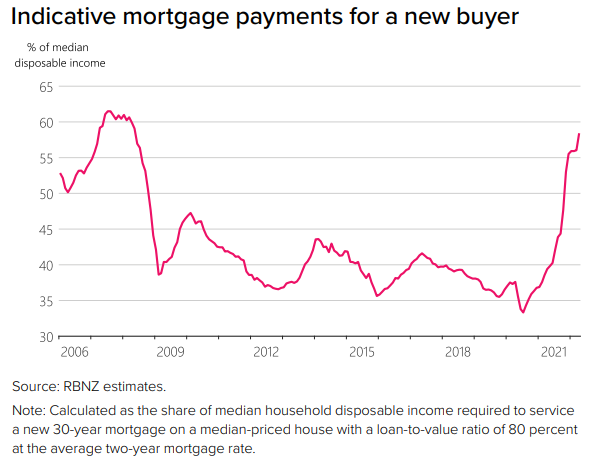 The forecast trajectory of mortgage rates suggests the indicative debt servicing ratio will soon rise to its highest ever level, placing extreme financial strain on mortgaged New Zealand households.
The latest RBNZ data on mortgage finance commitments shows that demand has already collapsed, with the value of mortgage commitments down 30% in the year to April 2022. This represents a sharp turnaround from the 128% annual mortgage growth recorded in May 2021: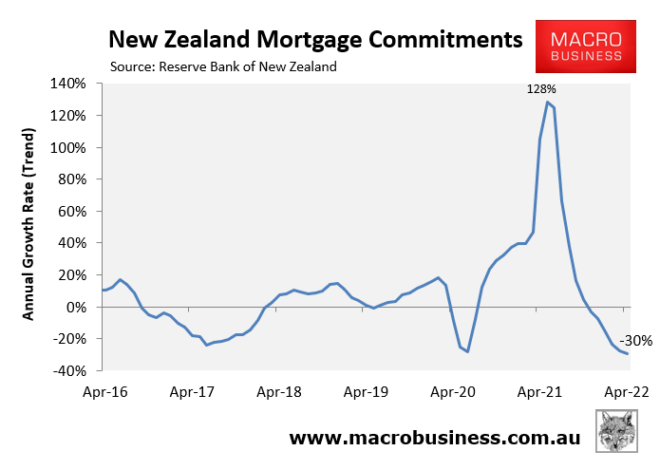 Given the RBNZ has flagged aggressive rate hikes over the next 12 months, it is fair to assume that buyer demand will fall even further. This will place additional downward pressure on house prices, which have already fallen 5% nationally since November 2021.
The RBNZ's MPS said that it expects "house prices to fall by about 14% by early 2024", suggesting an additional 9% decline from current levels.
The RBNZ's forecast seems optimistic given its hawkish stance on interest rates. Given New Zealand house prices soared around 40% over the pandemic on the back of rock bottom rates, it stands to reason that house prices could fall more sharply than forecast as mortgage rates are doubled from their pandemic lows.
New Zealand's interest rate and housing cycle is running around six months ahead of Australia's. Thus, it offers a glimpse of what could be in store for Australia as we navigate our own housing correction.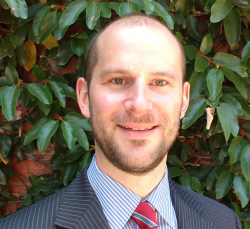 Latest posts by Unconventional Economist
(see all)