More of them every day now:
A slew of economists have cut their forecasts for China's full-year economic growth in recent days after the country reported worse-than-expected data for April while still signaling that its tough anti-Covid curbs aren't going anywhere.

Standard Chartered Plc and Bloomberg Economics each downgraded their estimates for 2022 on Thursday, after Goldman Sachs Group Inc. and Citigroup Inc. did so earlier in the week.

Stringent Covid controls weighed heavily on activity in April and early May, disrupting production and consumption, the Standard Chartered economists wrote. They cut their full-year growth forecast to 4.1% year-on-year from 5%, and also lowered their second-quarter growth estimate to 0.3% from 3.5%.
Getting more realistic but I'll still take the under. Notwithstanding we will never know!
The latest data is still abysmal though property sales have managed to crawl back above down by half:

Once past mid-year the base effects will start to make a difference to the rate of change but beware that will not be improvement unless it is in absolute terms.
CNY has bounced for a few days on a weaker DXY but TS Lombard still sees lower:
China's economy is likely to contract in the current quarter and this will help lower US import prices – both directly and indirectly (by reducing a key source of global demand). US CPI inflation will slow eventually as a result, (see Chart 1), but this will matter less to the course of Fed policy than it might have last year. The Fed's focus has shifted from just cooling prices to cooling both prices and domestic demand. The contradictory combination of accelerating global weakness and the Fed staying focused on raising the funds rate to neutral is not a happy one for the world, but such unhappiness is unlikely to dissuade the Fed (Clarida told everyone that in a speech last November). It would take much stronger messaging from the bear equity market that sharply curtailed domestic spending to get the Fed's attention.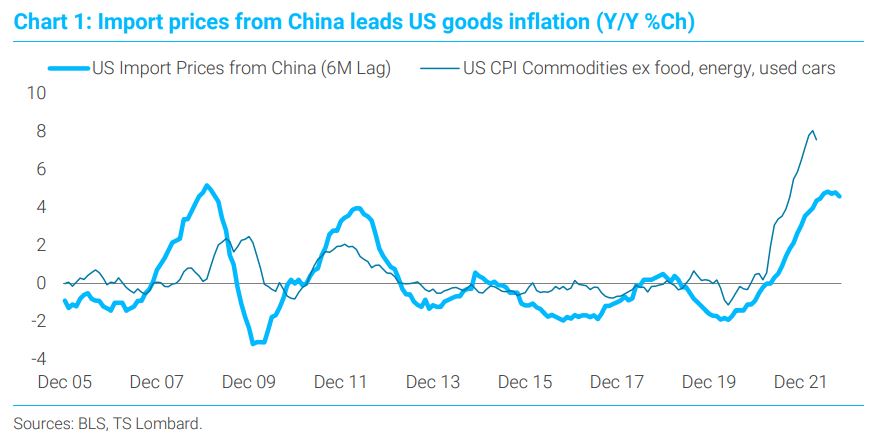 China is likely to contract in Q2/22. Lockdowns in Shanghai and Beijing, widespread logistical difficulties (see chart 2 below) and, more important, the second- and third-order hit to consumer confidence, wages and stimulus efficacy all make negative growth likely. The current Omicron wave has peaked and the number of areas classified as high/medium risk (the best measures of mobility restrictions) has fallen from a peak of 258 to 80 as of this morning. However, mobility remains low and stimulus measures are less effective under zero-Covid conditions and structural headwinds. For this reason, we lower our full year TSL GDP forecast to 3.3% yoy from ≤4%, with risks still to the downside. Pressure on authorities to publish accurate data is rising; however, we still think politics will push towards reporting official growth close to 5% yoy. Beijing is firmly committed to "zero Covid", making further lockdowns almost inevitable during the remainder of 2022. Healthcare limitations (the low vaccination rate and insufficient numbers of hospitals and staff), combined with politics ahead of the Q4/22 Party Congress (Xi is closely associated with current covid policy), make an ending of strict Covid restrictions unlikely in the next nine months.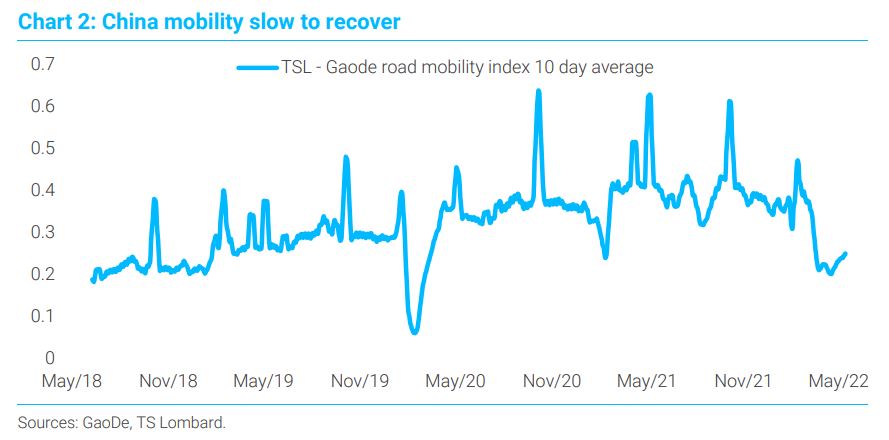 For China, it's harder to recover now than it was in 2020. Two years ago China bounced back from the initial Wuhan lockdown thanks to very strong external demand, limited trade competition, a property boom and a relatively less infectious Covid strain. In 2022, diametrically opposite conditions apply. We expect China to recover slowly from the current Omicron wave, particularly as stimulus multipliers are lower. A large infrastructure push is under way and monetary policy will continue easing, but mobility restrictions, consumer confidence and wage growth all make stimulus less effective.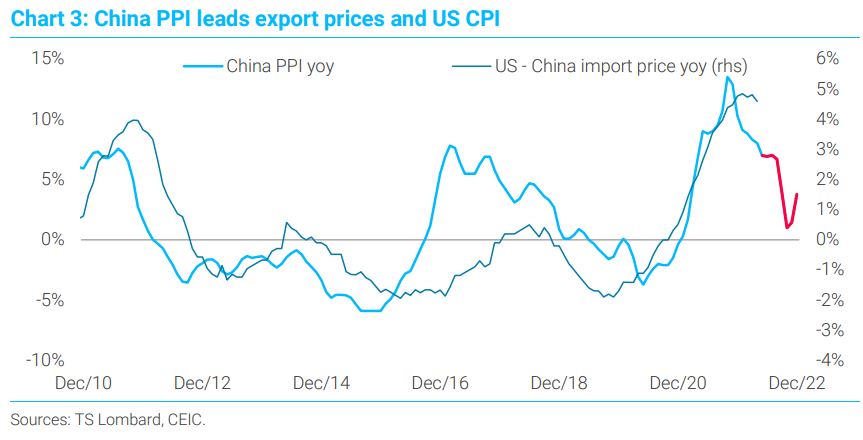 A slower China is a global disinflation force. Weak consumption and property investment – we forecast retail sales growth of 3% yoy and property investment of -15% yoy, only partly offset by higher infrastructure spending – will drag on China commodity demand, which is already contracting in volume terms. In April, PRC exports of alumina were the highest since 2018, while copper exports rose to a six-year high. So, too, will a stronger dollar and a weaker RMB. Given growth and interest rate differentials, we reckon USDCNY will weaken to 7-7.2 in the next six months. Shanghai-related supply-chain disruption will add price pressure this month. But beyond May, China export price growth will slow and likely reach pre-Covid trends by Q4 (see chart 3 above). Konstantinos Venetis, our lead commodities analyst, cautions that commodities look increasingly vulnerable to a mix of deteriorating global growth and fragile investor sentiment. We have moved to -1 on industrial metals in our global Asset Allocation.
The Fed is on the lookout for signals – domestic demand is falling along with inflation – before thinking it is "job done" after the funds rate moves above 2% in September As for import prices specifically, the Fed has doubtless noticed that lower goods prices could return lost real income to consumers and, in turn, boost US spending — especially with unemployment at 3.5% and nominal wage growth at 6%, its highest level since 1990, There are any number of factors that can cool US demand, such as equity market weakness. To date, strength in hiring and wages along with the overhang of excess savings has blunted the equity market's impact on consumers. In other words, while the Fed's target policy rates imply help from global weakness in lowering US inflation and, in turn, raising the real cost of money, the chances are this alone will not be enough to keep the Fed from pushing the funds rate over 2%, if not [even] higher.
In sum, China's slowdown and a weaker RMB will prove a global disinflation force, partially offsetting higher commodity and goods prices. But China weakness and price relief will not deter the Fed from pushing the funds rate over 2%.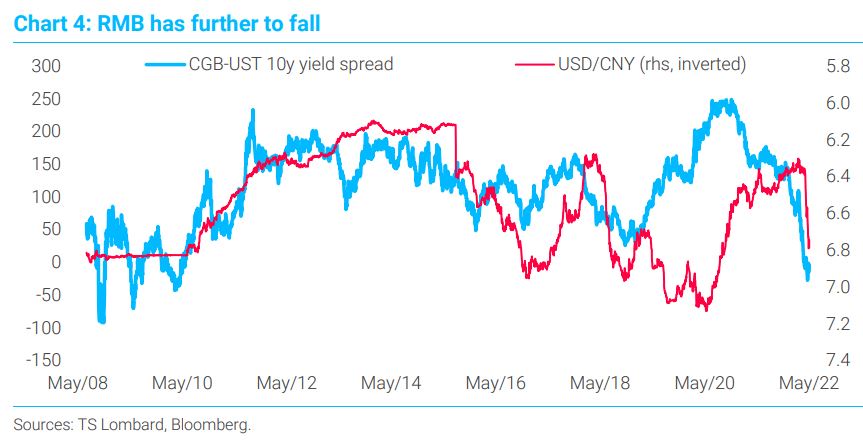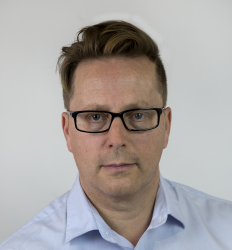 Latest posts by Houses and Holes
(see all)