Goldman explores the question. It looks increasingly likely that the long-bond yields have peaked a US growth fades away. But whether the Fed can stop is another question. I still think it needs to break the commodity complex before it pivots.
—
1. From tightening to growth fear to peak inflation. A few weeks ago, we argued that the pressure to tighten financial conditions will define market dynamics— keeping both equities and rates under pressure—as long as the market believes that inflation is still too high and that the Fed needs to slow growth further to deal with that. Since then, financial conditions have tightened further and Fed rhetoric has remained hawkish in the wake of another high core CPI print. With growth worries increasing, equities and credit have driven that tightening, with longer-dated yields moving more clearly off their peaks. There are two main ways for the market to move beyond this dynamic. The first is if the market moves towards fear of outright recession. In that case, risk assets would likely remain under pressure but the market would begin to push yields more clearly lower even with sticky inflation. The second, more benign route is if the inflation picture improves more clearly and the market judges that the Fed's tightening is doing its work. This would likely provide relief to both bonds and equities, at least in the short term. The market has been firmly focused on rising recession risk lately, fueled by deterioration in the US data in particular. But hints of inflation improvement may be reinforced by Friday's PCE release and perhaps the upcoming JOLTs and payrolls release. If the "peak inflation" narrative gathers steam, it could provide some relief from the relentless pressure for tighter policy. Although we doubt that this is the end of the road for the tightening dynamic yet, we do think the picture for rate shorts has become more complicated here and see value in exploring upside optionality in equities and downside optionality in the USD in the weeks ahead, alongside positive carry risk-neutral FX trades.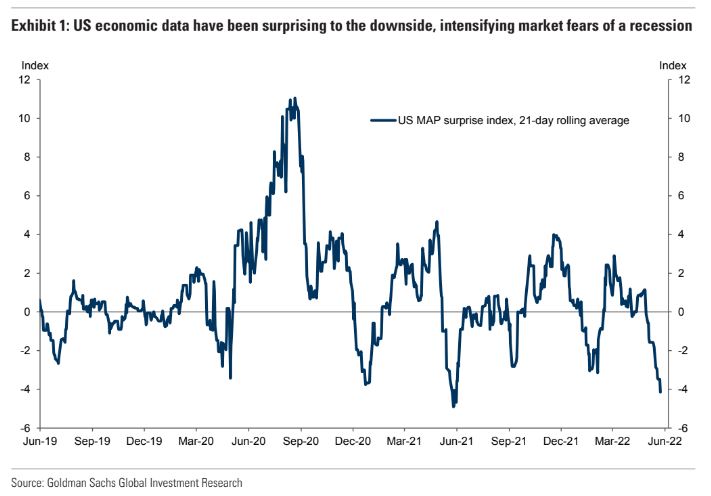 2. A meaningful FCI tightening. At a high level, the big question is whether financial conditions have tightened enough now to deliver the slowdown needed to reduce inflation risks. The point at which financial conditions have tightened "enough" is potentially an important one for asset market correlations. Beyond that point, further equity declines are in principle more likely to lead to clear declines in yields. And beyond that point too, the risk of a Fed shift that provides a floor for risk assets would also presumably rise. Ultimately the message not to "fight the Fed" depends on whether you think the Fed is trying to tighten financial conditions or worrying that they may be over-tightening. As the last Global Views laid out, the usual rules of thumb suggested in early May that we might be "in the ballpark" of that outcome, and since then financial conditions have tightened more. There are obvious uncertainties around that judgment. Financial conditions need to be tight enough that a relief rally on the notion that the Fed may have done the "heavy lifting" would still leave the FCI tight enough to deliver the required slowdown. So some overshooting may be required. Beyond that there are uncertainties around how much the tightening in financial conditions will impact growth and how much that in turn will influence the wage and price inflation picture, particularly in this unusual post-pandemic economy. So in practice, both the markets and the Fed may not have confidence that this point has been reached until there are clearer signs of slower growth, diminishing labor market tightness and cooling inflation. On that front, things have started to shift too.
3. Growth risks in focus as US data misses mount in May. It is on the growth front, and specifically the US growth front, that things have shifted most in recent weeks. We pointed out at the start of the month that while the market was pricing forward growth risk, the US data had held up well through March and April. That picture has changed. A rolling 1-month average of our US MAP surprise score is now at its lowest level since last summer's "delta wave". Regional manufacturing surveys and housing data have been weak; high-frequency consumer data points to a material softening in late April/early May; the increase in jobless claims over the last eight weeks—albeit from record-low levels—is now meaningful relative to historic distributions. The slowing in US survey data is particularly striking in comparison to another set of relatively resilient PMIs in the Euro area, especially given that it is more squarely affected by the negative supply shocks emanating from the ongoing conflict in Ukraine, and hints at the role played by the larger run-up in goods spending and much sharper tightening in the US. It is not clear yet how much of this is a temporary air pocket or signs of the long-awaited normalization of the excess spending on goods and durables through the pandemic. But as long as it continues, recession worries are likely to climb. The ongoing tightening in financial conditions also indicates rising risk. Based on financial conditions at the start of May, we forecast US GDP growth to slow to not much more than 1% by the end of this year. Given further tightening since then, another 50-75bp on our FCI would presumably imply a meaningful threat of recessionary growth outcomes.
4. Recession still not the base case amid spending rotation. Markets have been anticipating and pricing significant slowing in places already so there is some room for the data to deteriorate simply to validate that pricing, as we have pointed out before. Cyclical equities, for instance, already look consistent with a sub-50 ISM. But that cushion will be eroded if the data continues to weaken at its current pace. If the June data continue to soften at the pace that we have seen so far in May, the market might well push towards a recessionary "base case". But while a recession is certainly possible, it is important to remember that some of the recent weakness in industrial surveys is not inconsistent with the sharp rotation from goods to services activity that was expected at the start of the year. Even in the case of recent earnings misses by US retailers, a key part of the story apart from generalized margin pressure relates to significant shifts in shares of wallets towards 're-opening' items like luggage and beauty relative to home and hardline categories. In such an environment, the industrial/cyclical complex, rather than being at the leading edge of an impending recession, may well be providing an overly pessimistic read on the overall economy. The resilience of spot oil prices globally, while in part related to tight supply, also don't yet suggest a global (or US) economy that is on the cusp of recession.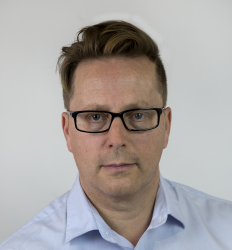 Latest posts by Houses and Holes
(see all)