Yes, it is a non-stop nightmare for the Chinese property market as "houses are for living in, not speculation". The great adjustment has so far been confined largely to construction volumes over prices but no more!
Late yesterday China released its latest 70-city guide to prices and kapow! April price falls were modest at -0.2% and 2% in aggregate: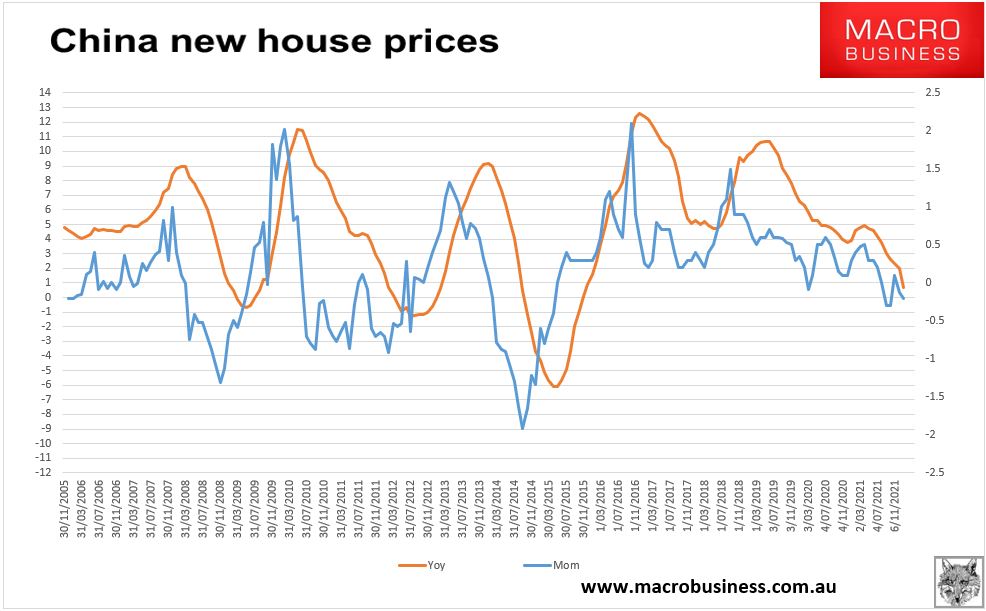 But the correction broadened: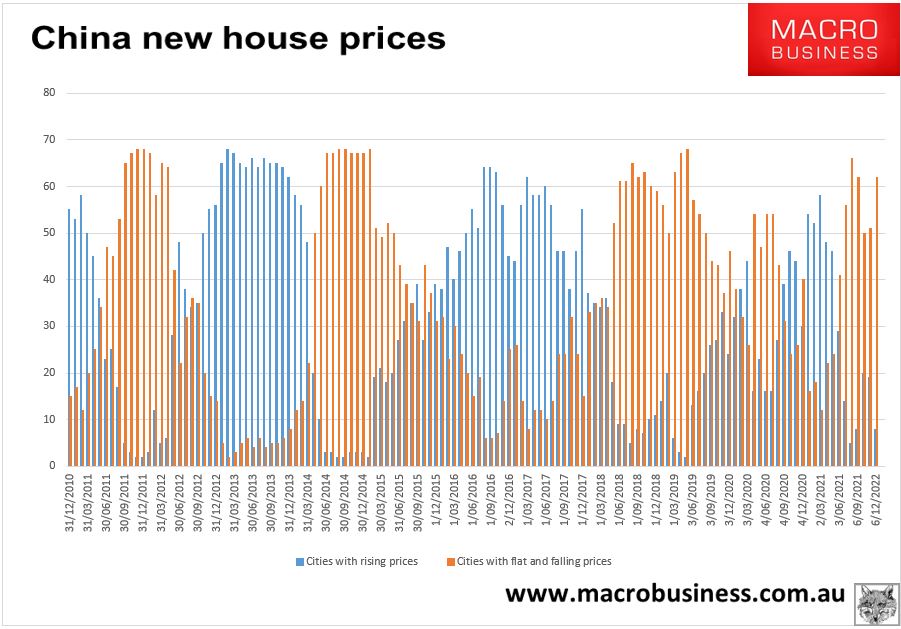 And the real action is in the distribution. Lower tiers cities are getting creamed: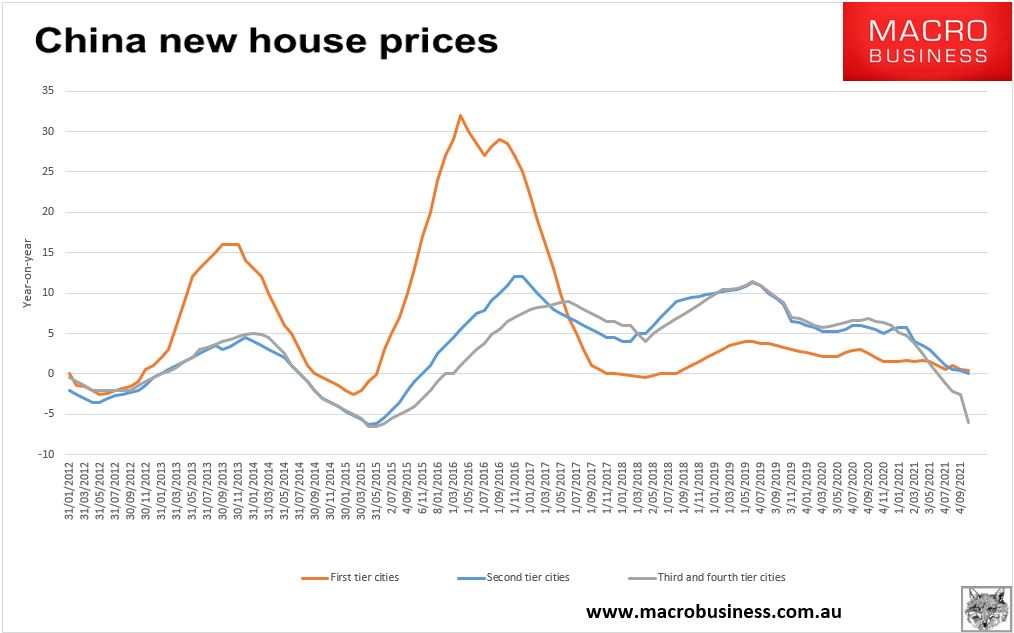 This is where 70-80% of construction volumes are. Needless to say, nobody is buying and inventories are skyrocketing:

Undoubtedly these numbers are lockdown affected. But it is only an exacerbation of the trend, not a change thereof, and given the number of easing measures by local authorities so far, is pretty dismal stuff.
China is pushing on a property string owing to the counterparty risk between developers and investors and it is getting worse, not better.
It is also pushing on a fiscal string thanks to zero-COVID. On the lockdown front, OMICRON is slowly being beaten back:

But, as China reopens, it will storm back. As a denizen of the most locked-down city on earth, which OMICRON beat in a matter of weeks, I know this to be true.
Is there any path forward for zero-COVID and growth? Goldman thinks there is:
Getting anywhere near the government's growth target, first and foremost, requires a strategy to keep the highly transmissible Omicron variant at bay. To this end, large and economically important cities seem to be embracing"frequent mass testing" which requires residents to do a PCR test once every few days to identify positive cases early on and avoid a Shanghai-type lockdown. If this strategy works — still a big if in our view — regular testing in large cities and rolling lockdowns in smaller cities may reduce the likelihood of major outbreaks and significant economic disruptions.

Given the Q2 Covid-related damage to the economy, we now expect China'sgrowth to be 4% this year (vs. 4.5% previously). Note that even this lower growth projection embeds the assumption that Covid is mostly under control going forward, the property market improves from here, and the government provides substantial policy offset through infrastructure spending in coming months. For example, we expect our augmented fiscal deficit to widen 3pp this year. While risks to our central forecast are two-sided, the tail may be fatter onthe downside because Covid, housing, and external demand could prove much more challenging than our baseline.
If you consider mass testing as economic activity then, sure, China is going to boom. Otherwise, the ONLY way China is going to get anywhere near its targets is to lie:
The growth target is specific to the official GDP. Past experience suggests that revisions to previous years' GDP path or deviations of current year's GDP growth from alternative measures of economic activity can sometimes take place in difficult growth years. On revisions, the Q4 GDP release in January was a good example.1When announcing theQ4 GDP growth of 1.6% qoq sa, the National Bureau of Statistics (NBS) simultaneously revised down sequential growth for 2020Q4 and revised up the first three quarters of2021 (Exhibit 10). Such changes effectively lifted Q4 year-over-year growth from 3.2% to4.0% by our calculation, assuming the same rate of sequential growth (Q4 vs. Q3). Given last year's GDP growth of 8.1% was meaningfully higher than the government 'starget of "above 6%", a potential downward revision of 2021 growth – by 50bp from8.1% to 7.6% for instance – would lower the base and mechanically boost 2022 growth commensurately.
But lies don't consume commodities (except to the extent that Wall Street sells them!)
This brings us to the ongoing problem for global markets, the falling yuan. TD Securities has more:
China appears to have now stopped publishing the data, but April saw a third straight month of foreign investor bond outflows to the tune of $16.4bn following outflows of $17.7bn and $12.7bn in March and February, respectively. In total, China has seen a record net $36.5bn in bond outflows YTD compared to inflows of $56.1bn over the same period last year, a stark reversal.

Relatively higher US rates, weaker CNY, constrained credit growth and investor concerns over China's neutral stance on the war in Ukraine, have combined to hurt foreign investor sentiment towards China's markets. While the pace of outflows is likely to slow, foreign investors are unlikely to rush back into Chinese bonds.

Equity flows have also registered renewed weakening; YTD stock connect outflows total $6.0bn vs. inflows of $21.2bn in the same period last year. Hedge funds positioning in Chinese bonds weakened sharply but may have bottomed. Weak portfolio flows, likely worsening in China's current account and likely slower direct investment flows, mean that underlying support for CNY has worsened, leaving the currency vulnerable to further depreciation.
Perhaps they'll slow. Or, perhaps they'll speed up. The PBoC desperately needs to cut the prime interest rates and only isn't for fear of crashing CNY with accelerating outflows.
But that means a luke-warm recovery at best, meaning more outflows.
And, the Ukraine war is a structural, not cyclical pivot as well. Anybody that doesn't think that the same sanctions regime applied to Russia won't now be applied to China if it attacks Taiwan is smoking crack. It does not matter that China is more integrated with the global economy. That will just hurt it all the more.
I have no idea if China is on the verge of a classic EM external crisis but it's certainly possible as its monetary 'impossible trinity' unwinds. That in itself equals more outflows.
In short, CNY is going lower and that always blows up the world.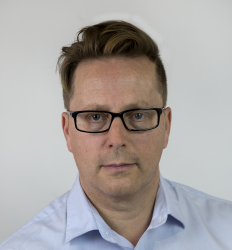 Latest posts by Houses and Holes
(see all)