It is wall-to-wall bad news for New Zealand's housing market.
First, major bank ASB has joined ANZ in increasing the rate at which it stress tests mortgage applicants. ASB lifted its stress test rate by 50 basis points to 7.35%, which follows the nation's largest mortgage lender, ANZ, increasing in its stress test rate by 45 basis points to 7.15%.
The changes reduce the maximum amount that can be borrowed by around 5%, which will obviously mean less demand for New Zealand property (other things equal). Other banks are expected to follow suit.
Commenting on the changes, Mortgage Lab chief executive Rupert Gough noted "fewer buyers, less demand, house prices go down. And already the buyers were pretty thin on the ground."
Property investor Steve Goodey likewise noted that the mortgage changes would knock more people out of the market, claiming "it's gone to the point of being a little bit ridiculous to get money approved".
Already, New Zealand mortgage demand was falling with the size of the average New Zealand home loan dropping roughly $25,000 (6.8%) between December and March, according to credit bureau Centrix. The overall amount of mortgages lent were also down by almost a third in March compared to the same time in 2021.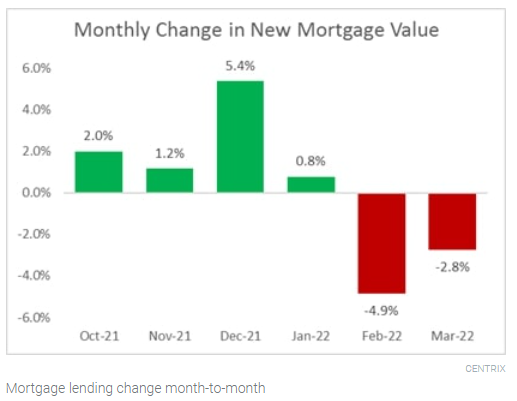 Centrix analytics general manager Stuart Baxter noted that "the recent dips are showing us that the property market has transitioned into a buyer's market", and that "asking prices have dropped in many regions".
Next, auction clearance rates across New Zealand have collapsed, with only 23% of homes going under the hammer in the week ended 29 April selling, and only 20% in Auckland: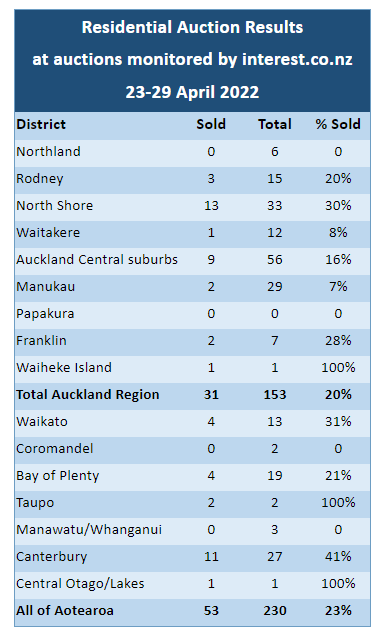 Reflecting this, Auckland's median dwelling price plunged by 3.3% in April, according to Barfoot & Thompson, with sales volumes also down 47.9%.
Barfoot & Thompson managing director Peter Thompson summarised the situation with the observation that "buyers are now showing a greater reluctance to meet seller expectations".
After New Zealand experienced one of the world's biggest housing booms in 2021, it is now clear that the bottom is falling out of the market.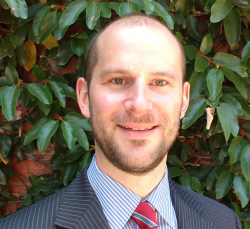 Latest posts by Unconventional Economist
(see all)