The latest Australian interest rate forecast from the futures market tips the Reserve Bank of Australia to lift the official cash rate (OCR) to 2.7% by the end of this year, peaking at 3.4% by mid-2023: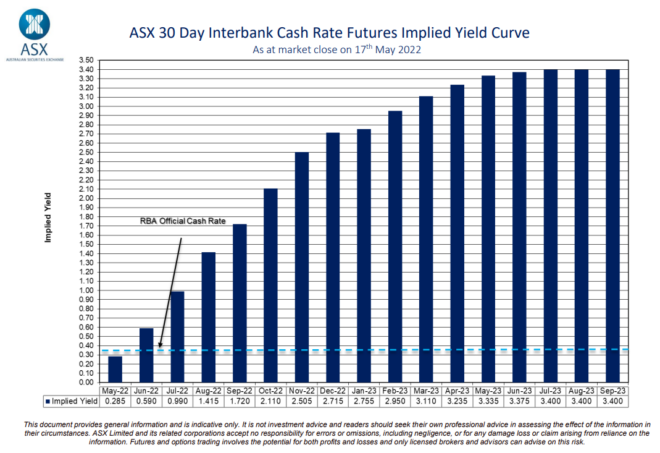 If the market's projection proved correct, this would be the equivalent of another nine 0.25% interest rate hikes over the next seven months, with a further three 0.25% hikes arriving in 2023.
Regular readers know that I view the market's interest rates forecast as delusional given it would increase average principal and interest mortgage repayments by around 50%, in turn crashing the housing market and driving the Australian economy into a recession.
For these reasons, the Reserve Bank would be choked-off long before raising rates to anywhere near that level.
We've been down this road before. According to ANZ Bank, the futures market has historically been far too bullish on Australian interest rates, as illustrated clearly below: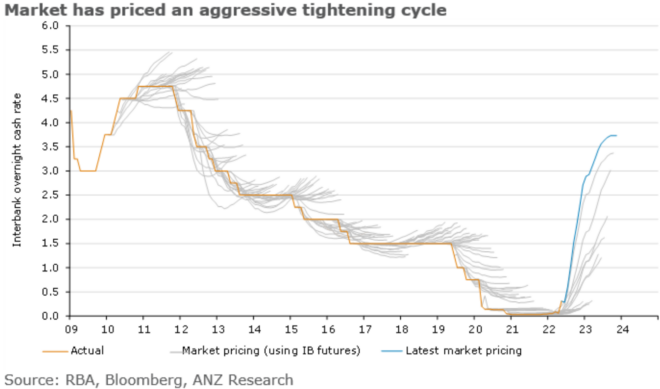 For the better part of a decade, the futures market forecast interest rates to rise, only to see the actual OCR fall.
History is repeating, with futures market once again being far too bullish in its prediction on Australian interest rates.
Just be thankful the Reserve Bank, not the market, holds the interest rate level. Otherwise it would be Armageddon for Australian households and the economy.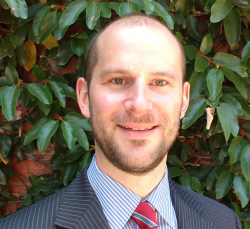 Latest posts by Unconventional Economist
(see all)