Over the past year, New Zealand's floating and fixed mortgage rates have risen sharply, as illustrated in the next chart:
As at the end of March 2022, New Zealand floating mortgage rates had risen by around 0.6% from their June 2021 low, whereas both the 3-year and 5-year fixed mortgage rates had soared by around 1.9% from their respective lows.
Interest.co.nz's David Hargreaves now believes a "mortgage earthquake" is about to erupt under New Zealand's housing market, with households facing "enormous increases in mortgage payments":
This is going to be like a kind of rolling mortgage earthquake…

Someone who took out a 30-year mortgage last May (2021) fixed for a year, and who is now looking to refi, could find their monthly payments will go UP BY EXACTLY A THIRD…

In dollar terms someone who took out an 'average-sized' mortgage ($329,000 as of May 2021) could face an increase in their monthly payments of $419 (over $5000 for a year). An 'average-sized' first home buyer mortgage ($548,000 as of May 2021) would cost an extra $698 a month (well over $8000 for a year)…

These examples are both based on ANZ and BNZ rates (given their, at time of writing 'market leading' hikes). In May 2021 both banks offered one-year 'specials' at 2.25% and now both are offering 4.55%…

We inflated our housing market by 40% between the start of the pandemic in 2020 and the end of last year. And of course we inflated the size of mortgages similarly. They are now huge… Now there's people out there with seven figure mortgages…

The pain of homeowners is likely to be shared around, simply because of the outsized role in the New Zealand economy the house market plays. Where the homeowner suffering goes the economy will follow.

Those bigger mortgage payments are going to see reduced spending in the economy. Some people might put their houses on the market, thus increasing the slump already starting to emerge.
A fortnight ago, the Reserve Bank of New Zealand (RBNZ) shocked Kiwi economists when it lifted the Official Cash Rate (OCR) by 0.5% to 1.5%.
The RBNZ's February Monetary Policy Statement (MPS) also saw the OCR increasing to 2.2% by the end of this year and by 3.3% by the end of 2023.
The next table highlights the impact of these actual and projected interest rate increases by comparing monthly mortgage repayments on the median priced New Zealand home at the trough of the interest rate cycle (i.e. June 2021) with repayments at the end of March 2022 and the projected increases outlined by the RBNZ. This analysis uses average floating mortgage rates, which are assumed to rise in line with the RBNZ's OCR projections.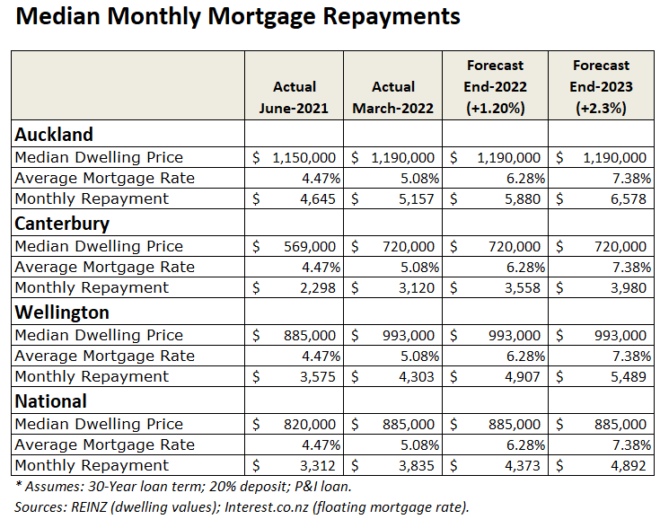 As you can see, monthly mortgage repayments on the median priced New Zealand home had already increased by $520 between June 2021 and March 2022. Repayments are projected to rise by a further $540 by the end of 2022 and then by another $520 by the end of 2023.
Thus, if the RBNZ's OCR forecasts materialise, then the typical New Zealand household buying the median priced home would pay $1,580 more in monthly mortgage repayments than the median household paid in June 2021 and $1,060 more than the median household paid in March 2022.
The rise in monthly mortgage repayments would obviously be steeper in Auckland ($1,421 a month) and Wellington ($1,190 a month) between March 2022 and end-2023, given these markets are more expensive than the national median.
Regardless, New Zealand's army of highly indebted households are facing an acute interest rate shock, with some recent buyers also facing the prospect of negative equity as property values fall below their purchase price.
Given the outsized role that housing plays, the pending escalation of mortgage repayments and property price falls also risks stunting the New Zealand macro economy.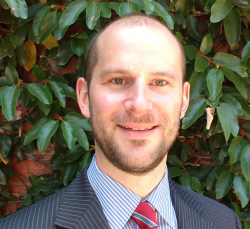 Latest posts by Unconventional Economist
(see all)