Yesterday, the Reserve Bank of New Zealand (RBNZ) shocked economists with a 0.50% increase in the Official Cash Rate (OCR) to 1.50%.
The RBNZ described the over-sized hike as "bringing forward" monetary tightening, stating it "remained comfortable" with OCR outlook outlined in its February Monetary Policy Statement (MPS).
The MPS sees the OCR rising to 2.2% by the end of this year and by 3.3% by the end of 2023.
New Zealand floating and fixed rates had already risen sharply prior to this announcement, as illustrated in the next chart:
Specifically, floating mortgage rates have risen around 0.6% from their June 2021 low, whereas both the 3-year and 5-year fixed mortgage rates have surged by around 1.9% from their lows.
The next table summarises the impact of these actual and projected interest rate increases by comparing monthly mortgage repayments on the median priced New Zealand home at the trough of the interest rate cycle (i.e. June 2021) with repayments at the end of March 2022 and the projected increases outlined by the RBNZ. This analysis assumes that floating rates rise in line with the OCR.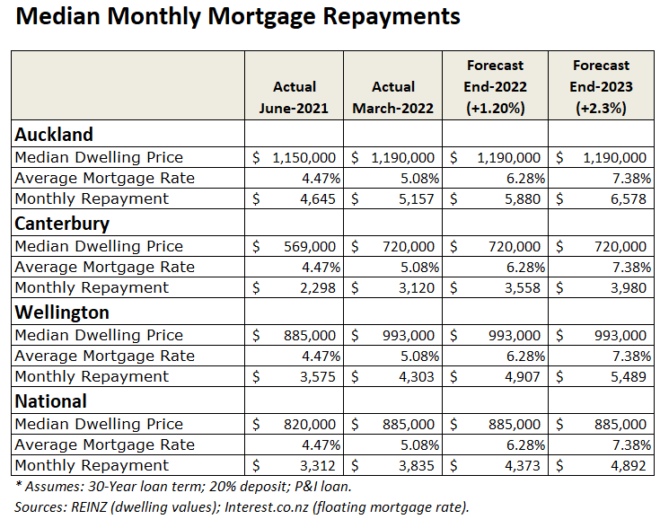 Already, monthly mortgage repayments on the median priced New Zealand dwelling had risen by $520 between June 2021 and March 2022. They are projected to rise another $540 by the end of this calendar year and then by another $520 by the end of 2023.
So if these OCR forecasts come to fruition, then the typical Kiwi would pay $1,580 more in monthly mortgage repayments than the median Kiwi paid in June 2021 and $1,060 more than the median Kiwi paid in March 2022.
Mortgage repayments would climb even further in Auckland (by $1,421 a month) and Wellington (by $1,190 a month) between March 2022 and end-2023 owing to their higher median dwelling values.
Given that one-third of mortgages originated in 2021 were at debt-to-income ratios above six, a massive number of Kiwis are likely to fall into severe mortgage stress:
The bottom line is that New Zealand's army of mega mortgage mugs are about to get a hard dose of interest rate reality.
If the RBNZ follows through with its OCR projections, then mortgage holders are be cruising for a bruising, house prices are facing sharp falls, and many recent buyers could be thrown into negative equity.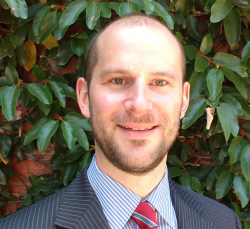 Latest posts by Unconventional Economist
(see all)