As expected, Chinese data is holding up OK on the usual CCP data massaging, but under the bonnet, the economy has crash-landed.
Growth for the March quarter came in at 1.3% and YoY at 4.8%. Both were far ahead of expectations: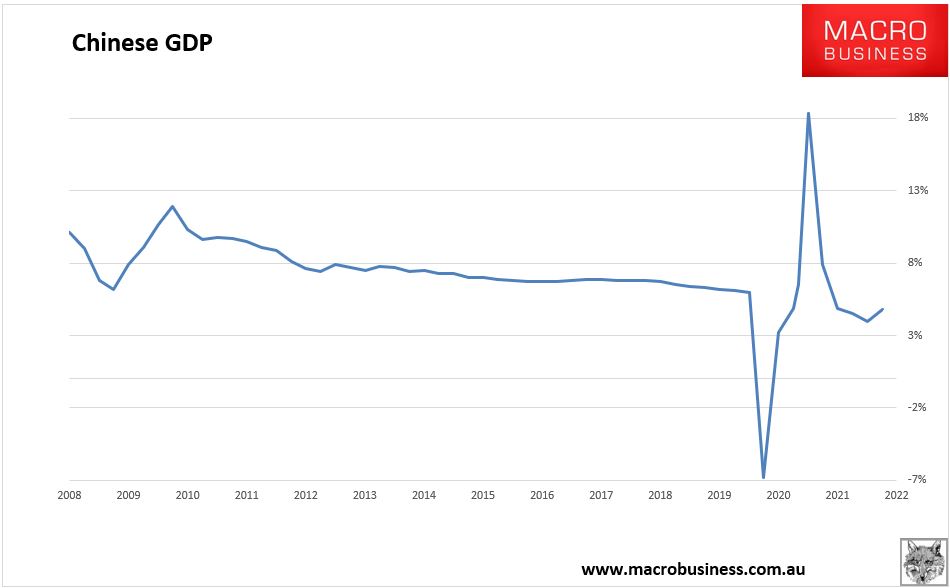 The March activity data tells the truth. Industrial output was 5% YoY, fixed asset investment was 9.3% but retail sales dropped 3.5%. All dropped sharply from February,
China's industrial and infrastructure supply-side expansion continues as the property and household sectors gallops backward.
Within industry, steel output bounced back even if still down plenty YoY: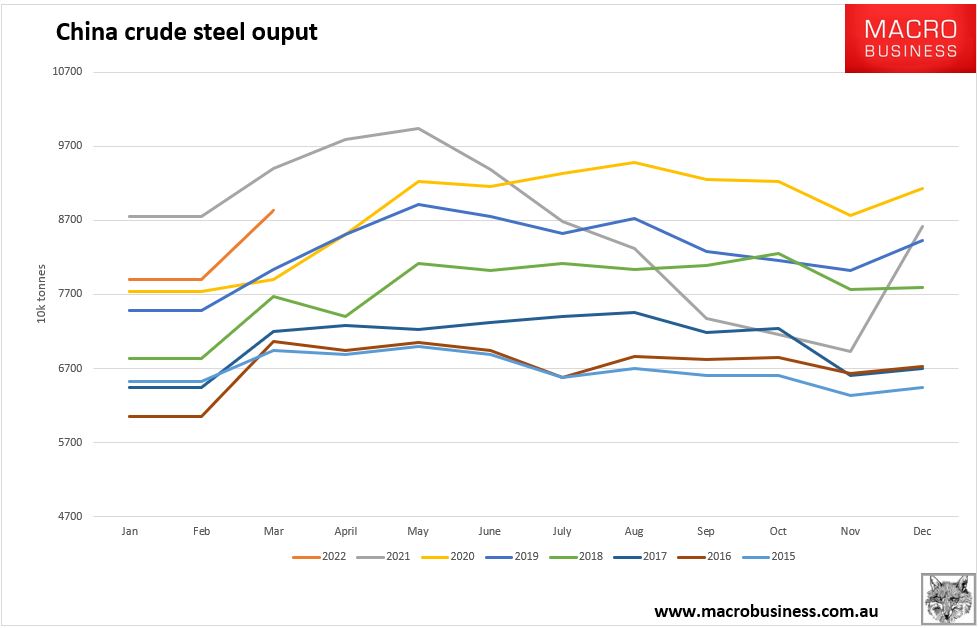 Cement output showed that broader construction is only just hanging in despite the infrastructure push: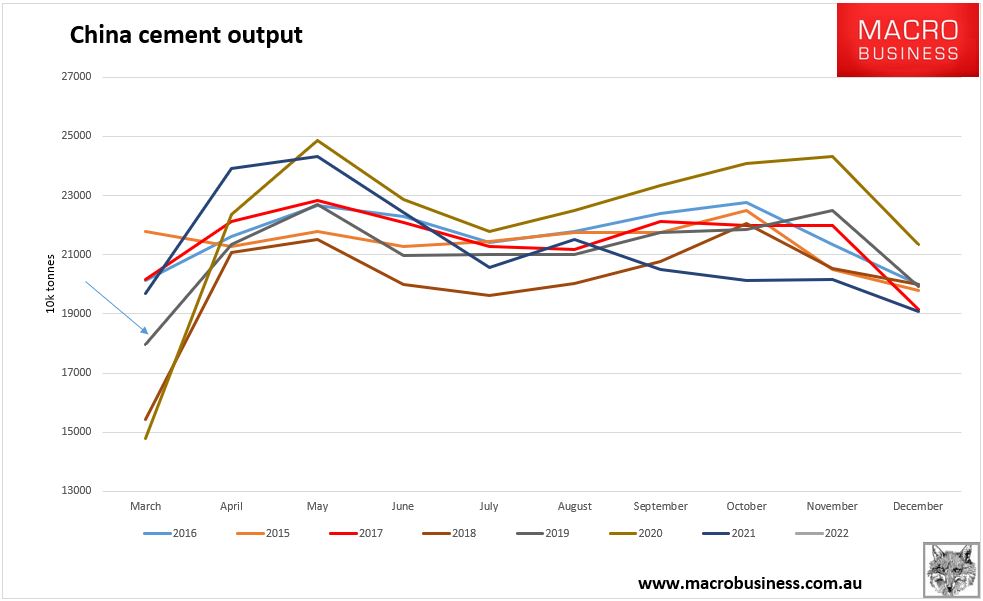 Presumably, steel is also up on industrial output and exports owing to Ukraine.
That's where the good news ends.
Property prices are still falling and inventory rising, especially in lower-tier cities:

But prices are not the problem. New property sales are. They are still calamitous on counterparty risk with crashing developers that can't get funding:

OMICRON is still wreaking havoc as well:

More:
Several Chinese regulators on Friday pledged to maintain smooth logistics and stabilize supply chains after more businesses warn that the strict measures to contain Covid-19 outbreaks in Shanghai and neighbouring regions are triggering severe economic disruptions.

Richard Yu, CEO of Intelligent Automotive Solution Business at Huawei Technologies, said on WeChat that "if Shanghai doesn't resume production soon, almost all tech/industrial companies which have suppliers in Shanghai and neighbouring areas will have to suspend production after May, in particular the auto industry."

Since mid-April, some companies have suspended production due to disruptions to the supply chain amid lockdown in Shanghai, said Yu.

Yu's comments came after He Xiaopeng, founder of Chinese electric vehicle maker Xpeng Motors, said in a WeChat post on Thursday that "if suppliers in Shanghai and neighboring cities can't find a way to dynamically resume production, all automakers in China may have to halt production by May.
Both the property bust and lockdowns are pushing energy consumption lower:

Worse, capital is flowing out:
The central question is what could happen in a country willing to go to great lengths to achieve its leader's goals. President Xi Jinping's friendship with Russian leader Vladimir Putin has made investors more distrustful of China, while a strongman narrative is gaining momentum as the Communist Party doggedly pursues a Covid-Zero strategy and unpredictable campaigns to regulate entire industries.

As a result, some international investors are finding an aggressive allocation to China increasingly unpalatable. Outflows from the country's stocks, bonds and mutual funds accelerated after Russia's invasion of Ukraine, while Norway's $1.3 trillion sovereign wealth fund has snubbed a Chinese sportswear giant due to concerns about human-rights abuses. U.S. dollar private-equity funds that invest in China raised just $1.4 billion in the first quarter — the lowest figure since 2018 for the same period.
And a terrified PBoC won't cut interest rates for fear of crashing the currency. Pantheon:
In one line: Forced to act, the PBoC does the bare minimum

The PBoC stood pat on interest rates, but has announced a 25bp RRR cut to take effect on April 25, injecting RMB 530B of liquidity into the banking system.  We had expected a slightly larger cut, of 50bp, though an additional 25bp cut was announced for some rural commercial banks, with the goal of boosting support for China's SMEs.  Maturing MLF liquidity of RMB 150B was rolled over.

This action by the PBoC comes just two days after the State Council dropped a very strong hint that a RRR cut was expected.  But this was clearly done begrudgingly.  A 25bp cut, assuming no further action this month, is the smallest monthly change in the RRR on record.  Even with this RRR cut, the PBoC has still withdrawn liquidity on a net basis so far this month, thanks to repo operations, as our chart below shows.  The central bank continues to argue that monetary transmission, not policy, is the main problem, and urged banks to cut deposit rates today, to aid the recovery.

The real problem is the weakness of the economy.  Zero-Covid, and the property downturn, alongside growing export headwinds, are sapping confidence and activity.  Demand for loans remains weak, as the PBoC's Q1 survey showed, because the prospects of making a decent return on a commercial investment are low, and no one in their right mind will buy a house from a developer which may go out of business before finishing construction.  Banks, unsurprisingly, are unwilling to lend to the kind of borrowers who still want credit in this environment, because the likelihood of repayment is much lower.  Rate cuts will therefore have minimal effect on economic growth, without a jolt to demand.  Fiscal stimulus, however, still looks focused on supply side issues.

At the best, the extra liquidity will push local bond yields lower, making life slightly easier for local governments and SOEs who can still access credit markets.  As we have argued before, however, SOEs are chiefly borrowing in order to buy stalled projects from failing developers like Evergrande, rather than to undertake new investments, and local governments are still very cautious about the kind of investments they undertake.

Our chart shows the monthly liquidity injections by the PBoC.  Even including the RRR cut effective on April 25, the PBoC is still draining liquidity on a net basis, for now.  This is not like past easing cycles.
People don't want to borrow and fiscal transmission is clogged as well. Goldman:
China's property sector downturn continues despite ongoing housing policy easing. Land sales is a key barometer to track the property sector momentum as it leads other indicators and reflects developers' liquidity condition and expectations for future business. It also has direct implications for growth and policies, as land purchase fees typically contribute to 30% of property fixed asset investment, and revenue from land sales accounts for 30% of total gross government revenue.

However, different measures of land sales diverged significantly in January-February, with high-frequency trackers plunging over 60% yoy, while the National Bureau of Statistics (NBS) developer land purchase value gained 11%yoy. We believe the discrepancy comes from different timings to register land sales, different groups of land buyers captured by samples, and some additions and/or deductions for different measures, before they are transferred to the Ministry of Finance's (MOF) account for land sales revenue.

Adjusting our high-frequency trackers by assuming a time lag from land auction to funds payment, we gauge the pace and amount of land sales proceeds payment and find it performs better in projecting headline land sales value released by the MOF and NBS. Our model suggests that the sharp contraction in high-frequency land sales trackers, if this persists in coming months, will be more apparent in the MOF and NBS measures in one to two quarters.

We maintain our forecast that the MOF government revenue from land sales may contract 20% yoy, property FAI may contract 5% yoy, and the continued property downturn will subtract 1pp from headline GDP growth this year. We believe the 2022 budget, which assumes roughly flat land sales revenue, appears too sanguine on the impact of the cooling property sector. Amid the nationwide downturn in property and land markets, we believe regional divergence will remain large and lower-tier cities may bear the brunt.
Goldman is also too sanguine. Property FAI down 5%? Sales are signaling down by half with no sign of any turn one-third of the way into the year. Broder FAI is going to slow as well. Pantheon again:
FAI growth would have slowed by much more if not for infrastructure spending, which accelerated to 8.8% y/y in March, from 8.1% in February, by our estimation. Manufacturing FAI slumped to 11.9% y/y, from 20.9%, and real estate FAI fell back into negative territory, shrinking 2.1% y/y, from growth of 3.7% in February.

FAI will only slow further from here, without policy changes. Infrastructure spending is driven by the issuance of local government special purpose bonds, the quota for which has been heavily frontloaded this year. This has provided a hefty surge in y/y growth, but the overall quota for the year has not been increased, so maintaining this rate of growth will be extremely challenging. We expect a sharp slowdown in the y/y growth number next month, when base effects become more challenging. Meanwhile, the incentives for investment in manufacturing and real estate are simply not there. Property sales continue to fall, and manufacturers face falling domestic and external demand. Neither seems likely to recover in April.
The Chinese hard landing is rapidly evolving into the reckoning of its impossible trinity. It can only control two of three macro forces in the value of CNY, interest rates and capital flows.
Put another way, it can only support its property bubble or CNY but not both, at least while the Fed hikes aggressively. At the moment it is choosing the latter. But in doing so, the former is going to break eventually anyway, especially as infrastructure underdelivers, and exports begin to fall on global slowing.
The Chinese hard landing is here whether it admits it or not.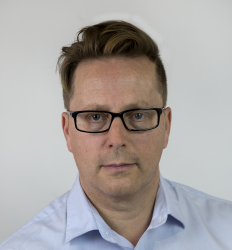 Latest posts by Houses and Holes
(see all)