The Reserve Bank of Australia (RBA) has updated its monthly mortgage data, which shows rates rising rapidly before an increase in the official cash rate (OCR),
As shown in the next chart, fixed mortgage rates for new borrowers have climbed sharply since bottoming in the first half of 2021:
After bottoming at just 1.95% in May 2021, owner-occupier fixed rate mortgages with terms below 3-years hit 2.58% in February 2020, representing an increase of 0.63%.
The rise has been sharper for fixed terms of greater than 3-years, which have risen from a low of 1.99% in February 2021 to 3.27% in February 2022, representing a rise of 1.28%.
However, new owner-occupier variable rate mortgages continued to trend lower, hitting a record low 2.5% in February 2022.
The RBA's data on total outstanding mortgages is current to March 2021 and shows that both fixed and variable mortgage rates have risen:
The 3-year average fixed mortgage rate rose from a low of 2.1% in March 2021 to 3.8% in March 2022 – an increase of 1.7%.
After bottoming at 3.45% between August 2021 and February 2022, average variable mortgage rates also rose 0.15% in March 2022 to 3.6%.
Australia's bank economists forecast the RBA will lift the OCR by between 1.15% (CBA) and 2.15% (NAB), whereas the futures market is tipping a jumbo rise in the OCR of around 3.5%.
If the CBA's lower forecast comes to fruition, and the RBA hikes the OCR to only 1.25%, then this would increase average mortgage repayments by 15%, or by around $400 per month on the median priced Australian home (assuming the OCR is fully passed on to mortgage holders).
However, if the futures market is correct and the RBA hikes the OCR by around 3.5%, then the median Australian mortgage repayment would soar by 48%, or by around $1280 per month: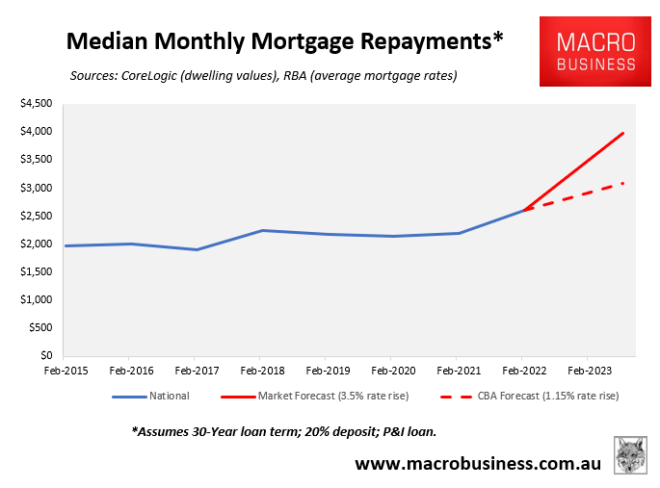 The surge in fixed mortgage rates is one of the reasons why house price momentum nationally has stalled, led by falls across the more expensive markets of Sydney and Melbourne.
Therefore, with the OCR almost certain to lift sharply from mid year, a house price correction is all but baked in. The only question is how far?
If rate hikes follow the CBA's profile, then the price correction should be moderate (circa 10% fall). At the other extreme, if the market is right on rates, then brace for a full blown price crash (i.e. greater than 25% fall).
For what it is worth, I am firmly in the CBA's camp on interest rates for the simple fact that Australians are so indebted and sensitive to rate rises that going much higher risks crashing the market and hammering the economy.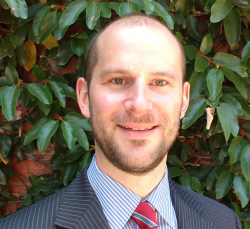 Latest posts by Unconventional Economist
(see all)