There are some perverse things happening in bond yields. Yields are rising in both the US and Australia:

But is in the comparative shapes of the curve where we find whackness.  At the short end of the curve, Aussie yields are inverted to the US as the RBA remains dovish. It has not been this way for two decades. Yet the long end is going the other way: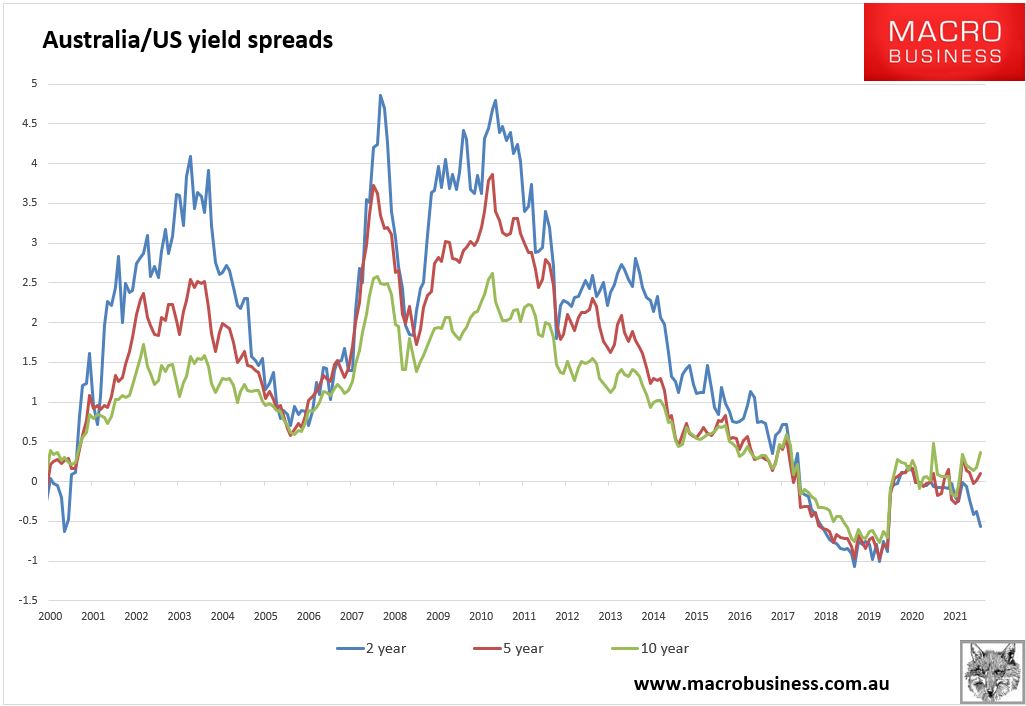 Markets clearly see Australia compressing an inflation spring that will uncoil in due course.
Or, it could be that because the Fed tightening is already underway, markets are now pricing inflation coming off with a rapidly inverting yield curve: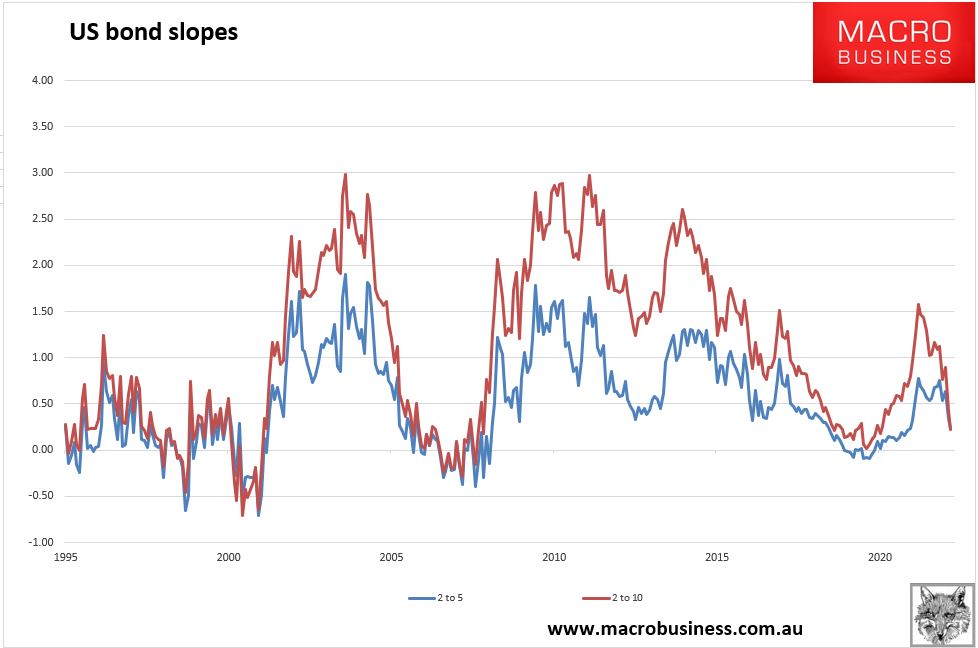 While the RBA's refusal has steepened the Aussie curve to outright boom levels: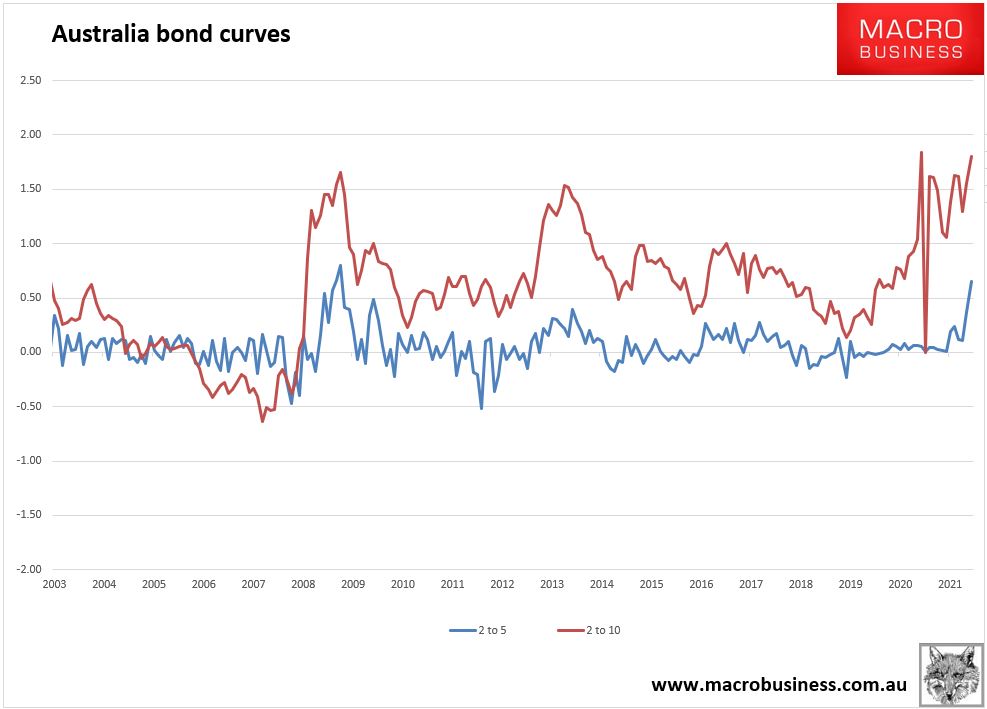 The difference is now stark: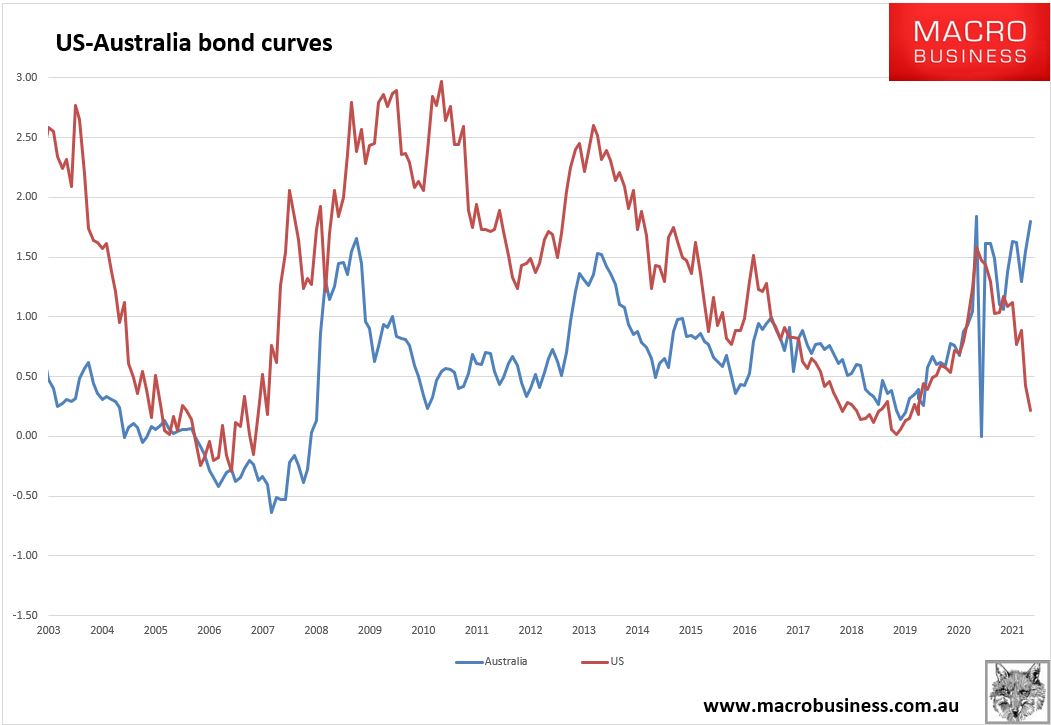 In effect, despite the US having much stronger inflation underpinnings than Australia today, bond markets are saying that US inflation is temporary while Australian is more enduring.
Another possible explanation for this is if we see the Ukraine invasion as some structural shift in global commodity prices:
First there was supply-chain disruption brought on by the coronavirus, then war in Ukraine further rocked commodity markets. The next bout of inflation via raw material prices will be brought on by resource nationalism.

While the cost pressures brought on by the difficulty in moving goods in a world in lockdown are fading, other factors are more enduring.

For instance, the post-Cold War spread of e-commerce allowed companies to treat the world as both factory floor and marketplace. Comparative advantage, strategic partnerships and the success of globalization led to growth and prosperity. Russia's invasion of Ukraine jarred that dynamic and has set in motion a series of quasi-isolationist responses.

What started as economic sanctions on Russia has tipped the balance: we are no longer in a uni-polar world. We have entered into a multi-polar one where traditional economic superpowers can no longer call the shots. Service-driven economies are price takers and have far less leverage over those producing raw materials.

The geopolitical landscape has changed and economic incentives along with it. The growing emergency that sanctions on Russia have caused over energy supply security will be inflationary for years to come. Nowhere is this more evident than in Europe, given its direct exposure to Russia energy, with individual countries prioritizing domestic energy security as a first port of call.

Russia and Ukraine are two of the globe's top grain producers. Conflict has triggered panic and price squeezes on everything from fertilizer to cooking oil, and has also led nations to rethink their approach to national stockpiling.

Energy security pulls into focus security of other commodities. The list of countries restricting agriculture exports is growing. It includes Indonesia, Hungary, Argentina, and Turkey. China's begun stockpiling corn and soybeans while sources mention state refiners are considering pausing exports of gasoline and diesel in April.

Effectively, every resource a nation produces has the potential to become a bargaining chip. There is a price to meet security of resources. As more economies step away from globalization that cost will get steeper as isolationist tendencies produce greater trade frictions.
I am partly on board with this and expect a higher price deck for commodities in the next cycle (though that is not enough to boost inflation by itself, prices must rise every year).
However, my base case is still that cyclical headwinds land on the global economy and Australia first. Lombard:
As every investor knows, interest rates have trended lower for 40 years and whenever central banks have tried to break out of this megacycle, something has gone wrong in financial markets and/or the real economy. Most pundits blame rising debt levels. Low interest rates encourage households, businesses and governments to take on more debt, which, in turn, makes the economy more sensitive to borrowing costs. In fact, you do not need to be an avid goldbug to realize that the post-Bretton Woods financial system seems to be stuck in a "bad equilibrium", since high levels of leverage also add systemic vulnerabilities, which, in turn, increase the demand for safe assets, putting further downward pressure on interest rates. So, given the 40-year trend of "lower lows" and "lower highs" in interest rates, perhaps it is not surprising that most investors are sceptical about how far the world's central bankers are going to be able to hike this time round as well. The possibility of an inversion in bond markets only reinforces this scepticism.
I have a risk case that wage inflation reaches proportions in the US enough to offset rising rates and yields keep rising. But the base case is still that the Fed breaks something, as it has in every other tightening cycle for forty years, and more swiftly with each passing cycle. We are already approaching very stretched momentum indicators:

Australia is more financialised than most economies so I can't see it weathering any global financial shock better than elsewhere, either in terms of growth or inflation.
In short, for me, the current bond market curiosities remain distortions not signals.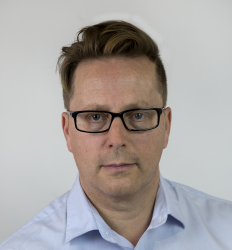 Latest posts by Houses and Holes
(see all)