Goldman with the note. As they say, it's not the first rate hike that stocks need to worry about, it is the second-last one. That just moved materially closer.
—
In a speech earlier today, Chair Powell said, "There is an obvious need to move expeditiously to return the stance of monetary policy to a more neutral level, and then to move to more restrictive levels if that is what is required to restore price stability." He repeated his call for the FOMC "to move expeditiously" at the end of the speech. The shift in wording from "steadily" in January to "expeditiously" today strikes us as significant, and changes in Fed communication like this usually happen for a reason. Our best guess is that the word "expeditiously" is a signal that a 50bp rate hike is coming. We are now forecasting 50bp hikes at both the May and June meetings (vs. 25bp at each meeting previously). The level of the funds rate would still be low at 0.75-1% after a 50bp hike in May, and if the FOMC is open to moving in larger steps, then we think it would see a second 50bp hike in June as appropriate under our forecasted inflation path. After the two 50bp moves, we expect the FOMC to move back to 25bp rate hikes at the four remaining meetings in the back half of 2022, and to then further slow the pace next year by delivering three quarterly hikes in 2023Q1-Q3. We have left our forecast of the terminal rate unchanged at 3-3.25%, as shown in Exhibit 1.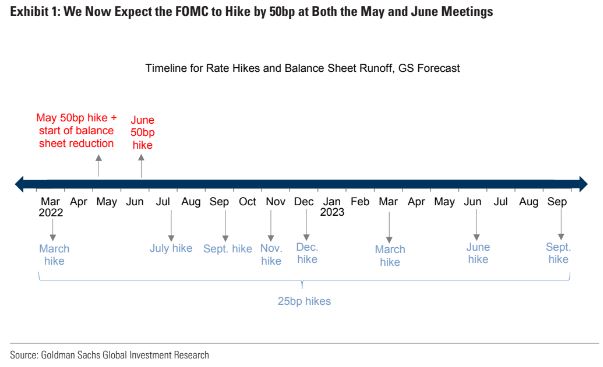 We continue to expect the FOMC to announce the start of balance sheet reduction at the May meeting, but after today's comments we do not think this is necessarily an obstacle to also delivering a 50bp hike in May. Powell's comment last week that the shrinkage of the balance sheet is "the equivalent of another rate increase" was consistent with our estimate of its impact, but below the consensus estimate. If the impact of runoff is smaller, then pairing the balance sheet announcement with a 50bphike at the same meeting might count as moving "expeditiously" but not excessively.
Moreover, since the FOMC will reveal some parameters of the balance sheet reduction process in the upcoming March minutes, the official announcement in May might not be such a major event for markets.
We see both the Russian invasion of Ukraine and the possibility that financial conditionscould tighten more aggressively in response to a faster pace of Fed tightening asmeaningful downside risks to our new forecast of two 50bp rate hikes. Neither looks like an obstacle at this point, however. The invasion of Ukraine also presents upside risks to inflation, as Powell noted today, and our financial conditions index eased following last week's hawkish March FOMC meeting and tightened only modestly today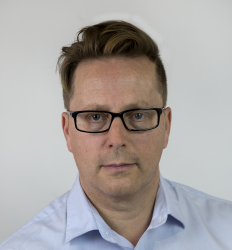 Latest posts by Houses and Holes
(see all)