Readers will know that my base case is for a global recession sooner rather than later as the world's three major economies are shocked simultaneously by US rate hikes, European war and energy shocks, and the Chinese property crash plus OMICRON strife.
It is clear that China is already in trouble. Now Europe is joining it fast. Lombard with the note.
—
Euro Area (EA) households are the first to feel the big wars hock.The flash EA consumer confidence indicator (SA) compiled by the EU Commission fell by 9.9 points this month, rivalling the Covid shock in April 2020 (Chart 1). The war has added fuel to the cost-of-living fire through another surge in energy and food costs. With only limited wage growth and an asymmetric distribution of pandemic "excess savings", the real income squeeze is intensifying. What is more, the war shock has largely offset the tailwind from the lifting of Covid restrictions.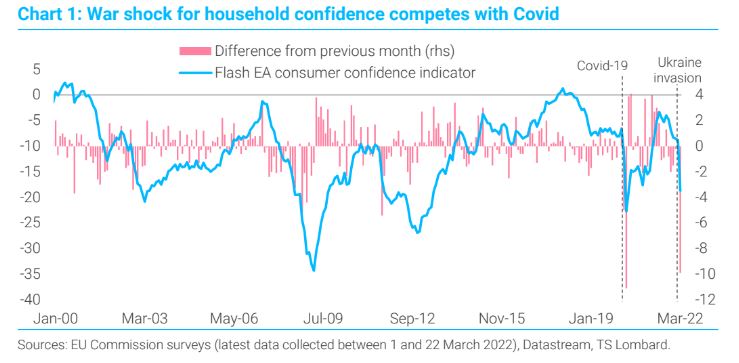 Headline PMIs do not yet reflect the full extent of the war shock, but survey details already show the EA growth outlook is worsening fast. For a cleaner picture, look at Ifo nose diving. This month, headline flash EA PMIs have continued to signal robust expansion, even beating market expectations thanks to the rebound in French services (57.4  vs 55.0 expected) and resilient German manufacturing (57.6 vs55.8). But this is not surprising: the war is not in the EA, and it takes more than a few weeks to materially affect aggregate production via surging energy/input costs or to run out of components. The war shock is different from Covid: no industrial plant closures, no mandated activity shutdown. But the growth outlook is deteriorating fast. Besides services, that still benefit from the reopening momentum and always tend to lag industry, the surge in headline manufacturing PMI was entirely driven by lengthening suppliers'delivery times (partly also owing to new lockdowns in China). What is more, amid another surge in input costs, new export orders–the most leading of the PMI sub-indices–fell to 49.5from 55.0 in February, entering contraction territory for the first time since June 2020(Chart2). Crucially, as the press release explains, business sentiment as tracked by future output expectations fell to its lowest level since October 2020 in aggregate and the lowest since May 2020 in manufacturing.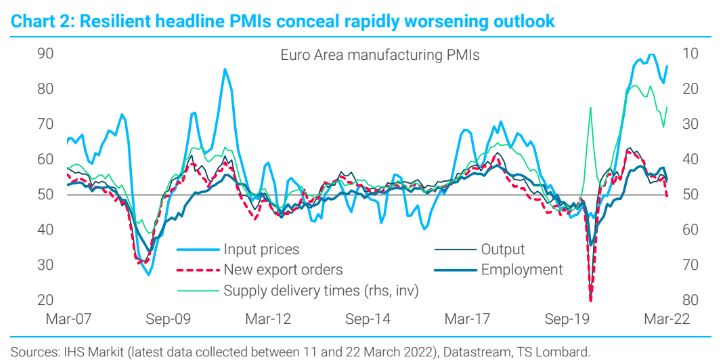 For a cleaner view of what is happening to firms one should look at the result of the Ifo survey out this morning. Business sentiment in Germany nosedived across sectors, owing especially to a record collapse in business expectations in 6 months, which was even larger than the one registered at the onset of the Covid crisis. Sentiment indices are back to the lowest since May 2020(Chart 3). Note that, as explained above, current conditions remain satisfactory across most sectors (with perhaps the major exception of the car industry due to its just-in-time inventory system), but unfortunately Ifo expectations have an excellent track record as leading indicators.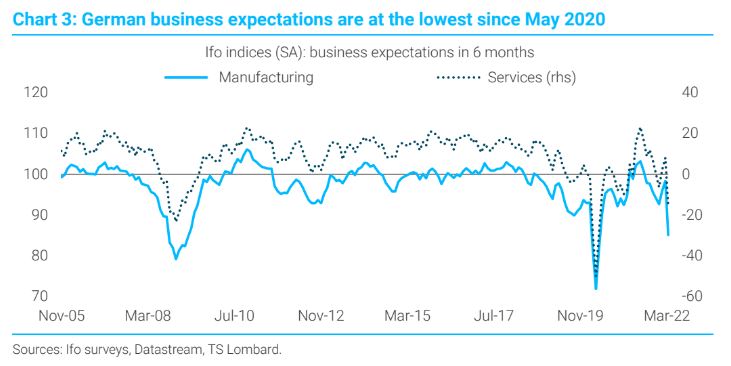 Meanwhile, EU governments are struggling to build consensus for any common fiscal response, let alone a strong one. While calls for further sanctions on oil/gas/coal imports from Russia are making headlines, their lopsided potential impact across EU economies (besides the Central East European member states, Germany and Italy would lose out the most) implies that they remain deeply intertwined with the EUfiscal policy debate. The EU Commission is openly calling for looser fiscal. However, a new front of "frugal" countries opposing additional joint EU borrowing has formed; and, crucially, unlike in 2020, it includes Germany. For now, Germany is insisting that EU countries deal with the short-/medium-term consequences of the war by using their own national budgets, regardless of the asymmetric nature of the shock and potential difficulties in tapping financial markets (Italy). Nonetheless, extending the suspension of EU fiscal rules to next year is far from a done deal. Other measures discussed at last week's EU summit in Versailles involved shifting some of the EU Recovery Fund loans to deal with the war shock. Besides the fact that loans, unlike grants, would still add to national debt, the scheme could unlock more funds for countries that have not already requested them under the Recovery Fund, but for those countries that did request the full amounts–e.g., Italy–it would amount to a zero-sum game.
Hence Germany's fierce resistance to banning Russian hydrocarbons, which would make an EU-level fiscal response unavoidable. Olaf Scholz appears to be trying to prevent the economic recovery from derailing completely while keeping the promise that Covid-related EU joint borrowing was a one-off. Mounting pressures from his fiscally conservative Finance Minister and coalition partner Christian Lindner and his CDU opponent Friedrich Merzahead of a series of key local elections in the coming months is a major factor behind this desperate balancing act.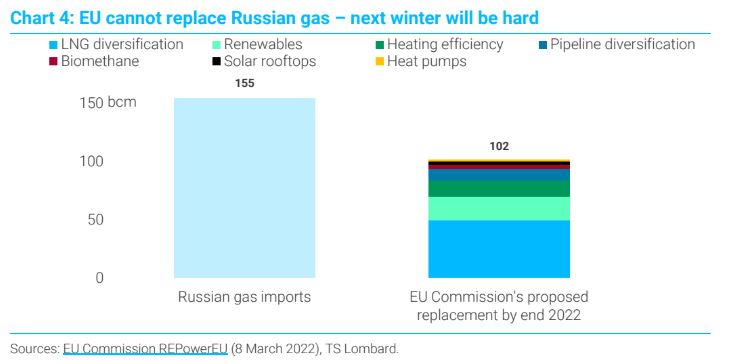 The risk of a cut-off in the physical supply of Russian gas is still on the table. Newly proposed EU regulation allowing the expropriation of storage facilities whose managing companies (read Gazprom) refuse to fill 90% of capacity ahead of next winter or threaten the EU'senergy security could be another step in the direction of "pulling the plug" on Russian energy. In its REPowerEU plan, the EU Commission laid out a strategy to replace Russian gas imports by year end. But even based on those rather optimistic estimates, only 65% replacement could be achieved (Chart 4). Unsurprisingly, the German energy regulator and power companies are preparing for potential energy rationing next winter, which would imply shutting down energy-intensive industrial production and a serious recession for the EA. Germany has announced another €15bn boost to its current budget in tax cuts and energy subsidies, doubling the funds set aside a few weeks ago. The odds that Germany will cave in on a new EU-level fiscal effort–some sort of "NordStream2 redux"–are rising, but this is far from certain.
A truly data-dependent ECB cannot ignore the rapidly worsening outlook and the risks of fiscal support being too little too late, but the top priority for now is propping up the euro. As we argued, far from focusing on the EA medium-term outlook, the ECB policy appears guided by the intention–at least for now–to prop up the euro by avoiding falling too much behind the Fed and the BoE. Last week,Isabel Schnabel confirmed this approach once again: "A reaction function that differs materially from that of other central banks facing a protracted period of above-target inflation risks amplifying the energy price shock by weighing on the exchange rate, thereby adding to the burden on real household income."But, ultimately, the ECB needs limited economic fallout from the war and a strong fiscal policy response to stay on the pre-war normalization path. At this stage, despite the strong emphasis on the role of fiscal policy in the latest ECB speeches, neither of these conditions can be taken for granted. Expect a crescendo of dovish noises from Frankfurt.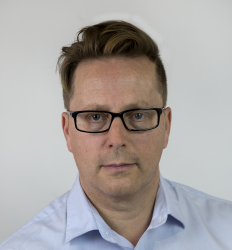 Latest posts by Houses and Holes
(see all)