This is now front and centre for the global growth accident coming swiftly down the pipe. As the Fed tightens, and goods demand normalises let alone falls, the US inventory mountain built up owing to excess demand and supply-side constraints is going to let go and be run down just as both triggers loosen. This will slam US growth as it happens but, even more problematic, it will crush China with an external shock even as its domestic demand lurches through a property adjustment and OMICRON. 
And beware that there is another inventory mountain that will also collapse as the above happens. Commodities are being hoarded by markets as a stagflation hedge against the inflation embedded in the US inventory mountain, despite rotten underlying demand from China. When one mountain collapses, the other will follow.
Morgan Stanley has the note: 
Another popular theme coming into the year was that inventory restocking would drive economicgrowth and help alleviate some of the inflationary pressures. Furthermore, companies that had been citing these bottlenecks as a reason for lost sales would now be able to meet that excess demand.While weagree with the premise of that
argument–i.e. inventories would increase and drive economic growth and lower inflationary pressures, weremain skeptical it will lead a smooth "goldilocks" transition.
First, on the inventory growth has not disappointed. In line with our economists' forecast, inventory builds are driving the bulk of GDP growth. In fact, it already started to show up in the fourth quarter. 4Q real GDP grew an impressive 6.9% but final sales grew just 1.9% meaning inventories grew approximately 5% (Exhibit7). Outside of the pandemic's initial lock downs when demand dropped off a cliff, this is the single biggest increase in inventories ever witnessed. Our economics team is forecasting a similar build in 1Q relative to total output.
While this is good for economic activityit may not translateinto better revenue or earnings growth for companies. Instead, it's potentially calamitous for those companies building these inventories at the wrong time–i.e. when consumption demand is fading dueto lower real incomes and prices that are too high to pay. The end result in our view is that we could end up with some significant discounting of inventories that were booked at much higher prices than a year ago. In short, we have the mirror image of what we experienced in 1Q21,a period of over earning. Instead, we get a few quarters during which companies under earn the performance of the economy as margins get hit.
Meanwhile, the wholesale and retail inventory data shows the same dilemma and highlights something else we've been discussing for awhile (Exhibit 8). Much of the inventory shortages have been due to logistical constraints as exhibited by the large divergence between wholesale and retail inventories. But, with the largest back to back increases in retail inventory, those constraints may be loosening up which means product is now reaching the end point where it is needed. This "shadow" inventory that's been stuck in warehouses, loading docks and barges may further exacerbate the problems described above.

Finally, we have been discussing for months the risk of double ordering. When supplies get tight, businesses tend to order more than they actually need to secure as much supply as possible. As long as these shortages persist, so does the double ordering. However, as soon as supply catches up, those orders are cancelled. After all, there generally is no penalty for putting in more orders than one needs and then cancelling later. Based on the charts above, we think the moment of truth on this double ordering is about to be tested. it's one of the reasons we have been so focused on the orders inventories components of theISM PMIs as a means of getting ahead of this risk. As
seen in exhibit 9, this breakdown already began in 4Q as inventories started to rebuild.
We think it will likely get much worse when orders start to get cancelled which has yet to occur. Bottom line, 1H22 will beIcyasall of these excesses are wrung out of the supplychains and order books making the economic slowdown feel a lot worse at the company and earnings level, just like it made it feel so much better a year ago.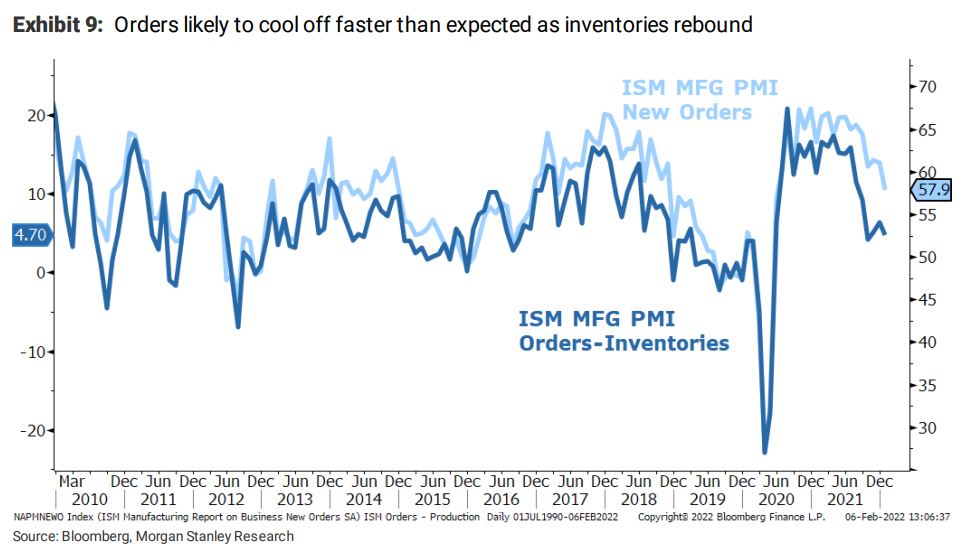 As further support for our view, our Transports team published it's latest Freight Pulse survey last week which raised a few red flags. Two takeaways stood out to them at a macro level (1) Shipper outlook on the economy took a second sequential step down (the first time that has happened in the survey since mid 2016) to 6.6 (Exhibit 10). This is still comfortably above the mid-cycle level of 5.6 but also comfortably below the peak levels in the high-7s. This implies that shippers'view of macro strength is normalizing quickly. A 0.9 decline over two quarters comes close to declines that kicked off prior macro slowdowns (1.4 in 2018, 1.1 in 2015, 0.8 in 2012). (2) Net Orderinglevels also took a second sequential step down (for the first time since 2019) and net inventory levels rose(Exhibit 11). The % of shippers who expect to increase inventory (41%) fell to a minority and is now at the lowest level since 2Q20. The above two takeaways seem to support their view that a rapid normalization of inventory could threaten the elongated freight cycle in 2H22, if not sooner.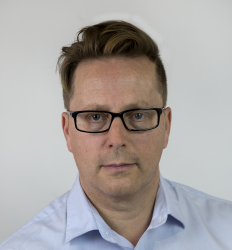 Latest posts by Houses and Holes
(see all)