Missed among the Facebook/Amazon microphone drops and the hawks in Brexit-land and Brussels circling around rate levers where the latest US Markit/ISM services PMI and factory orders data for December. Both are suggesting the 2021 economic boom maybe over coming into 2022, just as the Federal Reserve is ready to tackle inflation.
More:
Markit US Services fell from 57.6 in December to 51.2 in January – the lowest since Aug 2020. However, the final print was marginally above the flash print of 50.9.
PMI Services fell from 62.3 in December to 59.9 in January – the lowest since Feb 2021. However this was above the expected 59.5 print

New orders for US manufactured goods dropped by 0.4 percent from a month earlier in December of 2021, the first monthly decrease since April 2021 and the steepest since April of 2020, above market expectations of a 0.2 percent decline.
When you put the manufacturing PMI together the picture is not as rosy as expected, with the US Composite PMI Output Index barely posting growth overall for January, down to 51.1, off from m 57 in December. Every single sector in the US economy is experiencing slowing growth which may not be transitory at all: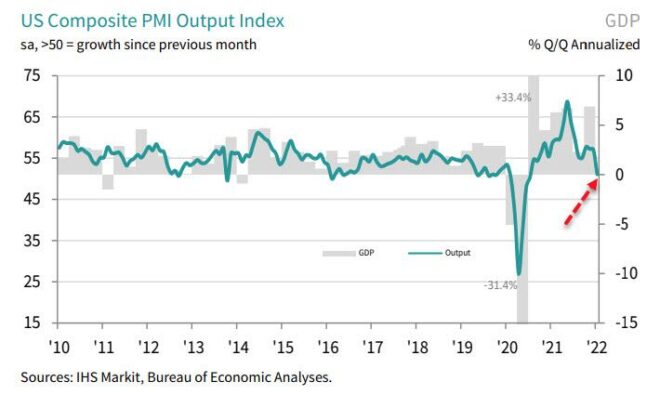 So despite the overnight surge in earnings in the Amazon behemoth, the broader US economy is facing a multitude of headwinds including the Great Resignation and major supply chain problems, not least of which is inflationary cost inputs shared across the globe and indebted consumer base.
This will cause further pause for the Federal Reserve to consider in its next meeting where its likely to start pumping the brakes and start pulling the rate lever.
Latest posts by Chris Becker
(see all)