Goldman with the note.
—-
Russia-Ukraine tensions have pushed a geopolitical risk index1 developed by the Fed staff to a very high level, as shown in Exhibit 1, and are beginning to have a meaningful impact on global financial markets.
Our Europe economics team recently analyzed the effects of Russia-Ukraine tensions on the European economy through three channels: disruptions to trade, higher energy prices, and tighter financial conditions. The same channels are relevant for the US economy, but the effects are likely to be smaller.
The impact via international trade should be very limited because Russia and Ukraine combined account for well under 1% of US imports and exports.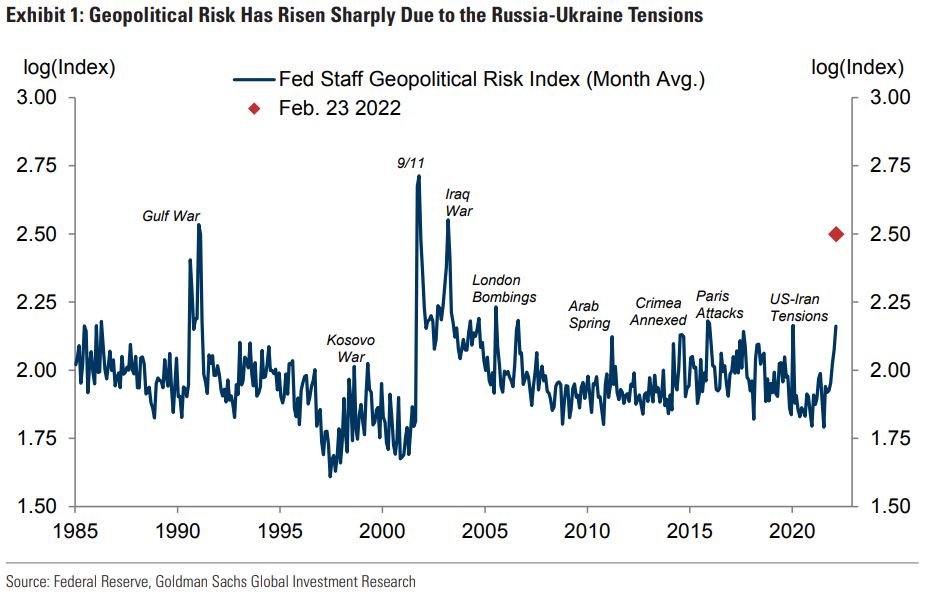 The impact on energy prices should also be limited. While Europe imports a large share of its natural gas consumption from Russia, the US is a net exporter of natural gas and any spillover effects on US gas prices should be modest. Our commodities strategists also expect only a modest impact on oil prices, though they see the risks as skewed to the upside because the oil market is already tight. A more material increase in energy prices would raise inflation but weigh on GDP growth. Specifically, our rules of thumb imply that a $10/bbl increase in the price of oil boosts core inflation by 3.5bp and headline inflation by 20bp, but lowers GDP growth by just under 0.1pp. While the economic hit via consumer spending might be softened by healthy household balance sheets, any boost to domestic energy production is also likely to be weaker than last cycle because shale investment has become less sensitive to price increases.
The impact via tighter financial conditions is the most unpredictable. Exhibit 2 shows that past geopolitical risk events have only rarely been followed by a meaningful tightening in US financial conditions, though it is hard to generalize to the current situation. A larger tightening in financial conditions and an increase in uncertainty facing businesses would further weigh on US growth.
In principle, this combination of upside inflation risk and downside growth risk should have mixed implications for monetary policy. A review of the transcripts from past FOMC meetings where geopolitical risks loomed large shows that Fed officials have focused in particular on the downside risks to the economy from higher energy prices and reduced consumer and business confidence.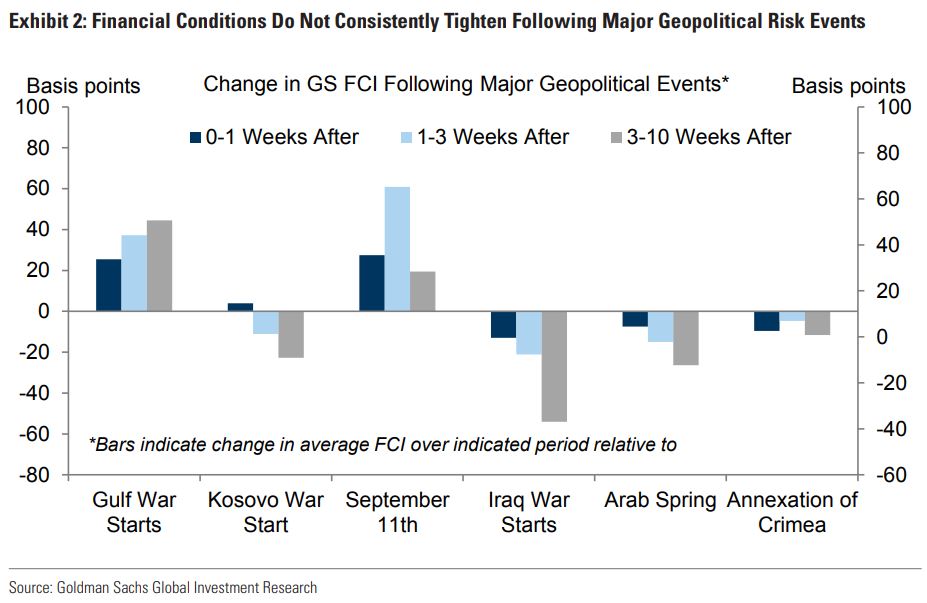 Fed officials have sometimes preferred to delay major policy decisions until uncertainty surrounding geopolitical risks diminished, including during the Kosovo war, the US invasion of Iraq, and the Arab Spring. In some cases, such as after September 11 or during the US-China trade war, the FOMC cut the funds rate modestly. However, the transcripts reveal that Fed officials were wary of "continually waiting for uncertainty to be resolved before taking action," as then-Governor Bernanke put it, and that past decisions to wait were made simpler by the lack of a strong need to tighten in the first place.
The current situation is different from past episodes when geopolitical events led the Fed to delay tightening or ease because inflation risk has created a stronger and more urgent reason to tighten today than existed in past episodes. Signs of problematic wage-price dynamics have already emerged and near-term inflation expectations are high. While fluctuations in energy prices have had limited read-through to core inflation and inflation expectations in recent decades, further spikes might be more worrisome than usual today because near-term consumer and business inflation expectations are already very high and tend to be particularly sensitive to energy prices, as shown in Exhibit 3. For all of these reasons, the FOMC's plan to raise rates steadily looks less likely to be knocked off course.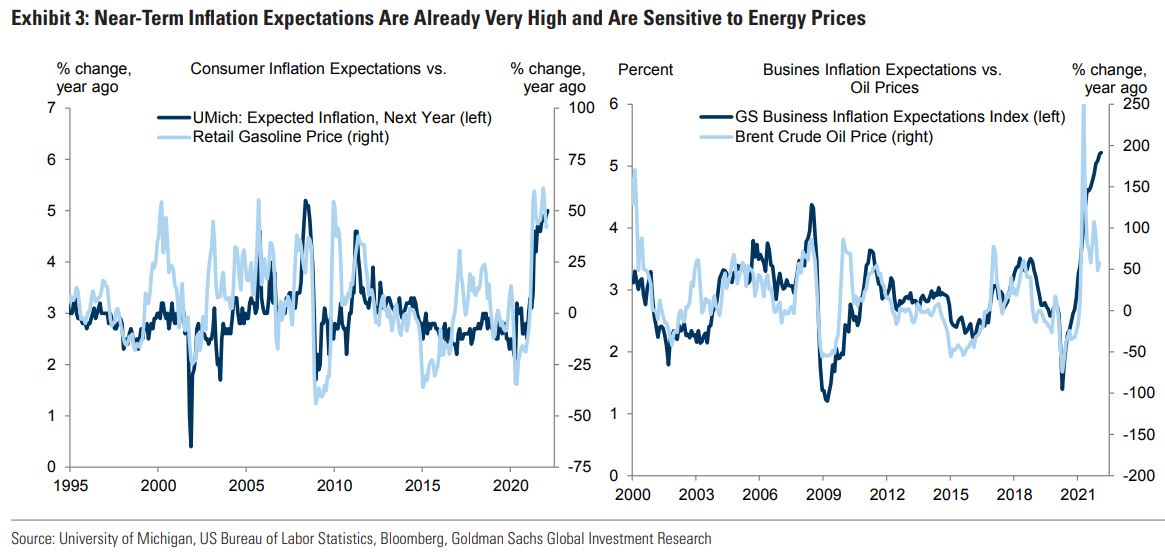 In short, we do not expect geopolitical risk to stop the FOMC from hiking by 25bp at its upcoming meetings. But Presidents Bostic, Daly, and Mester and Governor Bowman have cited geopolitical uncertainty as a downside risk to the economic outlook over the last week, and we suspect that some participants will see it as a compelling reason not to hike by 50bp in March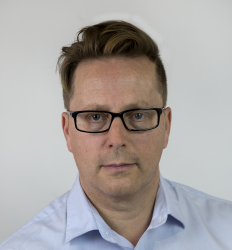 Latest posts by Houses and Holes
(see all)