Morgan Stanley with the note. I agree.
With rates having adjusted, our focus now turns to growth. The Fire part of our narrative is in full gear with both nominal and real rates moving sharply higher so far this year. This is having a disproportionate impact on expensive growth stocks, as it should, but the real determinant of how long and deep this correction lasts will be growth. More specifically, we are laser focused on PMIs and earnings revisions, both of which are heading lower in our view. Software is a good case study and possible leading indicator in this regard for the broader market.
With the first part of our Fire and Ice narrative in full gear, we now turn our attention to the Ice. As already noted, growth is slowing and while most appreciate this dynamic, there is a lot of debate as to how much it will slow and whether it will matter for stocks. After all, growth is likely to remain positive but for some companies that remains to be seen given how difficult the comparisons are vs. last year especially in 1H 2022.
We are focused on two metrics in particular as key drivers of stocks—PMIs and earnings revisions. First on PMIs, both the manufacturing and services headline indices reached cycle highs and topped in 2021. Manufacturing PMIs peaked in the spring, while Services has more recently from an all time record high of 70. Given this survey is an oscillating/diffusion index, it typically returns toward 50 after the initial surge following a recession. This time will be no different, in our view, and it looks like we are headed there now. Our guess is that by the spring of this year, we will see a Mfg PMI in the low 50s, if not slightly worse given how high it got this time—every action entails a comparable reaction.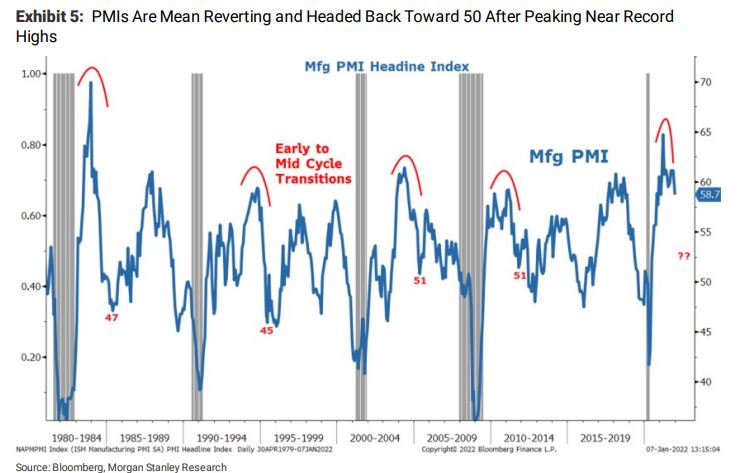 In addition to the normal mean reversion we typically get in PMIsat this stage of the recovery, we are looking at other indicators that suggest this reversion is imminent and could be sharper than normal. First, limited supply has been one of the major constraints to growth for the past 6 months. Some of this is due to real supply chain issues and shortages but most of it is due to the excessive level of demand that was created by the extraordinary fiscal stimulus, in our view. As noted over the past few months, we are hearing more anecdotes about improving supply. While this will help companies meet some of the extraordinary demand they haven't been able to fulfill, it may also lead to less tightness and therefore worse pricing and even cancellation of some of the double orders we think make up a good part of the demand companies are seeing. On this score, the inventory and orders sub components suggest this is exactly the risk for the headline index (Exhibit 6). As inventories catch up to orders, the overall strength of the orders will likely fade. Second, the internal weakness in the market has been extraordinary. From weak breadth to extreme leadership in quality stocks, we think a deteriorating economic and earnings situation that is likely worse than most investors expect is being depicted within market internals—i.e., PMIs, economic and earnings growth will decelerate further than investors expect during the first half of 2022…the Ice part of our narrative. In fact, we think some of the extraordinary price damage we
are seeing beneath the surface of the index is foreshadowing this likely disappointment (Exhibit 7).

Another subcomponent of the PMI surveys we track is prices paid which tends to lead the headline index by approximately 12 months (Exhibit 8). It also fits our mid cycle transition narrative quite nicely but has yet to fully play out. Similar to thecharts above, the record increase in prices paid suggests the reversion to the mean for the headline PMI index should be imminent and sharper than normal.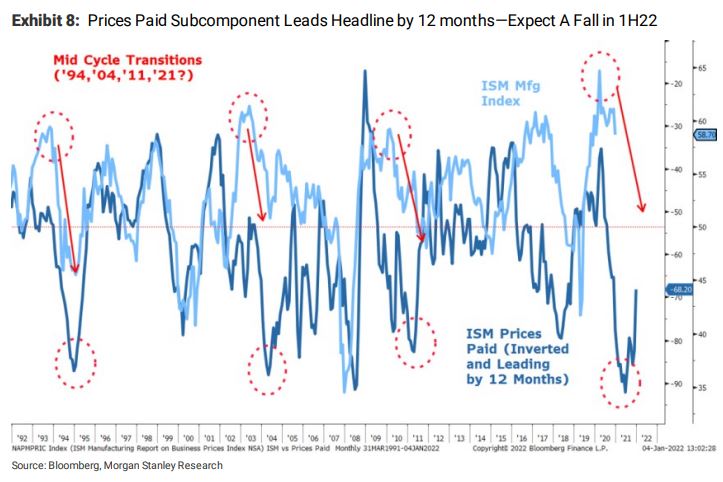 From a market standpoint, this is important because manufacturing PMIs tend to predict equity risk premiums (higher PMIs = lower ERPs). It's one of the reasons why the y/y change in PMIs lines up so well with the y/y change in the S&P 500 (Exhibit 9).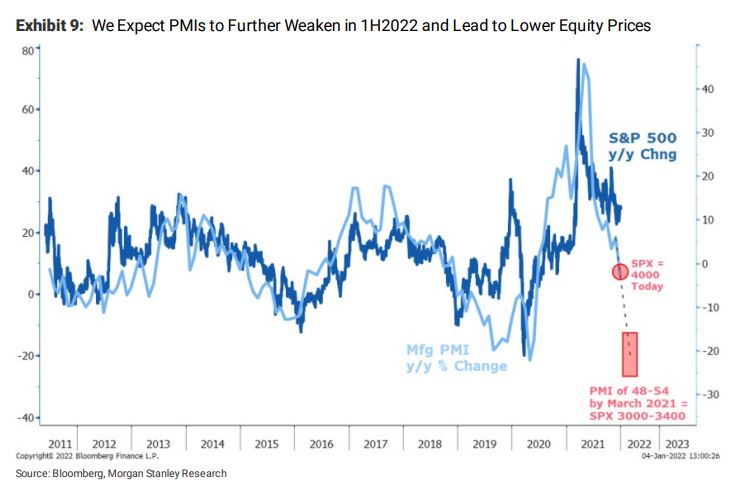 However, the S&P 500 is currently diverging from the deceleration we have already seen in the Mfg PMI to date. If we're right about PMIs falling further over the next few months, stocks still have material downside before this correction is over. This is very much in line with our outlook that tightening financial conditions with decelerating growth leads to falling valuations, particularly when the starting point is so high. The good news is that a good chunk of the de-rating has already happened at the individual stock level, even if the de-rating hasn't yet begun for the broader index. While we have been surprised/wrong at how well the index has held up in the face of so much damage to other asset prices and other mounting evidence, this relationship with the PMI appears to be a smoking gun if it starts to fall more meaningfully.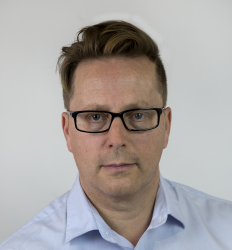 Latest posts by Houses and Holes
(see all)