See the latest Australian dollar analysis here:
In my view, CNY will fall in 2022. Property sales have not recovered at all seasonally adjusted and land sales remain a disaster. Only rate cuts can fix it and the longer PBoC waits the more that will be needed. Mizuho with the note.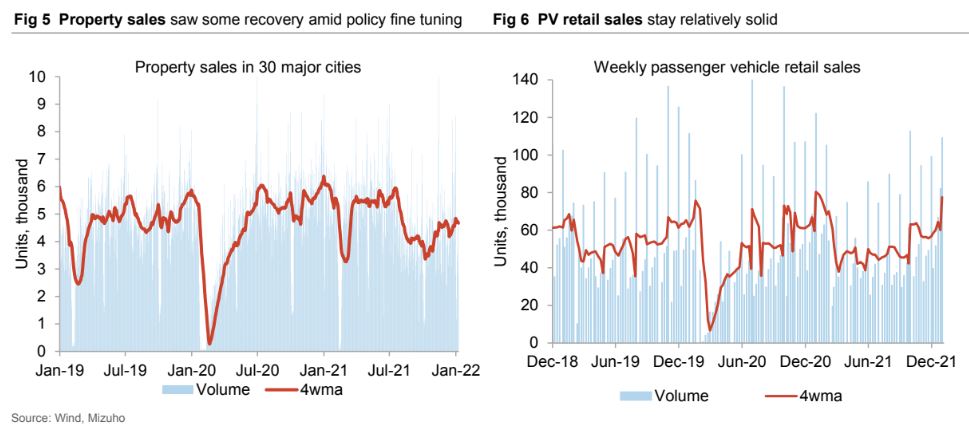 In view of ongoing delayed payments or defaults by Chinese property developers, the government is relaxing its property policy at a faster pace. To encourage M&A within the sector and avoid a hard landing, policymakers reportedly will exclude debt accrued from acquiring distressed assets of troubled developers from the requirement of "three red lines". In addition, the Guangdong government even held a meeting between distressed developers and state-owned property firms to pave the way for such transactions.
In our view, this suggests it has become consensus among officials that M&A led by developers with better funding access will be the most effective way to improve liquidity and deal with risks within the sector. As the PBoC issued a public notice in late December to encourage banks to boost loans to goodquality developers, we expect a gradual pickup in growth of property loans in 1Q22. As for December's credit growth, we look for a notable pickup in total social financing (RMB2.8trn) amid accelerating mortgage loan disbursement and a surge in government financing, especially at the central level.
While the US FOMC hinted at an earlier-than-expected rate hike, China has adopted an easier monetary policy marked by cuts to both RRR and benchmark rate within the past month. Expectations of China's narrowing interest rate spreads over the US, slowing domestic growth and shrinking trade surplus amid improving external supply chains would exert downward pressure on the RMB. While we forecast a yearend RMB rate of 6.4 against the dollar, a much weaker rate is possible in 1H22 as the economy hits its bottom.