By Gareth Aird, head of Australian economics at CBA:
Key Points:
The flood of new daily cases of COVID-19 since late 2021 has caused significant economic disruption that looks likely to be sustained over the next few months.
Production, hours worked and consumption will all be hit over early 2022 due to COVID-related isolation requirements and illness which impact both the demand and supply sides of the economy.
But we expect the unemployment rate to remain low and for inflation pressures to continue to build through this period which will keep the RBA on track to commence normalising the cash rate in late 2022.
Overview
Official data to be released over the next month will confirm that the Australian economy ended 2021 with exceptionally strong momentum. Household consumption bounced very quickly in NSW and Victoria when restrictions were eased and employment surged. Indeed the latest job vacancy data indicates the labour market is incredibly tight and the unemployment rate will continue to move lower over 2022 (charts 1 and 2). Put simply, the medium term picture remains very good.
But right now the Australian economy is being significantly disrupted by an explosion in COVID cases. To be clear, public officials indicate that despite this surge, the overall health situation does not appear particularly worrisome– high vaccination rates have put us in good stead. But COVID-related illness and isolation requirements are having a temporary negative impact on both the demand and supply sides of the economy. In addition, concerns around catching the virus given the high number of new daily cases may also be weighing on the demand for some services.
This note takes a look at the near term economic implications from the surge in COVID cases. It also discusses the medium term outlook and why we retain our view the RBA will commence normalising the cash rate in November 2022.
The current state of play
Daily new COVID cases have risen extraordinarily quickly over the past month (chart 3). Government figures indicate that national daily new cases have surged to ~65k (7 day average). But this figure is likely to understate the actual number of cases given the significant lags between PCR testing and results. In addition the scarcity of rapid antigen test kits means less cases are being detected and reported than would otherwise be the case.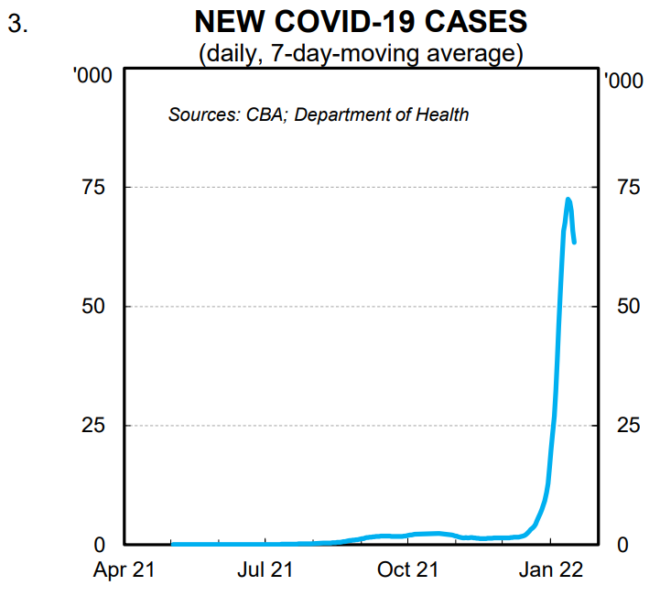 Individuals who test positive to COVID must isolate for a minimum of 7 days. Close contacts are also required to isolate for 7 days (a person is considered a close contact if they live in the same dwelling as someone who tests positive or spent at least 4 hours with someone in a home or health or aged care environment). Over the past week there has been some loosening around close contact requirements for some industries. This will alleviate some pressures on the supply side of the economy, but it will not eliminate them.
Right now we do not know how many people are currently in isolation or the number of people who have been required to isolate over the past month. But based on the number of recorded positive cases over the past week coupled with an assumption that each person who tests positive has 1 close contact we estimate that around one million people are currently likely to be in isolation. There is of course a huge degree of uncertainty around this estimate.
A person in isolation can still purchase goods online. But they cannot leave their home to consume goods or services. This has an immediate short term negative impact on demand in the economy, particularly for services. Our internal credit and debit card data indicates spending has dropped sharply on services over the past few weeks (last data to 14 January). Spending on goods, however, has held up well (charts 4 and 5). There is always a high degree of volatility around spending over the Christmas / New Year period. But our assessment at this stage based on our internal data is that the surge in COVID cases over the past three weeks has resulted in ~3% less spending over the period than would otherwise have been the case. This is not a bad result considering the huge number of people that have been required to stay at home.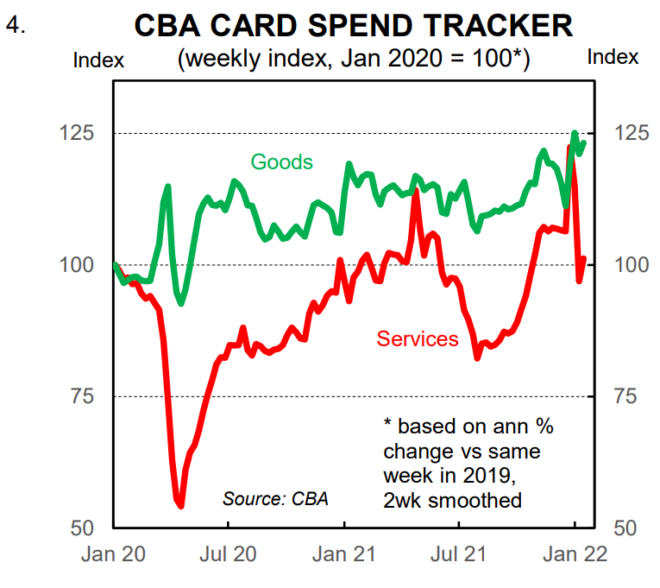 Isolation requirements, as well as illness associated with COVID, also impacts the supply side of the economy. A person in isolation who is employed but cannot work from home is simply unable to work.
The ability to calculate lost hours as a result of COVID illness and isolation requirements is incredibly difficult right now. But based on our estimates for the number of people required to isolate coupled with an assumption around the proportion of people who can work from home means we think that hours worked may be down by around 3-4% in January.
Forced isolation and illness means that many businesses are operating at either reduced capacity, shorter opening hours or may even be closed. The temporary weakness in spending therefore is reflecting both supply and demand factors.
Policy is fluid at the moment and requirements around isolation are likely to be further tweaked. But it remains the case that large numbers of COVID cases will continue to have a negative impact in the short run on the supply of labour.
The uncertainty created by the explosion in COVID cases means that it is not possible right now to forecast Q1 22 GDP with much conviction. But market economists need a quarterly GDP profile and at this stage we have pencilled in a lift of 1.0% for the March quarter (downwardly revised from our pre-Omicron forecast for an increase of 2.3%/qtr). Note that we expect Q4 21 GDP to rise by 2.6%/qtr following the 1.9%/qtr decline in Q3 21.
We will of course refine our Q1 22 GDP estimate as more data becomes available and a clearer picture emerges of when we are likely to hit the peak in COVID cases.
Beyond the next few months
The next few months are without a shred of doubt going to be difficult and testing for the economy. Our working assumption is that more policy support will be forthcoming, particularly stimulus that is targeted towards businesses most adversely impacted by the surge in COVID cases and isolation requirements.
But beyond this challenging period we expect the economy to do very well. Economic activity and hours worked should snap back in Q2 22 which means we have made no adjustments to our profile for the economy in H2 22 (we retain our forecast for GDP growth to be 5.5%/yr at Q4 22 – chart 6).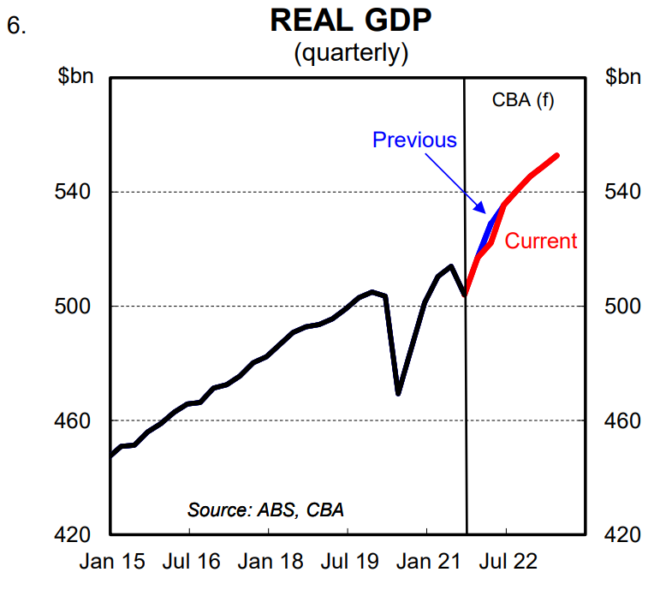 The old adage that every cloud has a silver lining rings true when thinking about the medium term outlook. The speed and size of the current outbreak of COVID lowers the probability that the virus negatively impacts the economy over the second half of the year. That is, the rapid spread of COVID now may see us reach herd immunity by the middle of the year.
What to watch from a monetary policy perspective
An economist will generally tell you that all economic data matters. But some figures of course matter more than others when assessing the outlook for monetary policy.
In the current climate the spending data that pertains to January and February should not in and of itself be cause for concern. The data will be soft. But it will not be indicative of a shift in underlying demand. Rather it will simply reflect the short term impact of the rapid spread of COVID on supply and demand in the economy.
Consumption will improve once infections peak and start to decline – indeed spending should accelerate quite quickly once total infections are on a downward trend given the extraordinary level of household savings accumulated over the pandemic (chart 7). It is also likely to be the case that many individuals required to isolate will consume more in the weeks following isolation (i.e. their spending will simply be deferred).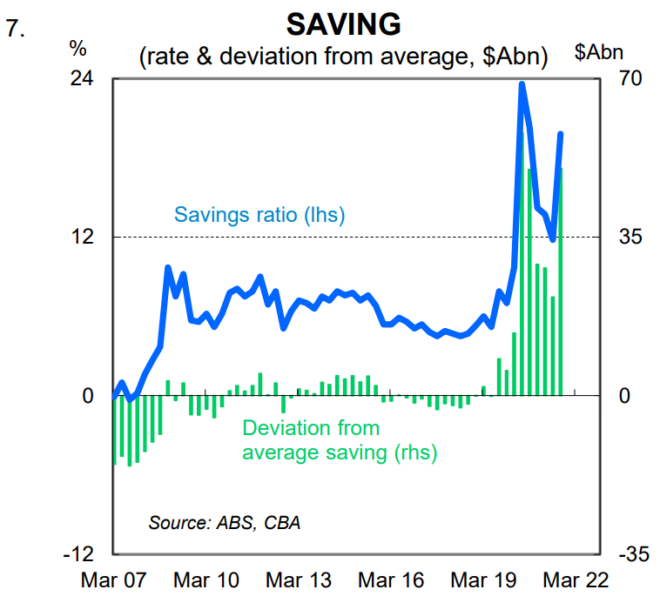 The key to the monetary policy outlook as this stage is the data that pertains to inflation, wages and progress towards full employment. In that context, the current short term negative shock to spending does not change our forecasts for core inflation, wages growth or the unemployment rate.
More specifically, we expect core inflation to be tracking around the top of the RBA's 2-3% band over the bulk of 2022; we expect wages growth to be close to 3% by end-2022 and for the unemployment rate to end the year at 4%. These forecasts are consistent with the RBA raising the cash rate in late-2022 based on their reaction function. As such, we retain our view that the RBA commences normalising the cash rate in November 2022.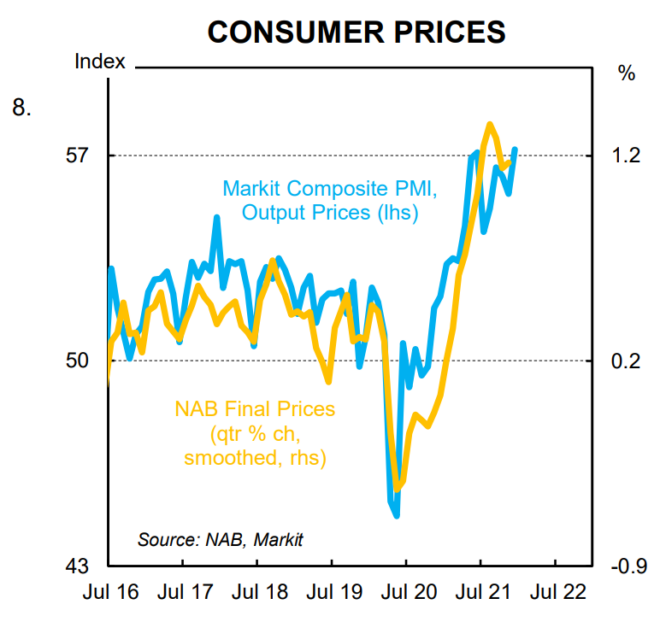 The upcoming RBA February Board meeting is a very important one from a policy perspective. Indeed it could be pivotal not just because the Board will make a decision on the bond buying program, but also because the RBA may be required to shift their narrative on inflation if we get a big upside surprise in the Q4 21 CPI relative to their implied profile. The December labour force survey will also feed into the policy debate (due 20/1).
Our expectation is that the Q4 21 trimmed mean CPI, due 25 January, will come in a lot stronger than the RBA expects (charts 8 and 9). We believe this will underpin the RBA announcing the cessation of the bond buying program at the February Board meeting. And it will lay the groundwork for an RBA rate hike in late 2022 (chart 10).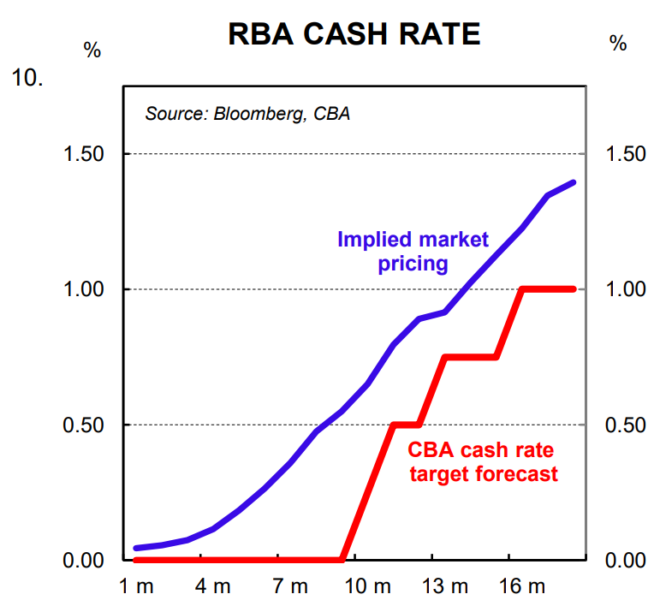 We will publish our point forecasts for the Q4 21 headline and trimmed mean CPI with our full preview later this week.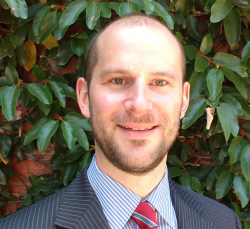 Latest posts by Unconventional Economist
(see all)