Following a record day for COVID deaths in NSW, Queensland has reported six deaths for its highest one-day total, with nearly 15,000 cases officially reported: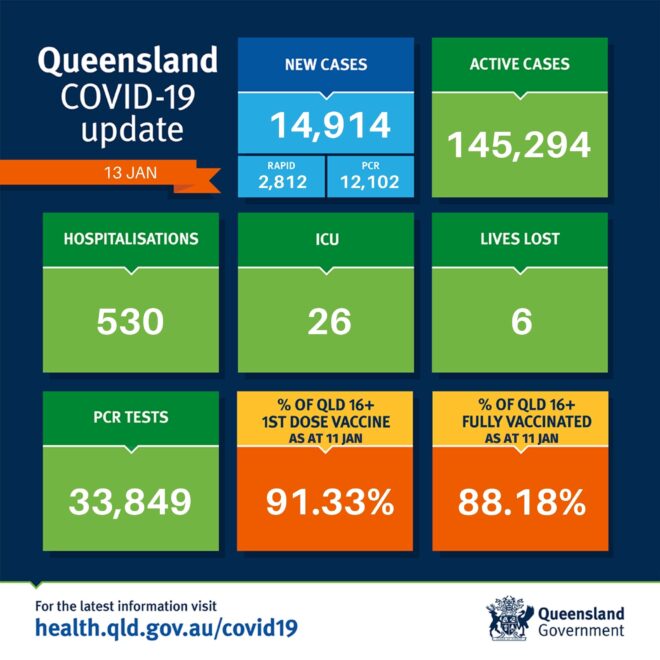 From ABC:
Chief Health Officer John Gerrard said three of the deaths were people in residential aged care. Two of those who died were aged in their 70s, three in their 80s and one was aged over 90.

"All had significant underlying medical conditions," he said. Five were double vaccinated, one was unvaccinated and none had received a booster shot.
At the same time the Qld government has eased almost all border requirements as the horse has already bolted. Hopefully the overall strain that is really showing on hospitals and GP surgeries, who have been hit by staff shortages and increased labour requirements in managing so many cases so quickly, will not break:
Australian Medical Association Queensland's (AMAQ) council of general practice chair Maria Boulton said GP surgeries in Brisbane and the Gold Coast had been hit particularly hard by staff shortages during the Omicron surge.

Dr Boulton said general practices were having to bear a significant share of the burden of vaccine rollouts, ongoing pandemic issues, such as patients' mental health struggles, and, in recent weeks, caring for people who had tested positive to SARS-CoV-2, the virus that causes COVID-19.

"Many of our practices are acutely short-staffed," Dr Boulton said.
As the Victorian health system feels the strain:
Acting Health Minister James Merlino said more than 6,600 health workers were currently unavailable due to being infected, household contacts or other reasons."This is a system under strain," he said. Mr Merlino said individual hospitals could call what is known as a code brown, where leave is cancelled for workers, at any time.
As does NSW:
One-fifth of nurses absent in high dependency unit of major hospital due to Covid as 4,941 healthcare workers in isolation across NSW. Staff shortages in one of Sydney's best-resourced hospitals have sent nurse-to-patient ratios soaring as new data shows the share of Covid patients occupying intensive care beds has shot up from one in five beds to one in three in just one week.
Latest posts by Chris Becker
(see all)