CoreLogic has released its full dwelling value results for December, which is summarised in the below table: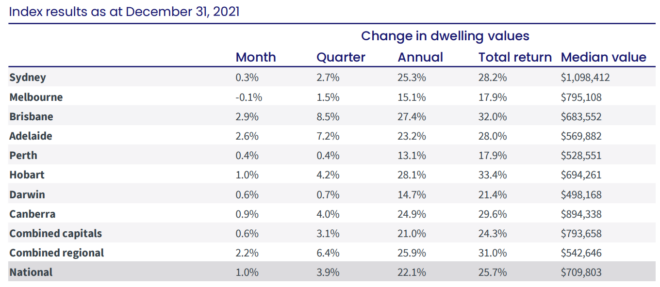 Nationally, dwelling values rose by 1.0% over December to be up 3.9% over Q4 and by 22.1% over the calendar year.
Australia's regions led the price growth, growing 2.2% over the month, by 6.4% over Q4 and by 25.9% over the year.
By comparison, Australia's combined capitals grew by 0.6% over December to be up 3.1% over Q4 and by 21.0% year-on-year.
The next chart shows that quarterly price growth has reaccelerated across the regions:
Regional markets are seeing renewed momentum in the pace of value growth. Since March 2020, housing values across regional Australia are up 32.0% compared to the 20.0% lift in values seen across the combined capitals.

The quarterly pace of growth in regional dwelling values rebounded through the December quarter, in contrast to slowing momentum across the capital city market. Regional dwelling values were up 6.4% in the three months to December, compared to the 5.1% rise  recorded in the September quarter. This potentially reflects a new wave of demand as buyers exited the extended lockdowns in Sydney and Melbourne.

Inventory is low across regional Australia, with advertised stock levels finishing the year 35.9% below the five-year average. This compares to combined capital cities seeing stock 14.2% below the five-year average. It is likely regional markets, especially those with lifestyle appeal, will continue to benefit from higher demand as remote working policies are more normalised, and demand for holiday homes remains strong amid continued international border restrictions. However, as interest rates begin to bottom out, and affordability constraints extend to regional markets, these housing markets may also move into a downswing.
A strong divergence has also arisen across the major capitals, with Brisbane and Adelaide experiencing their strongest growth over the pandemic while the other major capitals have slowed sharply:
A two-speed market is emerging across the state capitals. While the pace of capital gains has been easing in Sydney, Melbourne and Perth, conditions across the Brisbane and Adelaide housing markets have gathered momentum.

The slowing trend in Sydney and Melbourne can be explained by a bigger deposit hurdle caused by higher housing prices alongside low income growth, as well as a recent surge in advertised inventory levels and weak demographic trends. Slower conditions across the Perth housing market may be more attributable to the disruption to interstate migration caused by extended closed state borders which has had a negative impact on housing demand. In Brisbane and Adelaide, housing affordability is less challenging, advertised stock levels remain remarkably low and demographic trends continue to support housing demand.
Now that is the epitome of a two-speed market. I expect Brisbane, in particular, to outperform this year as it is inundated with cashed-up buyers from Sydney and Melbourne.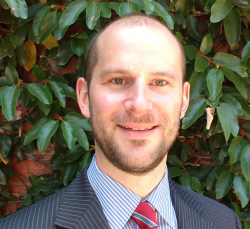 Latest posts by Unconventional Economist
(see all)