Fixed mortgage rates have risen sharply in Australia, as illustrated by new data from CoreLogic: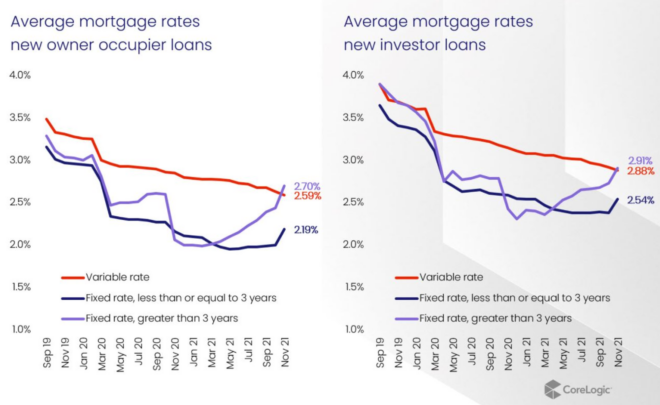 A year ago, owner-occupied homebuyers could find three year fixed rate mortgages on offer below 2%. But with the RBA tapering its quantitative easing program, average three-year fixed rates have now risen to 2.7%.
Smaller increases have also occurred for fixed rate mortgages below three years.
According to RateCity, 17 lenders have hiked fixed rates so far this year, while none have cut rates on any fixed-term three years or longer.
These fixed mortgage rate rises are one of the reasons why Australian dwelling value growth has slowed, led by the biggest and most unaffordable capital cities of Sydney and Melbourne: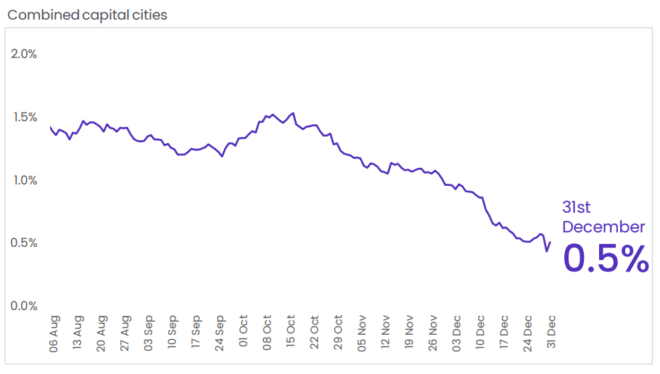 Many prominent economists now tip that variable mortgage rates will begin to rise later this year as inflation creeps higher:
The CBA believes that stronger than expected inflation will cause the RBA to end its bond buying program at the February Board meeting, and pave the way for cash rate rises by late this year.
Westpac believes the RBA will start lifting the cash rate from August.
AMP Capital Markets has also moved its rate rise forecast to August from November, arguing a tightening job market would push up wages and inflation faster than expected.
A lot will depend on the CPI data for December, which will be released tomorrow by the ABS, alongside next month's wage price data. If both come in stronger than expected, then it could force the RBA to bring forward its guidance for lifting interest rates.
Financial markets are betting the next two years will bring a total of seven rises in the official cash rate, taking it to around 1.8%. Further out, market pricing takes it to around 2.5% per cent by mid-2025.
While such rate rises would be modest from an historical perspective: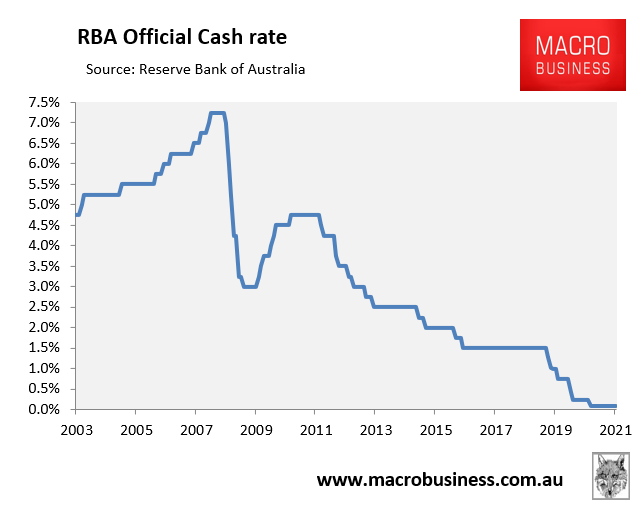 They would certainly hurt Australian households' given their gigantic stock of household debt (ranked second highest in the world):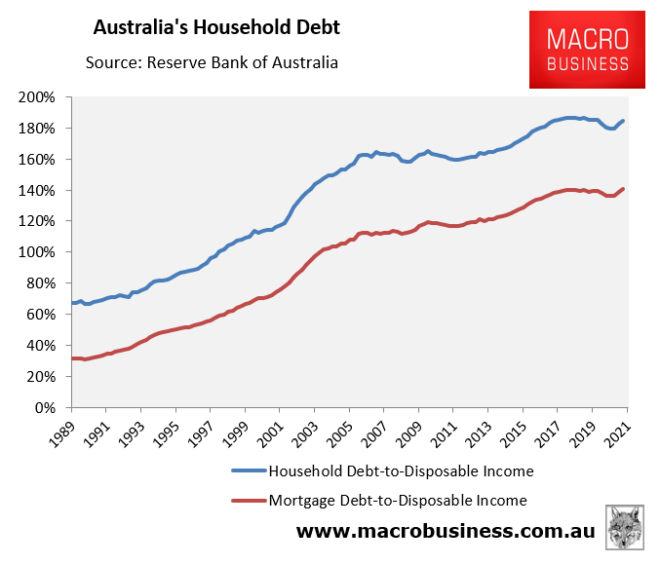 Given the household debt-to-income ratio is about three times higher than in the late 1980s, each 0.25% rise in the official cash rate would be equivalent to a 0.75% rate increase then.
The upside is that the peak in the next interest rate cycle will be much smaller than previously, given households' acute sensitivity to rate rises. Indeed, I doubt it would peak anywhere near the 2.5% forecast by markets.
My view was that the RBA wouldn't start lifting rates until wage growth breaches 3%, which in turn depends in part on the speed at which mass immigration is rebooted.
But given the acute tightness in the labour market, 3% wage growth could arrive sooner than expected. And with it, so too would interest rate rises.
Either way, the great COVID property boom is nearing its end.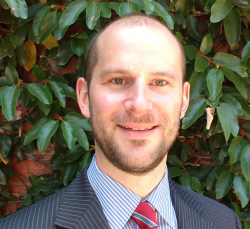 Latest posts by Unconventional Economist
(see all)