Not in my view. There is almost no harm done yet to credit or commodity prices. This reflects an inflation outlook that remains strong when it needs to be squashed for the Fed to stop tightening.
I am encouraged in this view by the ongoing bullishness of Wall St. JPM:
Recent bearishness in equities is overdone, and out of line with activity momentum, easing bottlenecks, and what we expect to be a strong earnings season. While some are concerned that rising input prices will eat into margins, we expect margins to remain resilient thanks to strong activity and prices outpacing wage inflation. We are also bullish on Asia equities, with China policy expected to become more growth supportive. Ex-China we are OW Financials as earnings are leveraged to short rates and growth, and the selloff on margin concerns appears excessive. US bond positioning has gotten more bearish ahead of the FOMC meeting and the gap to fair value in Treasuries has reduced with recent moves. In the medium term, we stay UW 10Y USTs on expectations real rates will rise. We revised our YE'22 Bund target up to +30bp (from +10bp) and took profit on 5y Germany vs US on the back of our call for earlier ECB liftoff in Mar'23. EM Credit has lagged, especially in HY; EM sovereigns are cheap vs US credit, and CEMBI HY is cheap vs US HY in our view. In FX, the dollar looks lackluster, not benefiting from either rising real rates or the equity pullback, and facing headwinds from positioning, broadening CB hawkishness, and stabilizing global growth expectations. A potential disruption in exports from escalating Russia/Ukraine tensions presents upside Commodity price risks. Natural gas, oil, aluminum, PGMs, wheat and corn are most exposed, and a repeat of the December spike in natural gas is possible if exports to Europe are disrupted.
Then why is the equity correction overdone then with war, rocketing inflation and a hawkish Fed looming over both? Sheesh.
Adding to concerns about Fed tightening is the developing economic slowdown, which will be made worse by the stock correction and, therefore, earnings:
Before we look at the guidance, Goldman notes that earnings season has been so far characterized by positive sales and EPS revisions but falling share prices, with Kostin adding that "sharp declines in stock prices can reflect a jump in the cost of equity or reduced growth expectations. S&P 500 aggregate sales and EPS estimate revisions for 2022 have been positive during the past 1-month and 3-month periods. However, recent market rotations and investor conversations indicate concern about the growth outlook."

With that in mind, here is a look at what even Kostin admits is "Disappointing guidance. Investors are most interested in forward-looking guidance from managements, and recent information on that front has been concerning. Five of the six S&P 500 firms that provided formal 1Q 2022 guidance following 4Q results lowered expectations."

Drilling into that critical point, the GS strategist notes that following the release of 4Q results, only six companies in the S&P 500 provided formal near-term guidance for 1Q 2022. Unfortunately, five of the six firms guided below consensus for next quarter, including three of the stocks that actually beat expectations in 4Q. Only Micron Technology (MU) "beat-and-raised."

Here Kostin reminds us that the most notable firm to provide updated guidance was Netflix which "stunned investors by dramatically lowering its expected rate of net subscriber growth in 2022. The shares plummeted by 22% the following day and $50 billion of equity cap was erased on Friday. The stock price has plunged by 33% since the S&P 500 peaked in early January and by 41% since NDX hit its all-time high in November."
So, there is a convergence of geopolitical and inflation risk with central bank tightening, plus slowing growth and the end of the earnings boom. That's plenty of fule for more selling.
Then there is sentiment which is still far from bearish: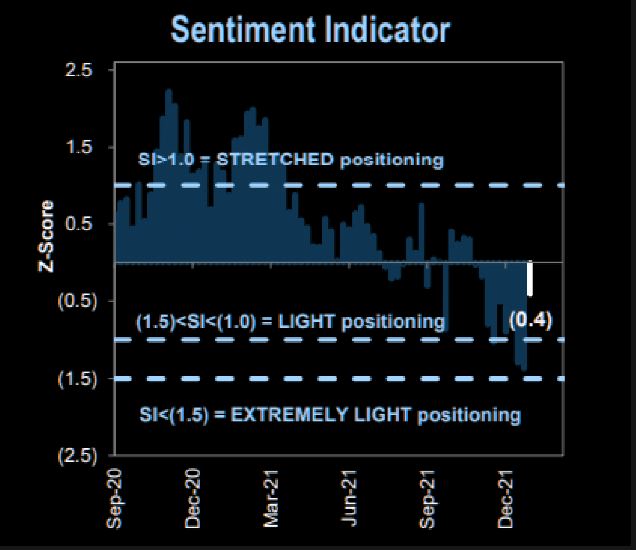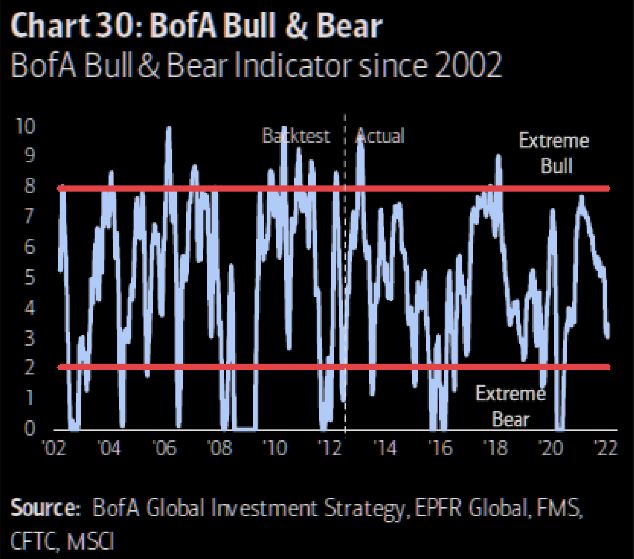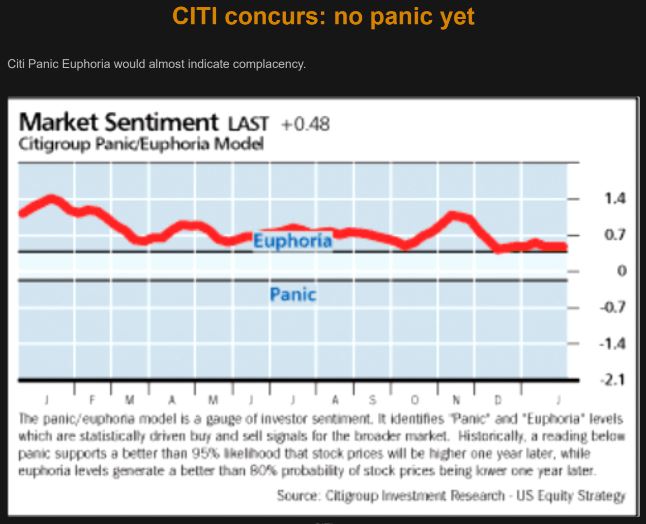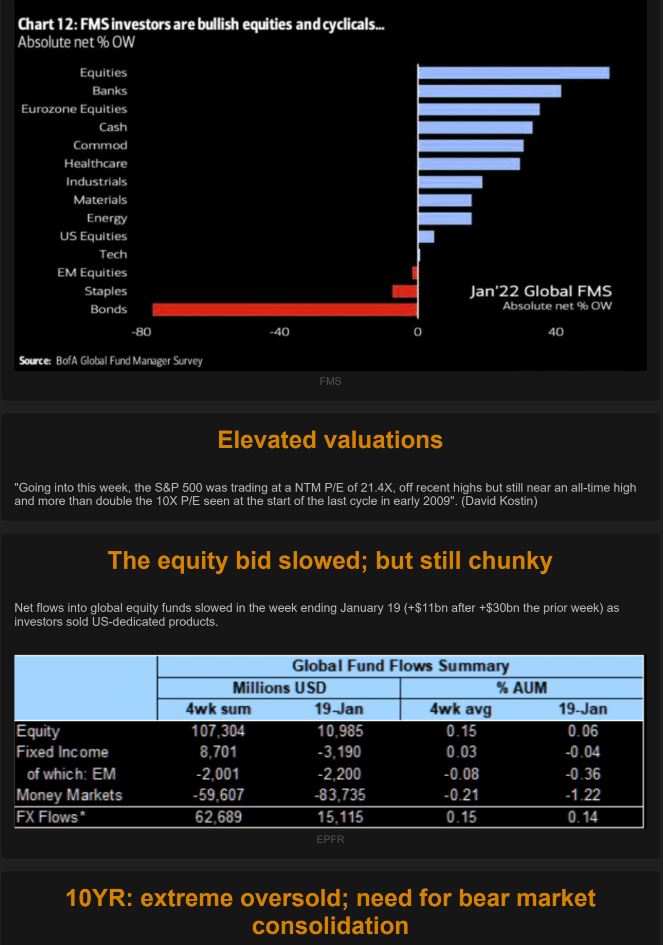 In my view, the Fed won't stop until it breaks oil to offer US households inflation relief and given that is Wall Street's number one favourite trade, that means plenty more carnage for equities ahead.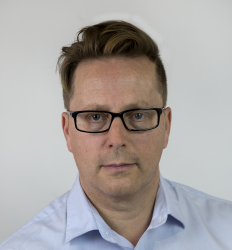 Latest posts by Houses and Holes
(see all)