Governments across Australia are being pressured to ban the use of dark coloured rooftops in new homes to reduce urban temperatures and energy use:
A number of groups are pushing for the change as part of the updating of the National Construction Code (NCC), which could make cooler roofs mandatory by September 2022.

"It would be so much more interesting – and sensible – to see light coloured roofs in Australia's hottest locations," said Rob McLeod of Renew, one of the country's main organisations advocating for sustainable living.

"As the climate grows hotter, it's even more important to have lighter-coloured roofs in many of our cities as part of the suite of measures to help mitigate the urban heat island effect. There are a lot of things that go into making us more climate-resilient, and lighter roofs would be one important measure."

The debate over the colour of Australia's roofs has become even more heated since NSW Minister for Planning and Public Spaces Rob Stokes ruled that only light-coloured roofs be allowed for new homes in the suburb of Wilton, in Sydney's south-west…

"There's a real opportunity currently to make lighter roofs happen, with the changes to the NCC to bring more resilience within the national jurisdiction," said Davina Rooney, CEO of the Green Building Council of Australia…

A number of studies have found that lighter roofs could make a huge difference both to city temperatures and to residents' comfort and energy efficiency in areas that suffer summer extremes.
Mandating lighter colour rooftops makes sense. It is a low cost reform that offers significant efficiency gains and improvements in urban temperatures.
The bigger issue is that Australia's mass immigration program combined with densification policies are seeing trees and green space being cleared to make way for townhouses and apartments, which is driving an urban 'heat island effect'.
This transformation into a dense urban form is most stark in Sydney, where the Urban Taskforce projects that only one quarter of dwellings will be detached houses in 2057, down significantly from 55% in 2016: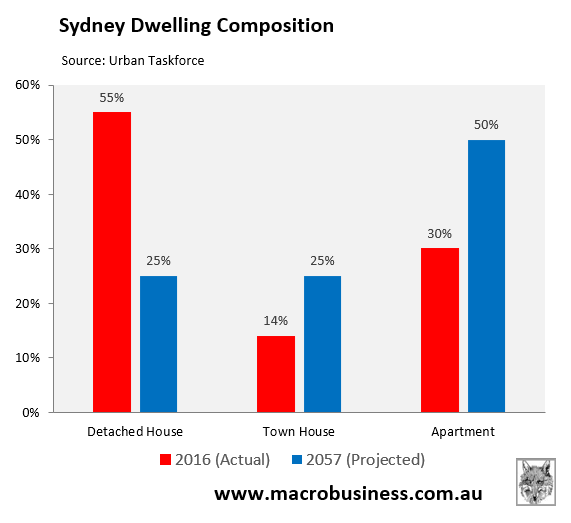 The ABC recently warned that continued urban infill will bake our cities under concrete:
It's a familiar sight across many Australian suburbs.

Demand for housing has led to a rise in subdivisions, and a loss of yard space and the trees they contain.

Block sizes for new houses across Australian cities have plummeted by 22 per cent — to an average of 467 square metres — in the past 15 years, according to the Australian Bureau of Statistics.

In Melbourne alone, about 240,000 new lots — including houses and units — have been created since 2015 as a result of subdivision…

Gregory Moore, a senior research associate at the University of Melbourne, has been studying Australia's declining urban canopies.

"In most Australian cities, the density of the canopy cover is diminishing at various rates," Dr Moore said…

"Nearly all of the change is happening on privately-owned land … and most of it is the redevelopment of large blocks into smaller blocks or into townhouse developments."

The trend is exacerbating an urban heat island effect, where hard surfaces like concrete and steel absorb and then release heat.

Trees and the shade they provide can help reduce the impact, but stripping away that canopy accelerates the effect.

It can make our cities 4–10 degrees Celsius hotter than surrounding rural areas, according to research from RMIT's Sustainability and Urban planning program.

Associate professor Joe Hurley and his RMIT colleagues have mapped vegetation loss in a number of Australian cities.

They found several outer suburbs in Melbourne and Sydney were most vulnerable to the heat island effect.

"Areas like the western suburbs of Sydney and the western suburbs of Melbourne, where we see lower socio-demographic factors, we also see lower vegetation and higher susceptibility to heat," Dr Hurley said…

Anoop Sud lives in Stanhope Gardens in Western Sydney, and has seen it rapidly develop over the past 11 years.

Having migrated to Australia from India, Mr Sud said he was used to overpopulated cities, but now felt "claustrophobic" because of the number of houses and people.

As his neighbourhood becomes more crowded, he is finding it harder to escape the extreme heat — in February last year, temperatures soared to 44.5C, and Mr Sud found it difficult to breathe.
Dr Tony Matthews – a senior lecturer in urban and environmental planning at Griffith University – has been at the forefront, explicitly warning that infill development is driving the heat-island problem:
"Heat stress actually causes more deaths in Australia than all of the other natural disasters combined"…

Middle-ring suburbs were more likely to be the leafy, cool retreats created by postwar architecture and planting…

"The real problem comes when we try and increase densities, which we have done in a suburban context through a quality called urban consolidation," he said.

"And that has been taken up through most of the capital cities, all of the capital cities, in fact.

"It's squeezing more floorspace out of less land, so that's why we're seeing so many apartments, so many townhouses, we're also seeing a reduction in block sizes from maybe 700 metres or 650 metres to 400 metres."

Squeezing more properties onto land means there is less room for parks, trees, or anything other than constructed buildings, he said.

The result is dense, urban fringe suburbs with little greenery and houses with no gardens, parks reduced in size as competition for tenancy grows…

"What I feel we have done with these suburbs is we have locked them into a pattern of heat stress, limited outdoor activity, limited use of the public realm, and all of the problems that come with that because they're not green enough and in some cases they don't have the potential to be any greener," Dr Matthews said.
Thus, the infill utopia of jamming millions more people into the existing urban footprint will necessarily chew-up green space as backyards, trees and open space are removed to make way for additional dwellings. And this will necessarily exacerbate the 'heat island' effect afflicting our cities, in turn raising energy use (think air conditioners).
Clearly, maintaining green infrastructure in our major cities is not consistent with the projected explosion of their populations via mass immigration, along with planning rules that force increased population density.
The first best solution to this problem is to slash immigration back toward the historical average, thereby slowing the destruction of green space.
Sadly, the latest Intergenerational Report projects that Australia's population will swell by 13.1 million people (~50%) over the next 40 years on the back of extreme immigration of 235,000 people a year. This is the equivalent of adding another Sydney, Melbourne and Brisbane to Australia's existing population: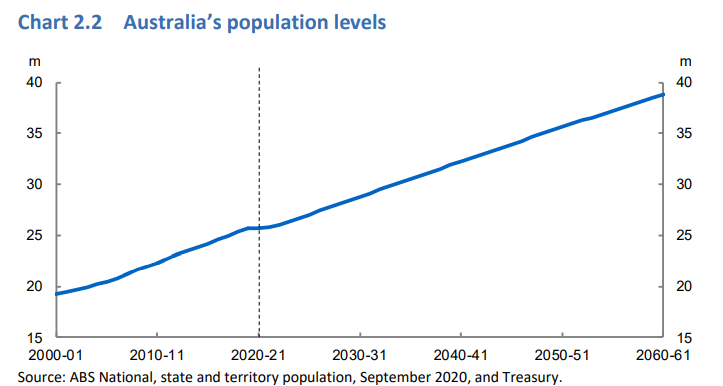 Policy makers need to stop treating symptoms and address the problem at its source.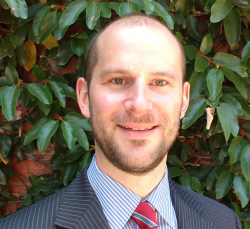 Latest posts by Unconventional Economist
(see all)