Risk markets took a big deep breath overnight with the release of the Federal Reserve's December minutes, which showed a much more hawkish path ahead in 2022 for the bank followed by all other banks as labour market conditions and rising inflation spook the wonks.
The Fed explicitly stated that it might need to raise interest rates sooner than expected, with at least three rises pencilled in already by interest rates futures, adding it may quicken its tapering of asset purchases as well to combat rising inflation.
More from Reuters:
"Participants generally noted that, given their individual outlooks for the economy, the labor market, and inflation, it may become warranted to increase the federal funds rate sooner or at a faster pace than participants had earlier anticipated. Some participants also noted that it could be appropriate to begin to reduce the size of the Federal Reserve's balance sheet relatively soon after beginning to raise the federal funds rate," said the minutes, which were released on Wednesday.

The language showed the depth of the consensus that has emerged at the Fed in recent weeks over the need to move against high inflation – not just by raising borrowing costs but by acting with a second lever and reducing the central bank's holdings of Treasury bonds and mortgage-backed securities accumulated during the coronavirus pandemic to hold down long-term interest rates.

The Fed has about $8.8 trillion on its balance sheet.
This quickening is seeing the bond market sell off with 10 year Treasury yields almost pushing through the 1.7% level, with the 2 year almost at a yearly high, indicating a tightening is coming very quickly: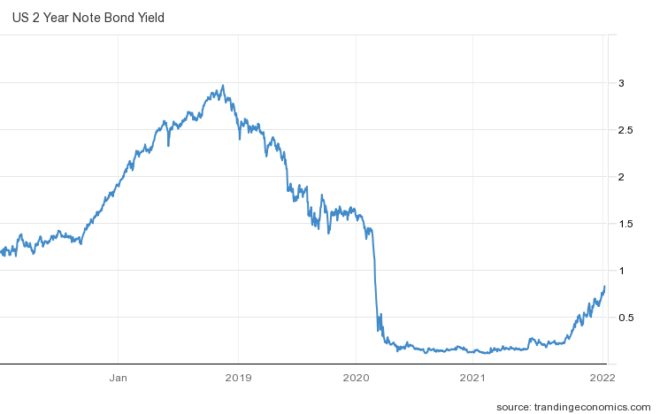 Not helping market expectations was the release of private jobs data overnight as we barrel into Friday night's non-farm payroll (NFP) unemployment print that continues to show a very tight labor market in the US, with maximum employment already here, via Tradingeconomics.com:
Private businesses in the United States hired 807K workers in December of 2021, the most in 7 months and more than double market forecasts of 400K, as the fallout from the Delta variant faded and Omicron's impact had yet to be seen.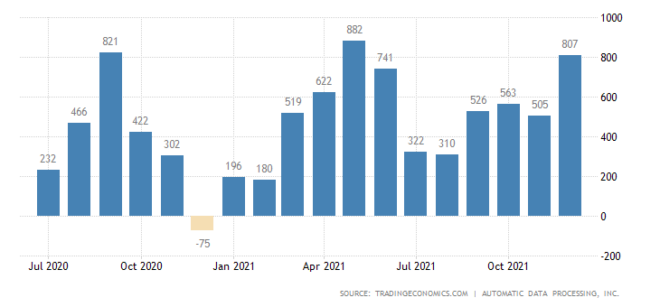 More volatility in bond markets, and hence stocks is to be expected post the NFP print as the Fed also weighs up the burgeoning COVID outbreak in the US which could impact both drivers – inflation and the tight job market – depending on how endemic it becomes before the next Fed meeting.
Full minutes are available here from Federal Reserve website.
Latest posts by Chris Becker
(see all)