Iron ore prices continue to recover in the new year with spot prices up more than 2% as demand increases before the cut off of steel production during the Olympics: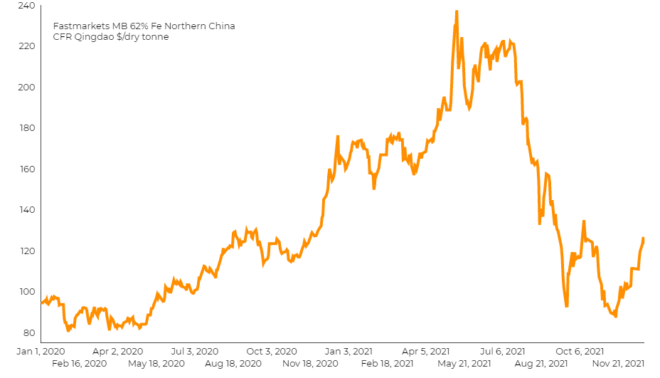 More from Mining.com:
Iron ore prices are rising on expectations of a recovery in Chinese demand after the Beijing 2022 Olympics next month. Top steel producer China is expected to maintain output restrictions to ensure clean air during the Games.

"After the Winter Olympics, there is an opportunity to relax the production limit (for steel)," analysts at Zhongzhou Futures said in a note.

But they said China could see an iron ore surplus of 15 million tonnes this year given depressed steel demand in the country's property sector and production controls to curb emissions.

Chinese developers had an annual drop in property sales in 2021 for the first time since 2016. The hundred largest developers in China sold homes worth 11.1 trillion yuan ($1.7 trillion) last year, down 3.5% compared to 2020, according to China Real Estate Information Corp.
Latest posts by Chris Becker
(see all)