According to a useless AFR:

I assume the subbies are joking. Yesterday's stimulus was minor and, in context, dangerously so for those dependent upon Chinese property demand.
The Chinese property market has a much larger problem than yesterday's stimulus suggests. The liquidity crisis engulfing property developers is accelerating as it sucks in the good as well as the bad:
Fresh turmoil rocked Chinese property bonds on Monday on concern over the true scale of the industry's hidden debts, deepening a selloff among higher-rated firms.

A Logan Group Co. note due 2023 sank 14.1 cents to a record low 62.9 cents after Debtwire reported the developer could be on the hook for $812 million of guarantees on outstanding obligations due through 2023. Country Garden Holdings Co.'s bond due 2024 tumbled 12.9 cents to 67.7 cents, extending last week's selloff for the country's biggest developer.

Mounting concerns about the transparency of China's better developers is forcing bondholders to question the liquidity of firms whose finances appear sound. More debt would mean more creditors, some of whom could demand early repayment. There's also the risk that hidden liabilities like trust loans, private bonds or high-yield consumer products receive preferential treatment over money owed to offshore creditors.
The dollar bond market is shut and a $100bn refinancing task is dead ahead: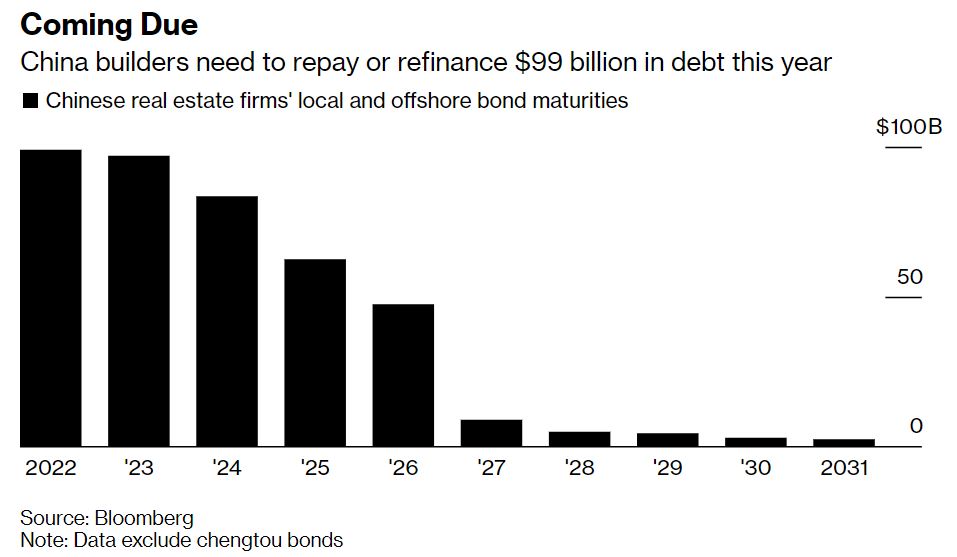 Goldman has suddenly doubled its Chinese junk debt default outlook:
Another difficult week for the China Property HY sector, with the selloff broadening to include higher rated credits amidst very weak performance across the board. News flow on idiosyncratic situations remains challenging, with a rising number of developers announcing bond exchanges and maturity extensions. The increasing stress levels suggests that the policy easing measures thus far have been insufficient to stabilize credit flow to the developers. Unless we see more direct easing to the property sector in the near term, confidence towards China Property HY is unlikely to recover, and it is unclear whether China property HY underperformance has bottomed. We believe investors need to remain cautious on default risk across the sector, as we expect more stresses to emerge, and need to avoid the weaker names despite low prices. Our preferred stance is to stay diversified amongst the better quality developers, and avoid over concentration on individual credits, given the heightened levels of idiosyncratic risks. Expecting 19% default rate for China Property HY in 2022. In our recent China Default Watch, we highlighted the rising cases of bond exchanges and maturity extensions for China property developers, and increased our 2022 default rate expectations for China Property HY. We increased the base case estimate to 19.0% from our previous estimate of 11.5%, and we now have a downside case of 31.6% (25.4% previously) and a bull case of 10.5% (4.3% previously).
As things stand, this year's $100bn developer rollover will have to be repaid or defaulted upon instead. This has to be managed as sales volumes plummet by anything from a quarter to a third: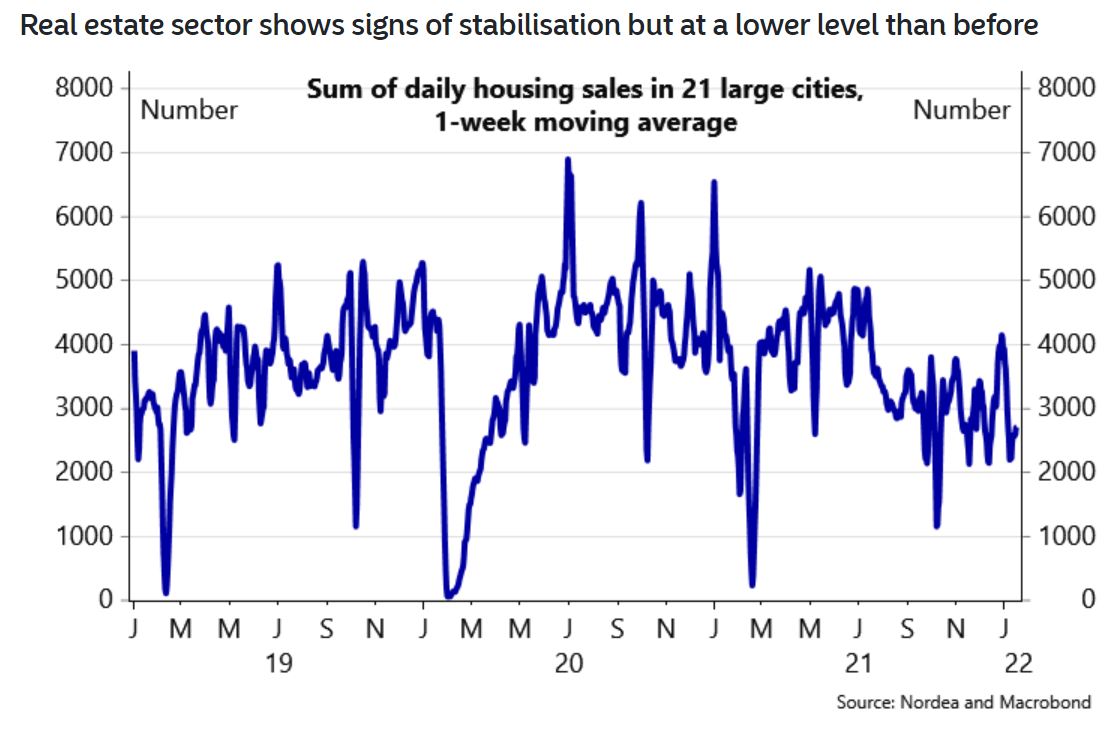 This income drain will blow out not repair leverage ratios. That means ever less land purchases and construction starts as developers repay debt, sell assets and deplete inventories. Hence property starts have suffered their deepest fall on record: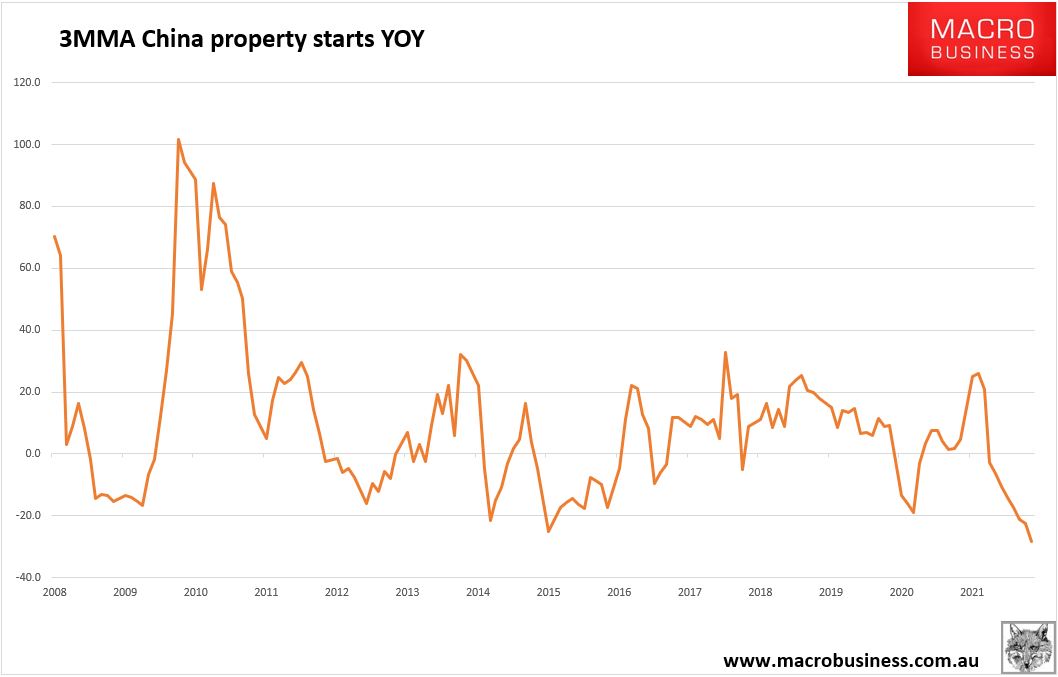 As we know, the next domino in this chain is local governments who rely upon the land ponzi for one-third of their funding. Their debt burden is $5tr:
China's local governments will face mounting repayment pressures in the coming three years as more than half of their outstanding bonds come due, a researcher with an institute affiliated to the Ministry of Finance has warned.

Local authorities in China have accumulated 30 trillion yuan ($4.7 trillion) in outstanding bonds and 50% of these will mature within the next three years, Liu Shangxi, head of the Chinese Academy of Fiscal Sciences, said at a forum in Beijing on Friday.
And they are being asked to both deleverage and releverage to build more infrastructure to offset crashing property volumes.
Is it any wonder Xi Jinping is on his knees begging the Fed not to tighten?
"If major economies slam on the brakes or take a U-turn in their monetary policies, there would be serious negative spillovers," he said. "They would present challenges to global economic and financial stability, and developing countries would bear the brunt of it."
Correction: China would bear the brunt of it.
So far as I can tell, China has a very large problem rapidly evolving in its developer sector. It will demand much deeper rate cuts before long. To be honest, I am not even sure that monetary policy can fix it.
The price of money is not the problem. It is its availability of credit that is sinking developers and the blowout in interest rates is a symptom of that.
Ipso facto the only thing that can fix the sector is the retraction of the "three red lines" policy that is inhibiting the availability of credit. The longer that is left in place, the more deleveraging grabs the sector, the more banks and investors shy away, the more bad debts mount, and the closer the whole thing gets to a liquidity trap tipping point. Yet removal of the "three red lines" runs directly into "common prosperity" and "houses are for living not speculation". No wonder Xi Jinping is begging.
I still don't doubt Beijing's ability to force banks to lend at the point of a PLA rifle, but the longer this goes and the worse that it gets, the more radical the policy response that will be needed to rescue it.
That has material implications for interest rates, the yuan and global stability via the emerging market and commodity complex as the Fed tightens. EM junk debt stress is rapidly mounting and we haven't even begun the tightening:

Chinese developers haven't yet been a 'Lehman moment' but perhaps everybody has been looking in the wrong place.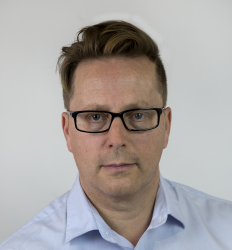 Latest posts by Houses and Holes
(see all)