What is a hard landing in China? Pick a number. Not long ago, 4% would have easily qualified. Goldman Sachs with the downgrade:
The zero-Covid policy has been a pillar of China's efforts to contain the coronavirus and keep domestic economic activity largely normal after the initial early-2020 national lockdown. We noted last week that the more transmissible Omicron variant increased the risk that more frequent and/or broader restrictions would be needed to sustain this strategy. Since then, local Omicron transmission has been confirmed in both Tianjin city and Henan province, and in response local governments have escalated their Covid-related restriction measures.

In light of the latest Covid developments — in particular, the likely higher average level of restriction (and thus economic cost) to contain the more infectious Omicron variant — we are revising down our 2022 growth forecast to 4.3%, from 4.8% previously. The new forecast incorporates an additional 0.9pp drag from Covid-related restrictions, in line with the risk scenario that we estimated last week. We expect approximately half of this drag to be offset by further policy easing. We assume the negative impact is mostly concentrated in Q1 (0.5% qoq ann vs. 5.5% previously). At present, we expect a rebound in Q2 (8.0% qoq ann vs. 5.0% previously), assuming outbreaks can be brought under control more quickly after the winter months and after booster vaccinations are more widely deployed.

On the specific measures to ease policy, we maintain our call for a 50bp RRR cut in Q1, and now expect a 10bp cut to MLF/OMO rates and 1yr LPR in H1. We raise our forecasts for the augmented fiscal deficit to 13.0% of GDP for 2022 from 12.0% previously, and revise up our forecasts for TSF stock growth to 11.0% yoy for end-2022 from 10.5% previously. We continue to expect moderately easier housing policies this year, and see an increasing possibility that the government may consider measures to boost the consumption of durable goods.

With private demand anemic, we believe demand-side stimulus on the fiscal front is likely to be more effective and more immediate than monetary easing in offsetting growth headwinds. We expect policy-driven public investment to become more visible in or after March this year, when some near-term constraints such as Covid-related restrictions and production cuts prior to and during the Beijing Winter Olympics are set to ease.
The response is already underway:
Several Chinese regions are launching constructions of major infrastructure projects at the start of 2022 faster than they did last year, as part of the country's effort to boost GDP growth amid increasing challenges.

Less than two weeks into 2022, Chinese local governments have announced or kick-started more than 5,000 major infrastructure projects with total investment of more than 3 trillion yuan ($471 billion), local official data showed. That's compared to about 1.2 trillion yuan of major infrastructure projects announced during the period of January 1-19 last year.

So far in January, at least 10 provincial-level regions had held groundbreaking ceremonies for infrastructure projects, including Shanghai, Southwest China's Sichuan province, East China's Jiangsu province and North China's Hebei province.

…According to public data, while traditional infrastructure projects remained a focus, the proportion of investment for, advanced manufacturing, high-tech industries and strategic emerging industries increased.
However, this:
China plans to keep its 2022 quota for new infrastructure debt unchanged from 2021, according to people familiar with the matter, as the government looks to balance debt sustainability with the need to support economic growth.

Local governments were allowed to sell 3.65 trillion yuan ($573 billion) of new special bonds in 2021. The people with knowledge of the matter asked not to be named as they weren't allowed to comment publicly. The quota still needs to be officially approved at the annual meeting of China's parliament in March.
This means that declining land sales will still deliver less infrastructure this year than last.
Like Goldman, I still do not expect this to be enough if authorities want to reach 5% growth so Beijing will either have to settle for lower or ultimately break on property stimulus.
On that front, things are still bad with more downgrades:
Fitch Ratings has downgraded Yuzhou Group Holdings Company Limited's Long-Term Foreign-Currency Issuer Default Rating (IDR) to 'CCC-', from 'B'/Negative. Fitch has also downgraded the senior unsecured rating and the ratings on the outstanding US-dollar senior unsecured notes to 'CCC-', from 'B', with a Recovery Rating of 'RR4'.

The downgrade reflects the diminishing likelihood of Yuzhou refinancing its USD590 million public senior notes due January 2022 and the difficulty the company is likely to face in addressing its capital-market maturity wall in the next six to nine months, given its limited funding access.

Yuzhou has not provided further information to Fitch beyond its public announcements.
And more credit stress: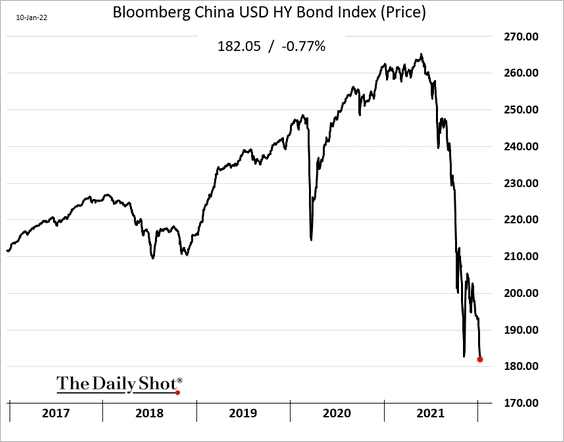 So long as China refuses to stimulate property broadly, bulk commodity consumption will be lower in 2022 than in 2021.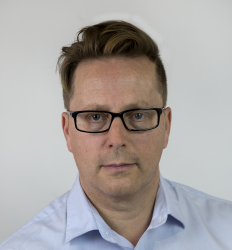 Latest posts by Houses and Holes
(see all)